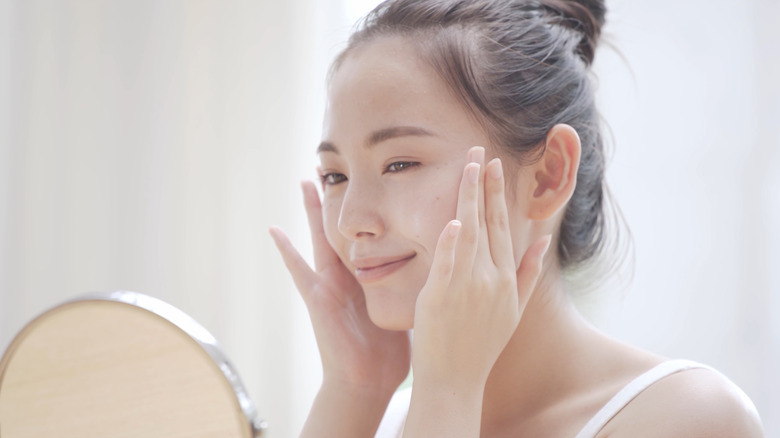 The struggle of having sensitive skin in this era of beauty revolution is real. It's so tempting to try the latest products celebrities swear by, but you know the risk of introducing just one new ingredient in your skincare routine could end in mayhem. And don't even get us started on false beauty advertising. 
If a brand claims to be hypoallergenic, it doesn't necessarily mean their products contain zero allergens. According to cosmetic chemist Erica Douglas, these words are simply a marketing claim (via Byrdie). "The FDA does not define nor govern the use of the term 'hypoallergenic' in the cosmetics space," Douglas explained. "Ultimately, this means that each brand has the autonomy to determine what this term means in the context of their products."
So how can a consumer decide if a "hypoallergenic" product is right for them? The American Contact Dermatitis Society (ACDS) has released the names of a number of allergens to beware of when scanning your product's ingredient list, including parabens, propylene glycol, fragrance, cobalt, nickel, formaldehyde, cocamidopropyl betaine, and dyes (to name a few). Because allergens are so personal, be sure to patch test whenever testing a new product to ensure you don't have a reaction.
That being said, if you're on the hunt for a flawless complexion, say goodbye to breakouts, rashes, and dry patches by opting for one of these dermatologist-tested favorites!
Choose fragrance-free moisturizers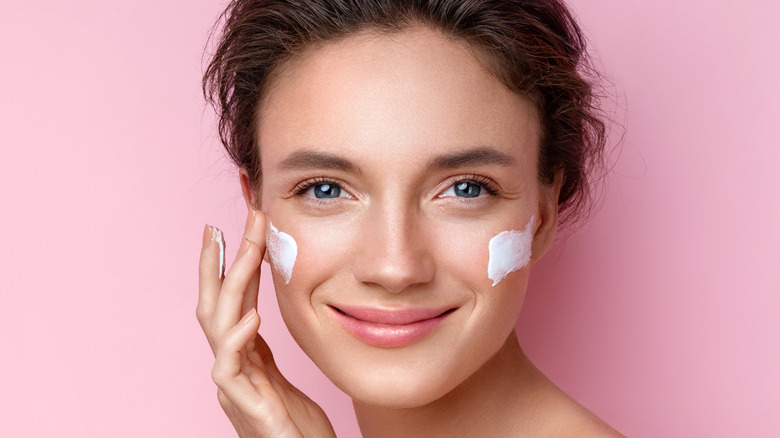 Finding a year round moisturizer to battle dry skin and break outs may seem impossible, but cosmetic chemist Shilpi Jain recommended the Triple Lanolin Hand and Body Lotion. Not only is this product affordable, but its main ingredient of lanolin is known for locking in moisture without being too heavy, allowing the skin to moisturize itself from within (via Byrdie). "[Lanolin] is widely prevalent in skincare for its emollient and film forming properties as it has a waxy feel to it," explained Jain. 
However, because the product is derived from sheep, steer clear if you have any wool allergies. Instead, check out CeraVE Daily Moisturizing Lotion. It's a classic for a reason. The ingredient list includes zero fragrances, three types of ceramides, and hyaluronic acid to trap in moisture. This product is so gentle, even the National Eczema Association is fan (via Byrdie).
Our final moisturizer recommendation for sensitive skin is Avène Cicalfate Restorative Skin Cream. This product is key for reducing facial redness thanks to its high levels of fatty acids (via Good Housekeeping). Senior Good Housekeeping Beauty Lab chemist, Sabina Wizemann, called this product a "staple moisturizer specially designed to help sensitive or compromised skin bounce back." The best part is that your skin retains moisture with zero greasiness! 
Battle redness with gentle cleansers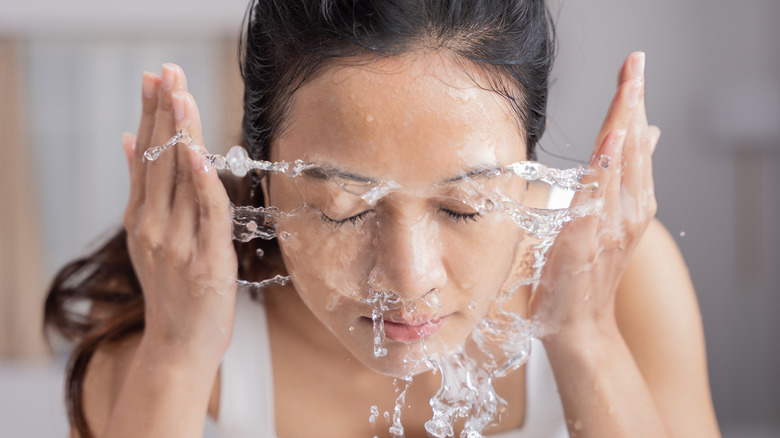 Cleansing your skin is a critical skincare step. But with so many different cleansers to choose from, it can get overwhelming. Board-certified New York City-based dermatologist, Melissa Levin, steers patients toward CeraVE's Hydrating Cleanser. Levin is a big fan of this product's ingredient list because it contains three essential ceramides that she calls "critical for maintaining the skin barrier and water retention" (via Allure). If you're searching for a cleanser strong enough to remove debris and light makeup without stripping your skin, look no further.
Dermatologist Joyce Park is a fan of another gentle cleanser sweeping the market, Cetaphil Gentle Skin Cleanser. For less than $15, this product will leave your skin calm and moisturized thanks to its fragrance free, noncomedogenic formula. In fact it's so gentle, Park claimed, "You can use it with or without water" (via Allure). 
If you're willing to splurge for your skin, another cleanser Park recommended for patients with stubborn complexions is Fresh's Soy Face Cleanser. This product battles skin redness with calming properties like aloe vera, rosewater, and cucumber extract. Park recommended using it after traveling "because it helps a lot with the irritation that inevitably occurs after a flight."
Apply serums for dry or reactive skin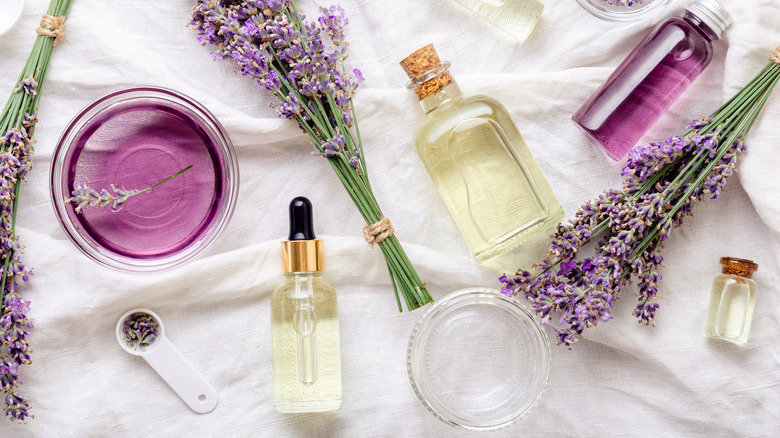 Serums are another skincare regime step that you'll regret skipping. This is because serums are the best vehicle for delivering highly potent, active ingredients directly into your skin barrier. But what types of serums should sensitive skin consumers look for?  Dermatologist Steven Wang created Nourishing Youth Serum with sensitive skin in mind. Good Housekeeping Beauty Lab Director, Birnur Aral, recommended this product for anyone wanting lightweight, mild hydration. "The serum's first ingredient is soothing aloe leaf juice and the second one is hydrating squalene, plus it's packed with plant oils, so it will have a moisturizing effect," explained Aral (via Good Housekeeping). 
For the most affordable, hardworking serum on the market, you can't go wrong with Pond's Rejuveness Skin Tightening Serum. Board-certified dermatologist Shari Marchbein recommended this serum for dry or reactive skin. "It combines retinol, niacinamide, and glycerin — especially good for beginners or those with sensitive skin since they are a lower strength than prescription versions," claimed Marchbein.
Another serum dermatologists are obsessed with is SkinCeuticals CE Ferulic Acid. This product is basically a cure-all for dull, dry skin, fine lines, and wrinkles. "The antioxidant combo reduces fine lines and wrinkles and reverses environmental aging," explained New York City-based board-certified dermatologist Dendy Engelman (via Allure). And thanks to the product's emollient base that traps water, you can even use it in place of moisturizer. 
Use vitamin E-rich, plant-based lip balms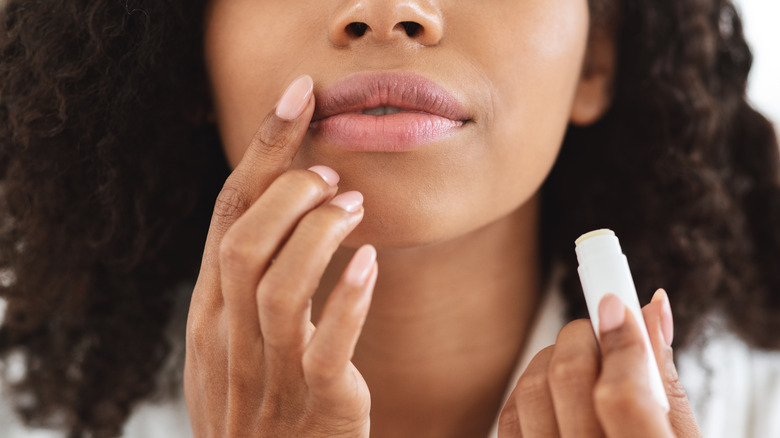 Make sure you have a fail-safe balm to keep your lips kissable even during the driest winter months. Marie Claire recommended Glossier's Balm Dotcom, formulated with castor seed oil, beeswax, and lanolin. Because the product is a "universal skin salve," you can use it anywhere on your skin including elbows, knees, or face! 
Another cult-favorite lip balm that makeup artists and celebrities alike remain loyal to is Burt's Bees 100% Natural Moisturizing Lip Balm. Burt's Bees products are always free of parabens, phthalates, petrolatum, and SLS, so you can feel confident you're nourishing your lips the right way. Plus the product's powerful fruit extracts and beeswax are the perfect defense against dry, chapped lips.
Our final lip balm go-to product is German skin pro Dr. Barbara Sturm's Lip Balm. Vogue swears by this balm's vitamin E-rich, plant-based, clean formula made up of shea butter, lanolin, avocado oil, cacao oil, and sunflower seed oil. Though at $55 a tub, this lip balm may seem pricey. But because Dr. Sturm is an aesthetic doctor with a background in anti-inflammatory medicine, you can safely trust that it's worth the money. Basically, it's an investment, and we couldn't think of anything better to invest in than yourself!
Source: Read Full Article