Ever since the 1980s, when the Air Max sole finally brought some much-needed cushion to sneakers, Nike's mission has been simple: find what's wrong and fix it. "Our intention," says Kathy Gomez, Nike's VP of NXT Footwear, "is to solve problems for athletes."
Nearly four decades later, Nike is still on that same mission to solve the problems in sneakers. But today (and in the next decade) that means pushing way beyond Air. As it continues to optimize both sneaker fit and function, the company is forcing you to rethink everything you've come to expect from your kicks. Just how fast can your footwear make you go? And do you really need laces?
It's a forward-thinking approach that keeps yielding sneaker innovations that your feet (and your on-field performance) will love. Here are a few ways Nike is pushing sneakers in the future right now:
Problem 1: Ease of Use
Not everyone can lace up their sneakers as quickly as you think. Athletes with disabilities often struggle to get into shoes for training, running, or basketball. The shoes require a tight fit to offer the lockdown needed for maximum performance.
The Fix: Metcon 6 FlyEase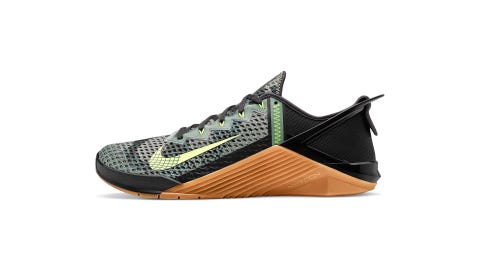 $130; BUY IT HERE
Key Features: nontraditional lacing, collapsible heel counter, tight fit
Nike's FlyEase line rethinks laces by adding alternative tightening features. The centerpiece of the line: the MetCon 6 FlyEase, a trainer that lets disabled athletes skip lacing entirely in favor of a collapsible heel counter that instantly tightens around your foot once you step into the shoe. The 2020 version was strong, and Nike's started 2021 by pushing the idea forward even more, delivering GO Flyease, a versatile, completely laceless shoe that you can don without even reaching down to the ground, thanks to a unique bi-stable heel.
Problem 2: Energy Return
Whenever your foot hits the ground during a run, some of the energy you create dissipates through your shoe into the earth. Some of it is returned to you, propelling you forward—and the more energy that's returned to you, the faster you'll go.
The Fix: Air Zoom Alphafly Next%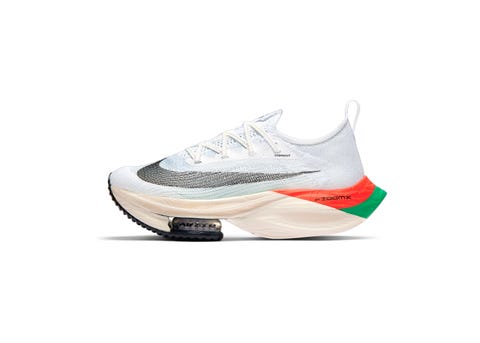 $275; BUY IT HERE
Key Features: AirZoom pods, ZoomX cushioning, full-length carbon fiber plate
Marathoner Eliud Kipchoge dipped under two hours in October 2019 in a prototype of the Air Zoom Alphafly Next%, a shoe loaded with a full-length carbon-fiber plate, ZoomX cushioning, and Air Zoom pods for next-level energy return. Independent research shows they can make you run 4 to 5 percent faster than in an average shoe. The AlphaflyNext% hit stores last year. Nike has plans for more energy return in future running kicks.
Problem 3: In-The-Moment Lockdown
Whether you're driving the lane for a dunk or just out for a morning jog, your feet crave a perfect snug fit, insulating them against injury and letting them grip the ground. That fit can change from moment to moment, though, depending on the shoe.
The Fix: Nike Adapt BB 2.0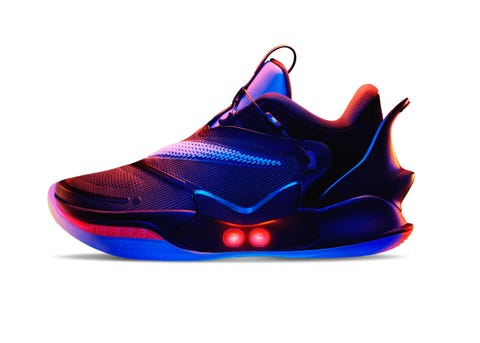 $350; BUY IT HERE
Key Features: self-lacing kicks, tightening and loosening based on in-game intensity
Five years ago, Nike debuted Adapt, a self-lacing system right out of Back to the Future II. Controlled by an app, it tightens (and retightens!) your shoes with precision whenever you press a button, ensuring you always have that perfect fit. Adapt tech landed in hoops kicks in 2019, tightening and loosening based on in-game intensity. Nike won't say what's next, but we would not be surprised to see a hardcore distance shoe in 2021.
A version of this story originally appears in the March 2021 issue of Men's Health, with the title "3 Ways Fitness Sneakers Are Evolving".
Source: Read Full Article