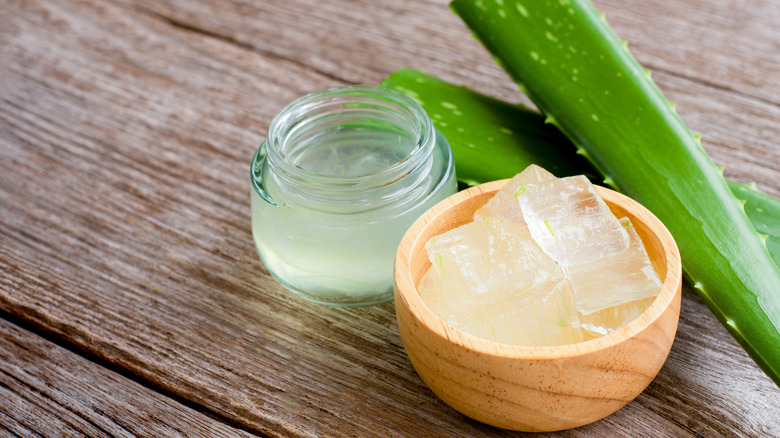 NIKCOA/Shutterstock
By Jackie Manno/Sept. 2, 2021 10:52 am EDT
There's no doubt that aloe vera is one of the best ingredients to soothe irritation, which is why those with sensitive skin tend to swear by its healing properties. Not only does aloe vera reduce inflammation by moisturizing with Vitamin C and E, but it also helps mitigate bumpy skin, oiliness, itchiness, eczema, and acne, according to Purewow and Healthline. "Aloe is well known for its ability to help provide anti-inflammatory and soothing benefits to the skin, hence why it's so commonly used to help treat sunburn," cosmetic chemist Ron Robinson told Allure. "It can also hydrate and provide antioxidant benefits. Because of this, it is being used more and more in skin care."
Even though aloe vera acts as a soothing agent, those with sensitive skin still need to be cautious in finding the right products for them, as certain ingredients can cause irritation and allergic reactions. Fortunately, there are many aloe vera gel products on the market that are gentle and suitable for all skin types. 
These aloe vera gels soothe sensitive skin
Seven Minerals Organic Aloe Vera Gel is formulated with seaweed extract which absorbs into the skin quickly without leaving an unpleasant sticky residue that can inflame the skin even further. Made without alcohol, this product is ideal for those with sensitive or easily irritated skin types. The gel also uses juice from aloe leaves, making it a versatile product that can be used to treat sunburns, stings, and itchiness while also increasing hydration (via The Good Trade).
To soothe the body, The Body Shop Aloe Soothing Body Butter is exactly what it claims to be: soothing. It's also fragrance, paraben, preservative, and color-free, making it non-irritating. Formulated with moisturizing shea butter and aloe vera, this product delivers skin that is not only smooth and silky but calm and cool as well (via Byrdie). 
Finally, Alo Yoga Illuminizing Facial Moisturizer comes with a fragrance-free formula to cater to your sensitive pores. Its lightweight, whipped consistency dries to a matte finish — making it ideal for oily skin types. With this moisturizer, your sensitive skin will be looking brighter and plumper after just one use, according to Women's Health. 
If using plain aloe vera gel is too harsh on your sensitive skin, try these products as a way to get the soothing benefits without the burn. 
Source: Read Full Article