The '102 Dalmatians' actress spills how a photo her estranged husband shared of himself and his new girlfriend, Bianca Wallace, affected their eight-year-old.
AceShowbiz –Alice Evans and Ioan Gruffudd's eight-year-old daughter is distraught over photos of her father with his new girlfriend, Bianca Wallace, according to her mum. The 53-year-old actress is furious that her youngest daughter was so upset she reportedly had to stay home from school.
Ioan left Alice and their two children – 8-year-old Elsie and 13-year-old Ella – earlier this year (2021), with the "102 Dalmatians" actress accusing her estranged husband of cheating on her, "ghosting" her, and neglecting their children.
In reaction to a snap Ioan shared of himself and Bianca on Thursday, October 28, along with the the caption, "Thank you for making me smile again @iambiancawallace," Alice tweeted that Elsie's "whole little world has collapsed."
"Elsie is still inconsolable," she writes. "I can't send her to school today. Her whole little world has collapsed."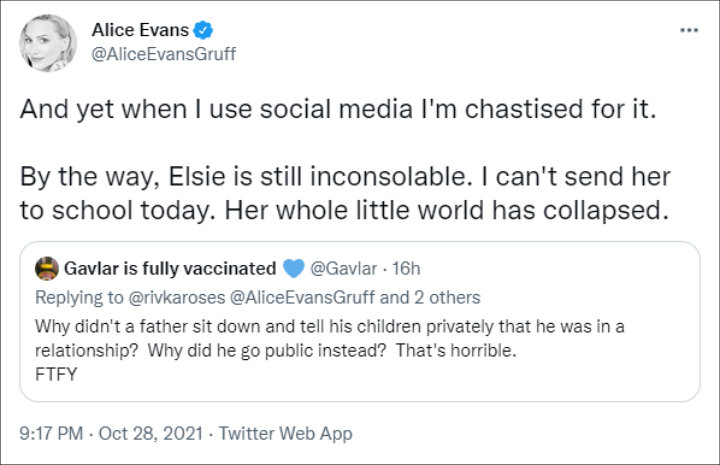 Alice Evans shared how her and Ioan Gruffudd's daughter reacted to Ioan's new romance.
Alice also revealed Bianca was a friend of hers and she believes her affair with the actor had been going on for three years behind her back.
She told followers her estranged husband has minimal contact with the children, adding, "He calls Elsie for 2 minutes twice a week and talks about how beautiful his hotel is. Never more than 2 mins. Never on the weekend. Doesn't ask any questions. Turned down my offer of photos."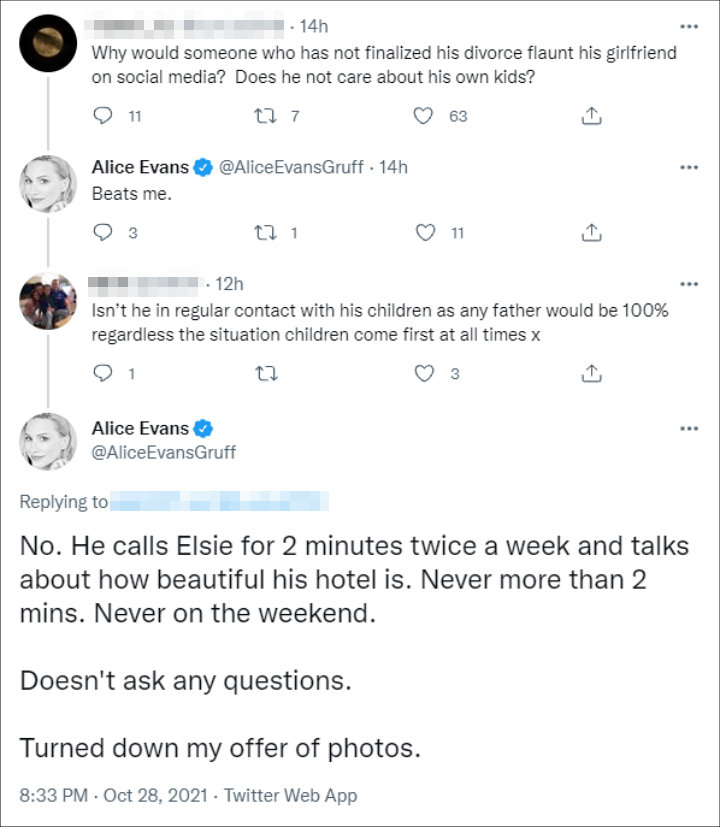 Alice claimed Ioan rarely contacted their children.
Alice claimed that as late as last week (ends October 22), the "Fantastic Four" star was denying reports he was seeing anyone else.

Alice further slammed Ioan.
"… to LIE about adultery and PROMISE an eight-year-old you'd never ever have a girlfriend? Even LAST WEEK!" she raged. "He hasn't even told (the children) about the divorce yet. They think he might come back. All his clothes are still where he left them a year ago. Toothbrush, creams, everything."
Source: Read Full Article