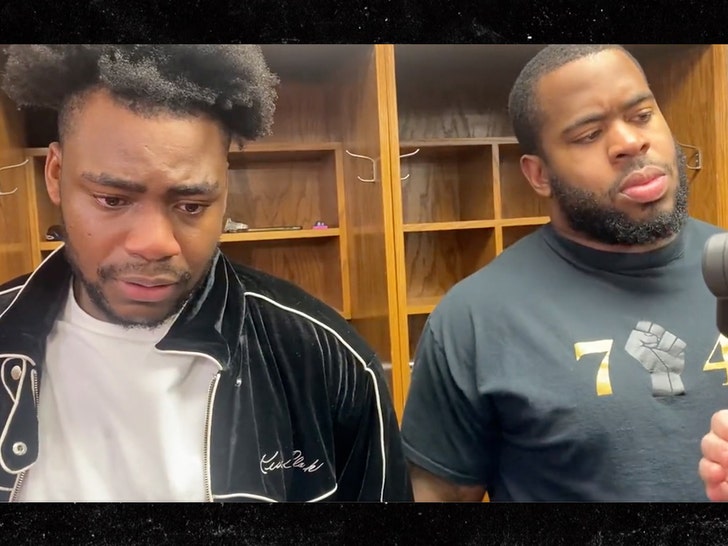 Bengals DE Joseph Ossai stood at his locker with tears in his eyes as he answered questions about the back-breaking roughing-the-passer penalty he committed, but he didn't do it alone … his teammate B.J. Hill stood shoulder-to-shoulder with his fellow d-lineman, providing much-needed support for his friend.
Of course, 22-year-old Ossai, who played a heckuva game prior to the penalty, drew the most costly of penalties when he hit Patrick Mahomes out of bounds with only 8 seconds remaining in the game, and the score tied at 20.
Mahomes ran out of bounds at the 40-yard line — and assuming the Chiefs didn't gain any more yards (they likely would've had time to run 1 more play before kicking the FG) — would've set up around a 57-yard field goal. An incredibly difficult kick, especially considering the freezing cold temperatures and the pressure of the moment.
However, thanks to the 15-yard penalty on Ossai, the kick was 40 yards … obviously much easier for Harrison Butker.
Ossai was clearly crushed, crying on the bench as the Chiefs celebrated their 3rd trip to the Super Bowl in 4 seasons.
After the game, Ossai didn't hide … he stood at his locker and answered questions like a true professional, as 27-year-old Hill, also a defensive lineman, stood by as Joseph talked about the crucial play.
"These guys mean a lot to me and to know that they have my back is extremely… it's giving me peace right now," Joseph told the assembled media.
Despite Ossai clearly feeling responsible for the loss, his teammates and coaches, almost to a man (more on that shorlty), have said the 2nd year player is NOT the reason Cinci lost. In fact, during postgame media, head coach Zac Taylor attempted to change that narrative, saying one play does not dictate the result of a 60-minute football game.
Linebacker Germaine Pratt initially erupted in anger after the costly mistake, screaming "What the f***! Why the f*** did you touch the quarterback?" as he walked into the visitor's locker room. But, after he had some time to cool off, Pratt changed his tune while speaking with reporters.
Now, the Chiefs are preparing to play the Eagles in Super Bowl LVII on February 12, and support or not, it's the beginning of a long offseason for the talented and young DE.
Source: Read Full Article