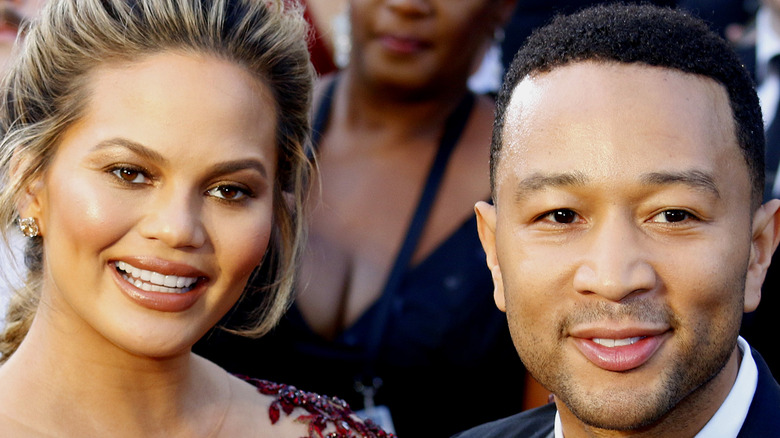 She is funny, beautiful, and quirky. He is talented, charming, and loving. Together, Chrissy Teigen and John Legend are setting the standard for #relationshipgoals. With 14 years as a couple under their belt, it becomes difficult to imagine a world before the power duo got together. 
In 2006, Teigen was casted as Legend's co-star in the singer's music video for his song "Stereo." Not expecting to meet the love of her life on set, Teigen went in for the shoot expecting a standard day on the job as a model and actress. According to Cosmopolitan, after 12 long hours on set, the two then-acquaintances grabbed In-N-Out burgers, went back to Legend's hotel room, and spent the night together for the first time. Following the encounter Legend and Teigen parted ways for several months, neither of them quite ready to jump into a relationship. 
Legend then set out on tour, and Teigen reportedly played it cool. However, in 2014, Teigen told Cosmo, "Never once did I ask, 'What are we?' Marriage was never my goal, because I've never been very traditional. I was just happy to be with him." The duo stayed in touch on the phone while Legend was away, and Teigen eventually joined him on tour, per Time, and that was just the beginning.
Chrissy and John had a rocky start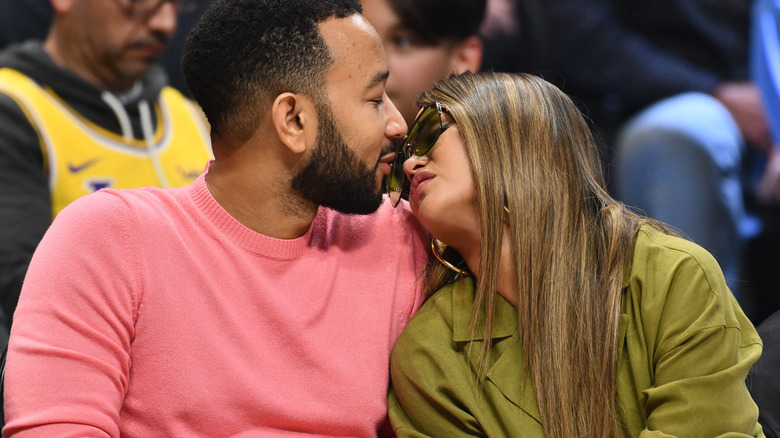 Things weren't exactly smooth sailing once Chrissy Teigen joined John Legend on his tour. Legend came down with an illness while traveling, and the stress proved to be too much. Per Cosmopolitan, he told Teigen that he could not be in a relationship, leaving her heartbroken. Fortunately, the breakup only lasted around 24 hours and the pair never looked back once they reconciled.
For Teigen, there were never doubts. On a 2007 trip to Lake Como, Italy, the Sports Illustrated model made a wish for Legend to be the man she marries. In a 2016 Instagram post, she wrote in the caption, "Back to where it all began – Lake Como, Italy – first came here in 2007. A boat tour guide took us to a little spot on the lake and told us to make a wish. I asked for this to be the man I marry and have children with. I think John asked for the most perfect bite of cacio e pepe. Both came true, and here we are." 
Whether or not the lake has magical wishing powers is up for debate, but nevertheless Teigen's wish was granted four years later when Legend proposed on a trip to the Maldives, (via Time). We're going to assume Legend's wish was granted later that night around dinnertime.
There was romance abroad for the pair, and a little trouble in paradise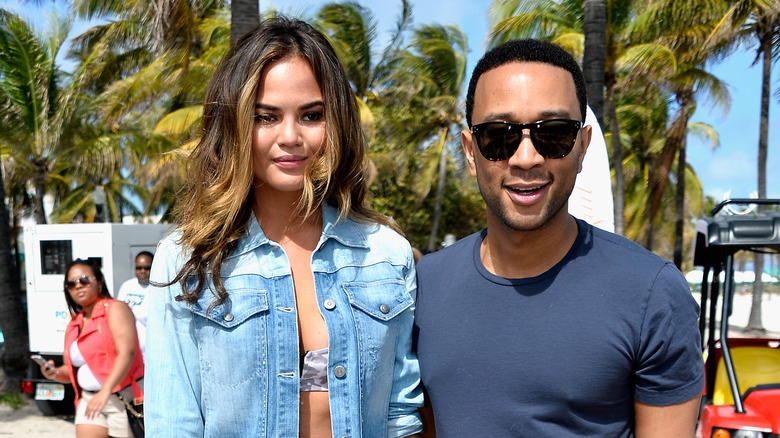 The proposal happened in 2011, following a tumultuous journey through the airport. Chrissy Teigen had become upset with John Legend for gifting her a crockpot and a cookbook for their anniversary, a respectable gift for normal people but perhaps a bit disappointing for superstars with tons of money, (via Time). 
Legend's attempts at hiding the ring in his luggage were almost thwarted when airport security did a thorough search of his bag, including the ring box, but the pair made it through security. Later on in the trip, Teigen was surprised and elated to find the engagement ring on a bed of arugula.
Before the wedding, Legend released the mega-hit "All Of Me," which was romantically written for his new fiancé. Teigen, of course, starred alongside Legend in the music video for the song (via Biography). Amazingly, the ballad resonated with marrying couple everywhere as it became the top wedding song of 2014, (via Love Inc.).
Chrissy and John's fairytale continues to thrive with kids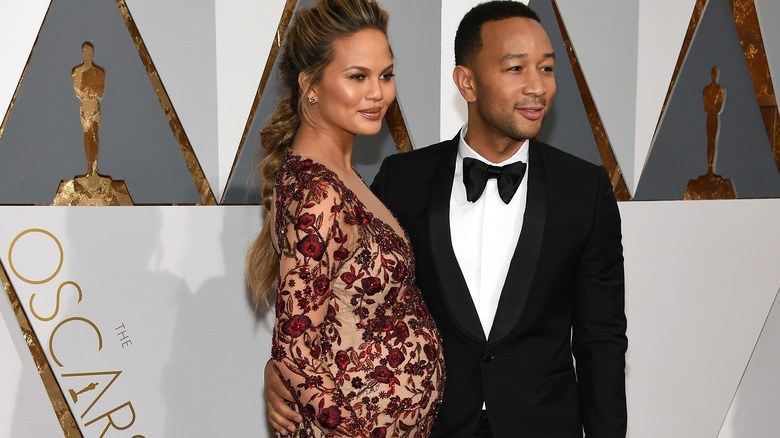 The pair officially wed in a New York City courthouse on September 13, 2014, prior to travelling to Italy to carry out their more luxurious wedding plans. "We are dumb and didn't realize that our Italian wedding would not be recognized unless we had a real ceremony in New York City," Chrissy Teigen told E! News In 2013. The big wedding took place in Lake Como, where Teigen made her marital wish years before.
Following the wedding, the couple began trying to have children. After being open about their struggles with fertility, John Legend and Teigen welcomed baby girl Luna to their family on April 14, 2016. On May 17, 2018, Teigen and Legend welcomed their second child, Miles, through IVF treatment, (via Time).
In late 2020, the couple unfortunately suffered a pregnancy loss while awaiting the arrival of their third child, (via WebMD). It goes without saying that John Legend and Chrissy Teigen have experienced more than their fair share of ups and downs since 2006, and they've allowed the world so much insight into their relationship and lives. There's no telling what the future holds for the two, but they will undoubtedly go through it all together.
Source: Read Full Article