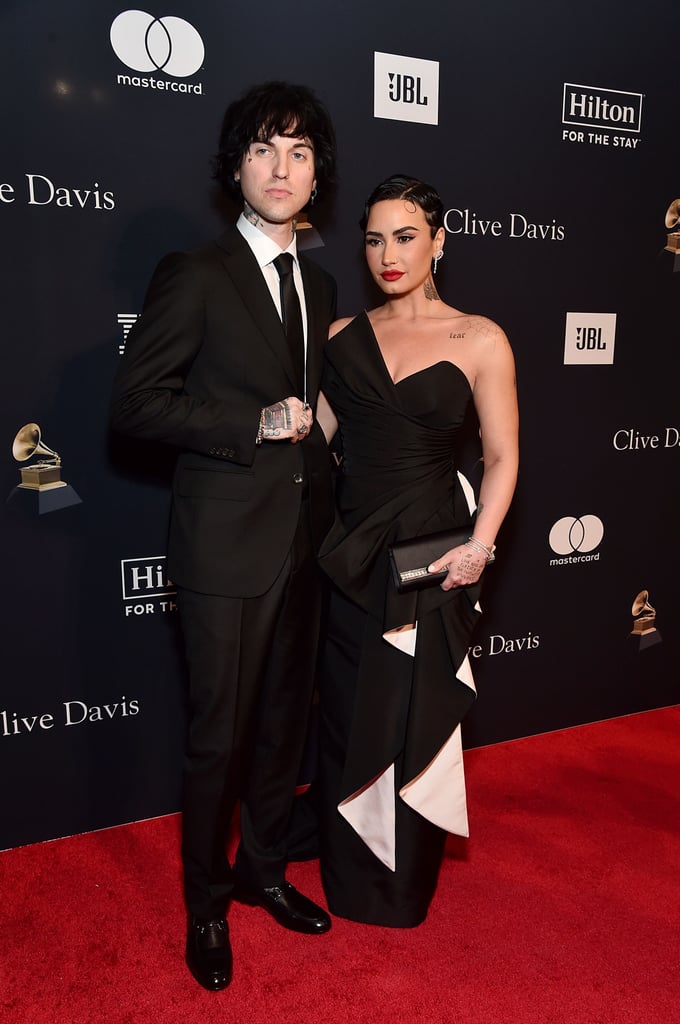 Demi Lovato and Jutes Make Their Relationship Red Carpet Official at Pre-Grammys Party

Demi Lovato and Jordan Lutes, also known as Jutes, took the next big step in their relationship on Feb. 4. The couple went red carpet official at the Clive Davis Pre-Grammy gala, where Lovato (who uses she/they pronouns) wore a stunning strapless black dress with a white ruffle detail. Meanwhile, Jutes rocked a simple black suit.
The couple first announced they were dating in August 2022, when Jutes celebrated the "Sorry Not Sorry" singer's birthday with a heartfelt post on his Instagram. "Happy birthday baby. ur a 30 year old minx and i'm the luckiest schmuck in the world cuz i get to call u mine," he captioned the post. "Making u laugh has become my new obsession cuz ur smile literally cures my depression (there's a song lyric in there somewhere). i'm so proud of u for not only surviving everything you've been through but coming out on top and becoming ur healthiest happiest sweetest self. and that's all u baby . . . i'm just here to support u and tell stupid dad jokes when needed."
Lovato commented on the post, "I'm just so grateful I get to call you mine because I've never laughed like this in my life, I've never smiled so much and my heart is constantly so full of love w you 💕💕 this post, this caption . . . how are YOU real?! I love you honey.. so much 🥰🥰😁🫠🐞😍."
Since then, they've continued to chronicle their romance on their respective Instagrams, sharing everything from their Disney Christmas to their snowy New Year's vacation. "Ended the new year like this ✨ wishing you all the best for 2023," Lovato captioned the year-end grid post.
Read on to see photos from Lovato and Jutes's glamorous red carpet debut at the star-studded Grammys party, where Lizzo and her boyfriend, Myke Wright, made their relationship Instagram official.
Source: Read Full Article