The Grammy-winning artist teases about her upcoming fourth studio album while she's in recovery following recent surgery to get liposuction and breast reduction.
AceShowbiz –Doja Cat has been spending her time cooking up some music while she has taken a break from performing. The singer/raptress has shared brief updates on her upcoming album, while she's currently in recovery after undergoing some cosmetic procedures.
The 27-year-old teased about her new fourth studio album via Twitter on Tuesday, March 21. "DC4 has a title now," she wrote on the micro-blogging site, before she appeared to spill the tea on the title as she added in a separate tweet, "#Hellmouth."
When one fan suggested that it would be "a pop punk rap album," Doja dismissed the idea as she responded, "f**k no you won't." She also denied a speculation that it will be a "rock/alt album," simply writing "nope" to the theory.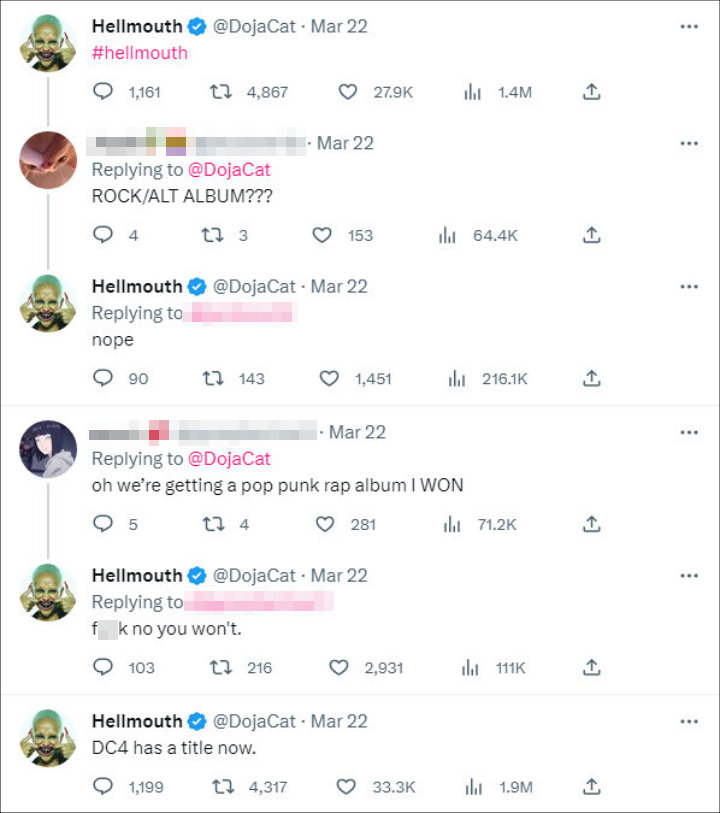 Doja Cat shared updates on her upcoming new album.
In a recent interview with Variety, the "Kiss Me More" hitmaker said her next album will be "more masculine." She teased, "I know that I've done a lot of pink and soft things, a lot of pop and glittery sounds. But for this next era, I'm going in a more masculine direction."
"If you wanted a teaser into what I've been thinking about, that's what I've been on a lot. And just to make it clear, Beastie Boys is a huge inspiration to me," Doja explained. "Beastie Boys will hit you with hard, loud and crazy rap, but they'll also hit you with real raw 90s punk, which I love, or smooth techno that feels sexy and sleek. And you'll be like, 'Where the f**k did this come from?' "
She previously also claimed that she's putting together a straight an "R&B album" without rap at all. "I'm doing an R&B album," the femcee, born Amala Ratna Zandile Dlamini, penned on Twitter. "Straight R&B and no rap at all."
You can share this post!
Source: Read Full Article