Kim Kardashian hopped on Instagram over the weekend to drop some photos of her chilling poolside in her Skims, as one does, and aside from several commenters being convinced that she photoshopped her bellybutton out of the pictures (um, friends, no), everyone thinks she's wearing Pete Davidson's pants. I guess because they are super long?
https://www.instagram.com/p/Ccvr_C4OV8G/?utm_source=ig_embed&utm_campaign=loading
A post shared by Kim Kardashian (@kimkardashian)
Anyway, a smattering of the comments for your reading pleasure:
So yeah, you get the idea. Truly no clue if these are, in fact, Pete's pants—and the world may never know so…guess this will remain one of the great mysteries of humanity along with "are aliens real" and "is Selling Sunset fake?"
Either way, Pete and Kim are definitely together right now, and were spotted this weekend in Washington, DC, attending the 23rd Annual Mark Twain Prize For American Humor. And yes, a photo was taken: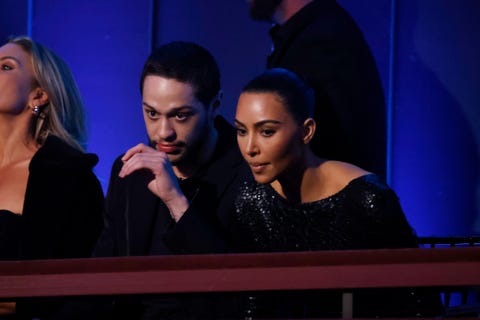 The couple also recently stepped out at the premiere of Hulu's The Kardashians, though Pete didn't walk the carpet with Kim at all. She told E! News at the event that "He's here to support me. It's my thing. I don't think it's his thing to be all up here with me. So, I'm just so happy he's here." She then joked that he was "hiding," and added that he's "so supportive" of her.
Source: Read Full Article