It wouldn't be bold to say tensions between Prince Harry and his family have been high since he began dating wife Meghan Markle in 2016.
An American actor who divorced her first husband in 2013, Meghan is unlike anyone else who has married into The Firm. What's more, she is also biracial, and she would become the first Black woman to join the royal family. There were a number of rumblings about Harry's relatives' feelings regarding the relationship, including but not limited to a 2019 People report about Prince William apparently believing his younger brother and Meghan were moving too fast. In 2021, things reached fever pitch when Harry and Meghan sat down with Oprah Winfrey and gave a no holds barred interview in which they hit the royal family with allegations of racism and lack of regard for their mental health.
The royal family tries to remain as quiet as possible on their personal issues; the Sussexes have taken the opposite approach. Still, with all of the media attention on royal matters, it's hard to keep track of everything actual royals have said about Harry and Meghan's feud with the family. So, we've gathered all the quotes we could find in one place.
Prince William says the royal family isn't racist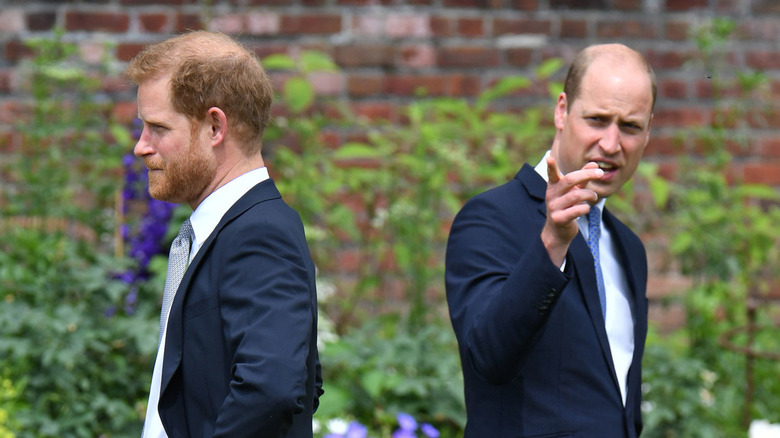 The rift between Prince Harry and his brother Prince William began long before Harry and wife Meghan Markle stepped down from their royal duties and moved to the United States. In the 2019 ITV documentary "Harry and Meghan: An African Journey," Harry said that since they were under a lot of pressure as royals, "Inevitably, stuff happens." He noted that he and his brother were "on different paths at the moment" but added, "But I will always be there for him and … I know he will always be there for me."
Reports of brothers divided only got worse from there. In 2021, during Harry and Meghan's interview with Oprah Winfrey, Meghan mentioned that the royal family had "concerns and conversations about how dark [Archie's] skin might be when he's born" (via CBS News). Harry confirmed that these talks happened, but would not reveal who raised the concerns either on or off camera. Winfrey did say on CBS This Morning that "neither his grandmother nor grandfather were part of those conversations."
After the interview aired, Prince William responded to a direct question about whether the royal family is racist. "We're very much not a racist family," he told reporters (via BBC). Per Us Weekly, William is also reportedly unhappy with Harry's willingness to "shade his own flesh and blood on TV" while participating in projects like Apple TV+'s "The Me You Can't See," but has not made any direct statements about those frustrations publicly.
Prince Charles clarified when he cut Prince Harry off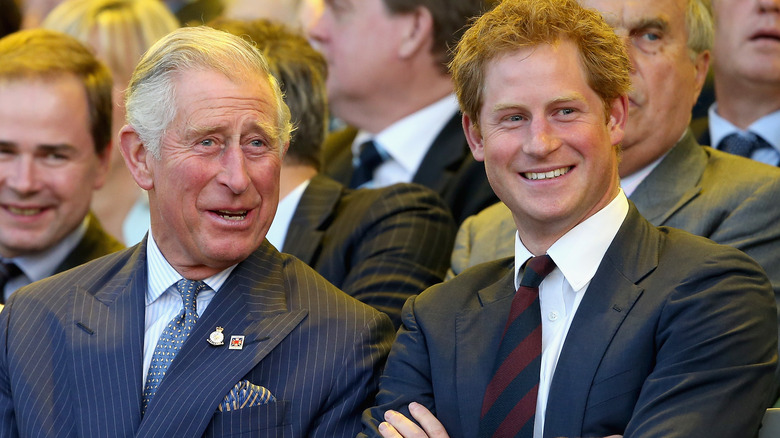 Prince Harry has also been very outspoken about what it was like being raised in the royal family, sharing on the "Armchair Expert" podcast that he went through the "pain or suffering" that his own father went through growing up. He went on to say that he hopes to "break the cycle" raising his own kids, Archie and Lillibet Diana. Months earlier, Harry claimed to Oprah Winfrey that he and Meghan Markle lost their financial support in early 2020. "My family literally cut me off financially, and I had to afford security for us," he said (via Vanity Fair), implying that his family's safety was at risk. 
According to the Daily Mail, Prince Charles declined to answer questions related to Harry's remarks about his childhood following the podcast. And while the royal family admits to cutting the Sussexes off, they maintain it was not as early as Harry's statement suggests. A spokesperson for Prince Charles said (via BBC), "As we'll all remember in January 2020 when the duke and duchess announced that they were going to move away from the working royal family, the duke said that they would work towards becoming financially independent. The Prince of Wales allocated a substantial sum to support them with this transition. That funding ceased in the summer of last year. The couple are now financially independent." We know it's not much of a statement, but it is a little bit of defense, and likely all we are going to get from the notoriously private elder prince.
Queen Elizabeth said the Sussexes are loved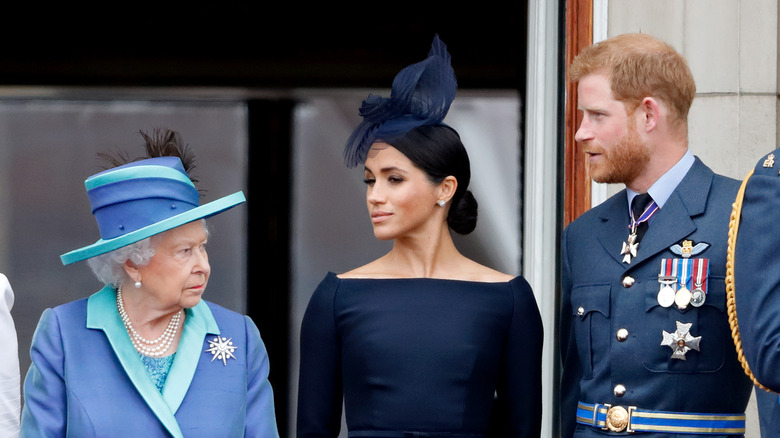 Prince Harry has always loved and respected his paternal grandmother, Queen Elizabeth II. In his and wife Meghan Markle's 2021 sit down with Oprah Winfrey, Harry revealed that his bond with the queen was perhaps stronger than it ever had been. "I've spoken more to my grandmother in the last year than I have done for many, many years," he said, noting that they've Zoomed during the pandemic (via Us Weekly). "My grandmother and I have a really good relationship and an understanding. And I have a deep respect for her. She's my Colonel-in-chief, right? She always will be."
Per Winfrey on CBS This Morning, Harry was also very clear that his grandparents were not part of the allegedly racist conversations he had with family members about his son Archie's skin color. But Queen Elizabeth did release a statement via Buckingham Palace about Harry and Meghan's claims after the special aired. "The whole family is saddened to learn the full extent of how challenging the last few years have been for Harry and Meghan," it read. "The issues raised, particularly that of race, are concerning. While some recollections may vary, they are taken very seriously and will be addressed by the family privately. Harry, Meghan, and Archie will always be much loved family members."
Prince Edward tries to stay out of the family feud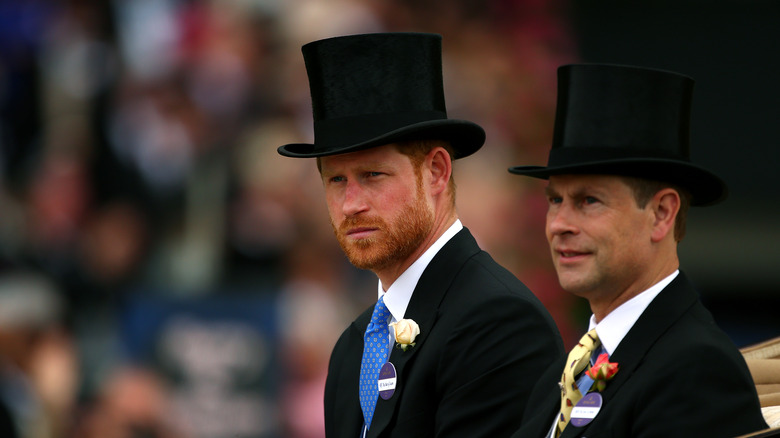 And now onto Prince Edward, Queen Elizabeth II's youngest son and Prince Harry's uncle. Currently active members of the royal family, Edward and his wife Sophie, Countess of Wessex, have dodged direct questions about Prince Harry and Meghan Markle's conversation with Oprah Winfrey. For example, when The Telegraph asked them about the chat heard 'round the world, Edward acted as if he didn't know who Winfrey was and Sophie replied, "What interview?"
However, in June 2021, Edward opened up to the BBC about the drama. "I stay way out of it. It's much the safest place to be," he said. That's definitely a smart strategy, but it doesn't mean that Edward likes watching what is happening between his family members. When pressed, he admitted he's sad about it and said, "There are all sorts of issues and circumstances there but we've all been through there. We've all had the same spotlight shown on our lives."
Edward noted that life in the royal family isn't easy. "We've been subjected to massive intrusion and all the rest of it and we all deal with it in different ways," he shared with the BBC. We could not find many details about Edward's current relationship with his nephew, but he added that the birth of his grand-niece Lillibet Diana is "fantastic news" and wished the family "all happiness."
Princess Anne said Harry stepping down 'was the right thing to do'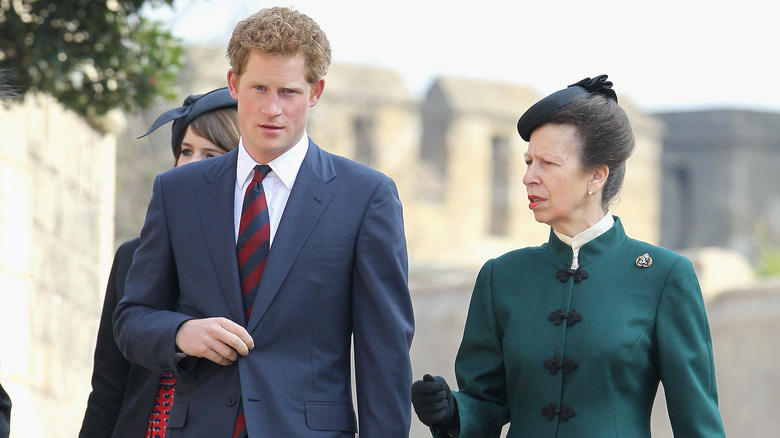 Even though Harry's aunt Princess Anne is still the princess royal and has not stepped down from the royal family, there are still parallels between some of her choices and her nephew's. While Meghan Markle made it clear in her interview with Oprah Winfrey that whether or not her son Archie had a title was her husband's "decision to make," the Sussexes did officially let go of their titles when they stepped away from The Firm (via CBS News).
Princess Anne made a similar choice for her own children. In a 2020 interview with Vanity Fair, Prince Charles' sister shared that her kids didn't receive royal titles because she wanted them to have more "ordinary childhoods." The profile was conducted just one month after her nephew and his wife stepped down from the royal family, and Anne did not shy away from the subject. "I think it was probably easier for them, and I think most people would argue that there are downsides to having titles," she told reporter Katie Nicholl. "So I think that was probably the right thing to do." 
However, Harry has made many explosive comments since Anne's Vanity Fair interview. And according to some reports, her tune may have changed. A source claimed to the Daily Mail that Princess Anne, her brother Prince Edward, and her sister-in-law Princess Sophie apparently "failed to acknowledge Harry" at Prince Philip's funeral. 
What would Princess Diana think?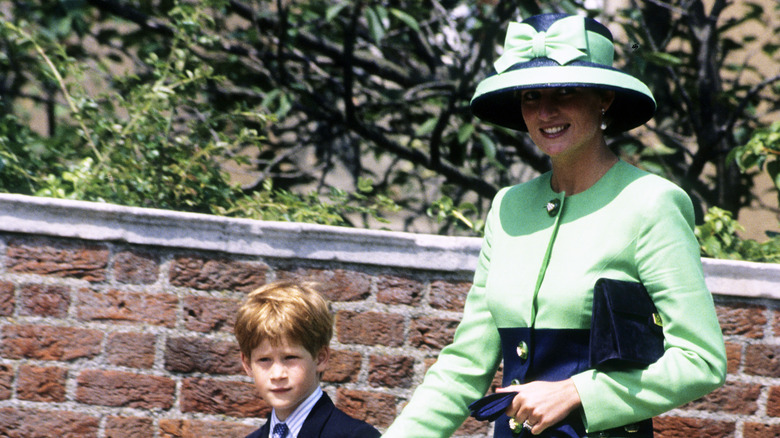 When Prince Harry walked away from the royal family in 2020, it was nearly impossible not to draw the parallels between his own experiences and the pressures felt by his mother, Princess Diana. Like Lady Di, Harry and wife Meghan Markle have been subjected to an unfathomable amount of attention from the media — and that attention was what drove Harry and Meghan to leave The Firm and the continent. 
In his and Meghan's 2021 interview with Oprah Winfrey, Harry said he believed the late Princess of Wales would have supported the decision. "Touching back on when you asked me what my mom would think of this, I think she saw it coming," he shared (via CBS News). "And I felt her presence throughout this whole process." He revealed that the royal family was no longer supporting him financially, so without the money he inherited from his mother, he and Meghan "would not be able to do this." Harry also told Winfrey that his mom would be "very angry" and "very sad" with how he and Meghan have been treated.
In the Apple TV+ series "The Me You Can't See," Harry said he thinks his mom would approve of his life today (via Insider). "I have no doubt that my mum would be incredibly proud of me," he shared. "I'm living the life that she wanted to live for herself, living the life that she wanted us to be able to live."
Source: Read Full Article