The catwalk beauty continues to co-parent the toddler with her ex-boyfriend Zayn Malik after they broke up in October 2021 amid an alleged altercation between the singer and her mom Yolanda Hadid.
AceShowbiz –Gigi Hadid is keeping her daughter Khai fashionable. The supermodel has turned to her social media platform to share a photo of her 2-year-old girl clutching a pricey designer bag. However, fans have bitter reactions to it.
The 27-year-old doting mom uploaded a very rare photo of Khai on her Instagram Story to ring in 2023. The snapshot showed the little girl holding the crystal-embellished Prada Cleo Bag which retails for $3,700.
The picture also gave fans a look at the little girl's chic countdown outfit, a pint-sized black-and-gold pajamas covered in a festive print. "Happy New Year, y'all!" the proud mom captioned her post, "Sendin biiiig love & wishing u the best."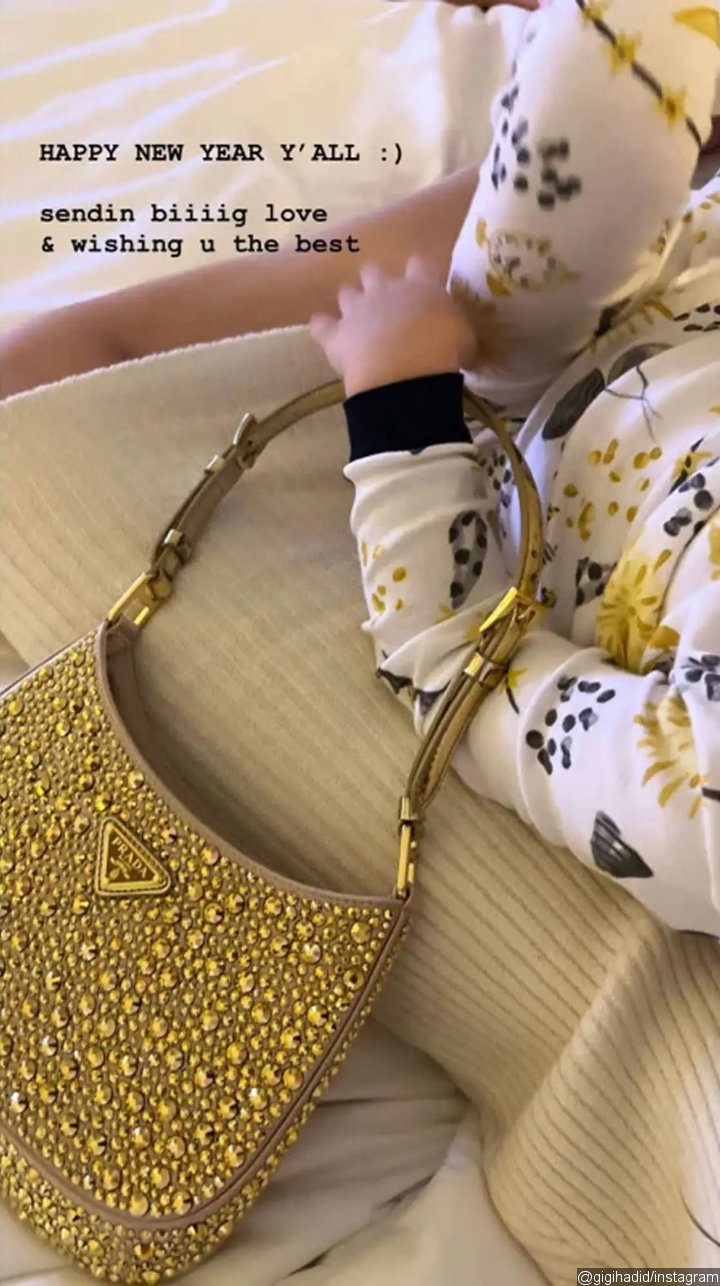 Gigi Hadid posted a photo of her daughter Khai, 2, clutching a $3,700 designer bag.
Upon learning of the post, some fans believed that Gigi posted the photo intentionally. "I know this is a part of marketing campaign…but why using her kid?" one person asked. Another added, "Is this part of a marketing campaign? What 2 year old needs a handbag?" Someone else sarcastically said, "It's her accessory holding an accessory, nothing else," with another labeling the model a "nepo baby" as writing, "Nepo training a future nepo…"
Gigi welcomed her first child with ex Zayn Malik in September 2020. Though the catwalk beauty and the former One Direction singer broke up in October 2021 amid an alleged altercation between the crooner and the model's mother Yolanda Hadid they continue to co-parent the toddler.
Nearly a year after her split from Zayn, Gigi was linked to Leonardo DiCaprio. However, a source recently spilled that the two are "not serious," adding, "Gigi's priority is her daughter." The insider told Page Six that they "like each other very much, neither one wants anything serious right now."
The insider also noted that Leo's busy travel schedule played a factor. "Gigi doesn't have the energy to run after [Leo]," the source went on explaining. They stressed, "His routine is too much for her."
However, a separate source close to Leo told HollywoodLife.com that Gigi and the "Titanic" star are still casually going out. "Leo is single. Nothing has changed with Gigi. They are casually seeing each other but there is nothing serious going on between them at all," the pal shared.
You can share this post!
Source: Read Full Article