Broadcaster and "Meet the Press" host won the Peabody Award and five Emmys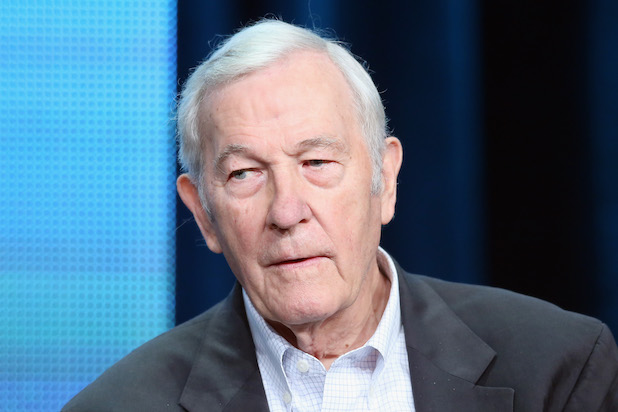 Getty Images
Roger Mudd, a longtime news anchor and political correspondent for both CBS News and NBC News, has died. He was 93.
Mudd in his long career at CBS and NBC won the Peabody Award and also picked up five Emmys, serving as the host of "Meet the Press," "NBC Nightly News" and "CBS Evening News," and he also worked as an anchor at the History Channel.
Mudd's son Jonathan told The Washington Post he died Tuesday from his home in Virginia due to complications of kidney failure.
Roger Mudd was known for an infamous interview with Ted Kennedy that effectively ended the senator's Presidential ambitions to unseat Jimmy Carter, asking him pointed questions about the Chappaquiddick incident and simply asking Kennedy why he wanted to be president. Kennedy fumbled and awkwardly stammered and looked unprepared, leading the media to question his motivation and eagerness to hold the job.
Mudd was long thought to be the heir apparent to Walter Cronkite at CBS News, but was overlooked by his Washington bureau colleague Dan Rather after Cronkite's retirement, leading Mudd to leave the network and take the anchor seat at the rival NBC.
His real strength though were as a reporter, covering Capitol Hill for 20 years and reporting on spending at the Pentagon and a special report on the Watergate scandal and the Civil Rights Act of 1964. He also conducted an interview with Robert F. Kennedy minutes before Kennedy was assassinated on June 5, 1968.
After his stint at NBC, Mudd joined PBS' "Newshour" as an essayist and political correspondent, and he served for 10 years as the primary anchor with "The History Channel." He retired from broadcasting in 2004.
He had received his B.A. from Washington and Lee University, where he would later serve as a visiting professor, and then earned his Masters from the University of North Carolina. Early in his career he worked at a paper in Richmond, Virginia and for a local radio station before moving to Washington, D.C. in the late '50s and joining WTOP News.
Mudd's published his memoir "The Place to Be: Washington, CBS, and the Glory Days of Television News" in 2008.
Source: Read Full Article