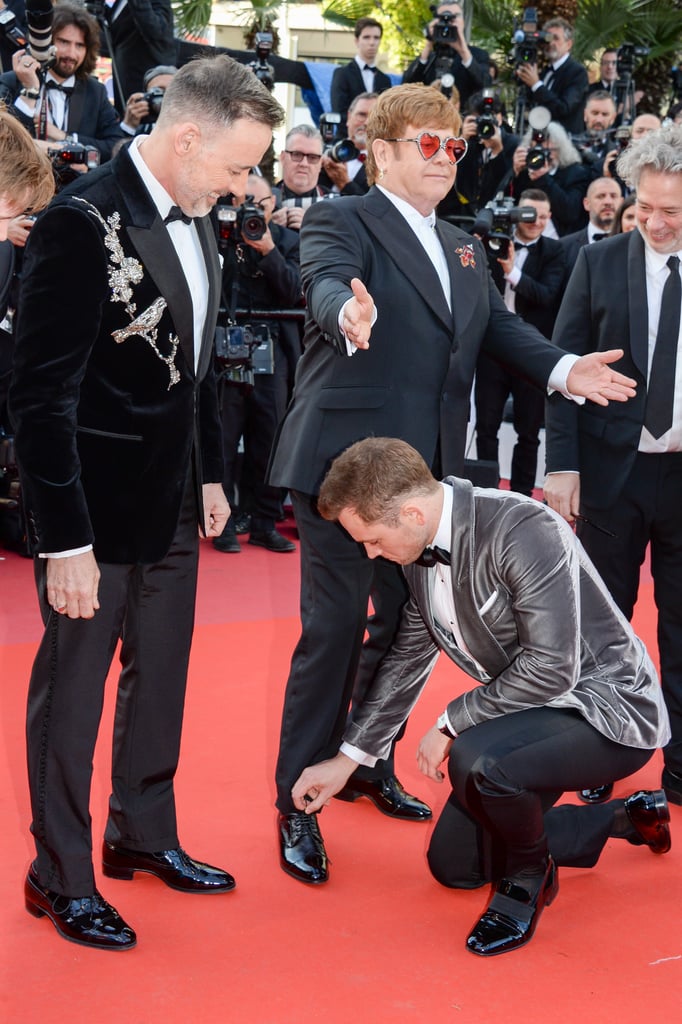 "Thank you, Taron." — Elton John, probably

The British have a word that I've always loved: chuffed. Basically, it means that you're super pleased, and Rocketman star Taron Egerton looks like he was straight up chuffed to be standing next to Elton John on the red carpet at the 2019 Cannes Film Festival. He was so thrilled, in fact, that he didn't hesitate to get down on one knee smack dab in the middle of the red carpet to tie Elton's unlaced shoe.
The moment came while Elton was posing for a photo with some of the cast and crew involved in the new musical biopic Rocketman, which premiered at the festival on Thursday. Taron, who portrays Elton in the upcoming film, took extra care in making sure the musical icon's shoe was properly tied, and it looks like Elton turned Taron's act of kindness into a truly photo-worthy moment. Richard Madden, Bryce Dallas Howard, and even Elton's husband David Furnish all got a kick out of the sweet moment. Keep reading to see Taron tying Elton's shoe and just being generally thrilled to be in the presence of the one true Rocket Man.
Source: Read Full Article