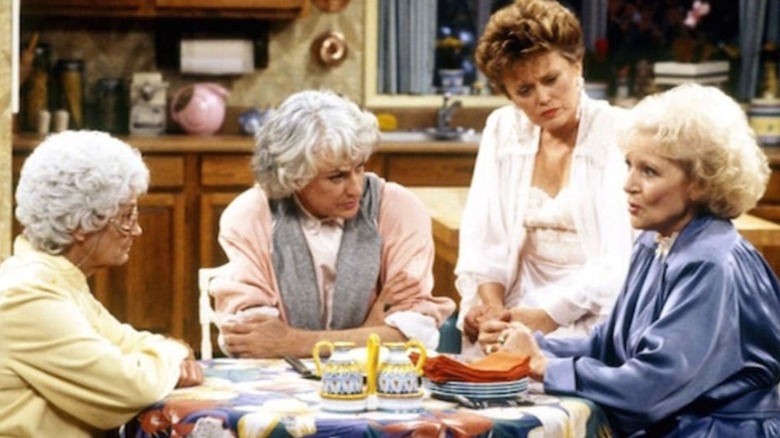 Every sitcom fan knows the theme song for "The Golden Girls" and can often sing along knowing each and every word, "Thank you for being a friend / Travel down a road and back again / Your heart is true, you're a pal and a confidant" (per Medium). Now that we got the song stuck in your head, you can't argue the likability of Bea Arthur, Betty White, Rue McClanahan, and Estelle Getty as Blanche Devereaux, Dorothy Zbornak, Sophia Petrillo, and Rose Nylund.
The show, which ran from 1985 to 1992, had seven very successful seasons that depicts the lives of four older women who share a special friendship, a Florida home, and, at times, a lot of cheesecake (per ABC News). Even though the series originally started out as a sketch show called "Miami Nice," test audiences fell in love with the idea of the four funny women and their relatable stories (per Bustle).
The cheesecake was just a ruse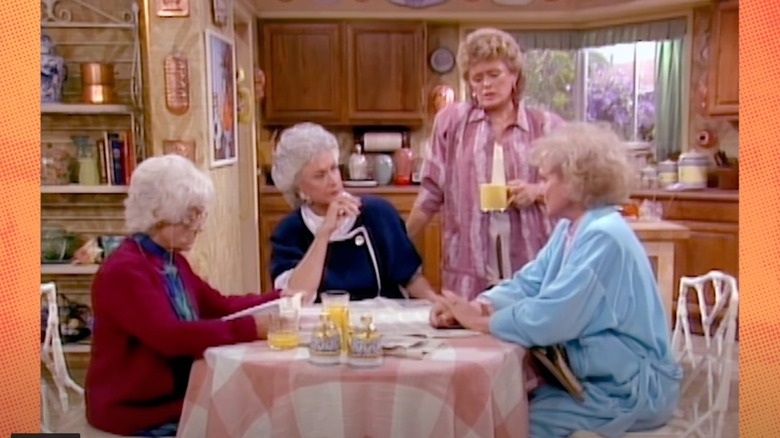 But did you ever think that there could be more to the show? Superfan Michael Harriot sure did when he came up with the working theory that the girls were somehow mobsters. In a series of tweets, he wrote that he believed the four women were "members of an organized crime syndicate." The TV sleuth enjoyed diving deep into his theory, saying that while viewers probably thought they were innocent widows, the Floridians were, in fact, "gangsters," pointing out that the show premiered at the beginning of the crack epidemic.
Upworthy pointed out how "hilariously plausible" The Root writer's thread actually was. Harriot divulged that the women moved to Miami to "push that weight," as Rose was supposedly the muscle of the organization, writing that, "Rose acted innocent & sweet, but she wasn't as dumb as she pretended." Harriot even alluded to the fact that she was a black widow who actually killed her husband, Charlie.
Shady Pines, Ma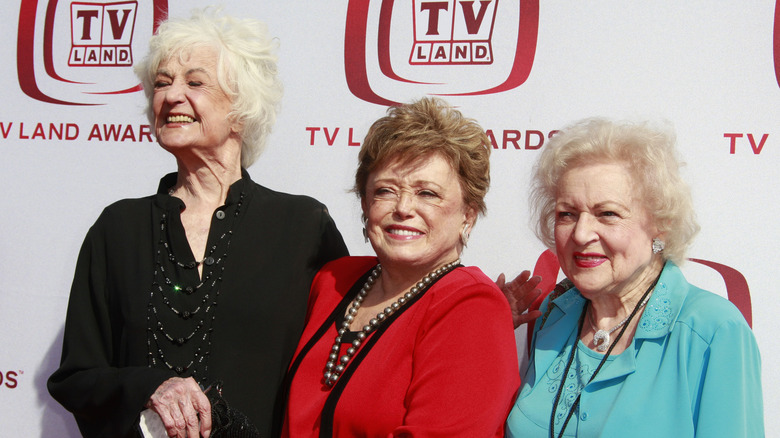 As for the rest of the gang, Harriot tweeted that Blanche's father was a pimp due to his nickname, "Big Daddy." The author felt that she moved to Miami to use her connections in the art world. As for "Dangerous" Dorothy, her role in the group was to handle everyday affairs. Her Brooklyn upbringing prepared her for the life of crime. Sophia's connections seemed to be the most legitimate since she was, after all, from Sicily. Harriot even believed that she was an arsonist who burned down Shady Pines. It was all just a cover-up so the women could live together under one roof. While this theory may be the most well-known, there have also been other plot twists thrown out there.
On a Reddit feed, another fan's theory is that the show could be played out in a multiverse. The writer noted that over the seven-season run, the character's backstories were changed a lot.
Thank you for being a friend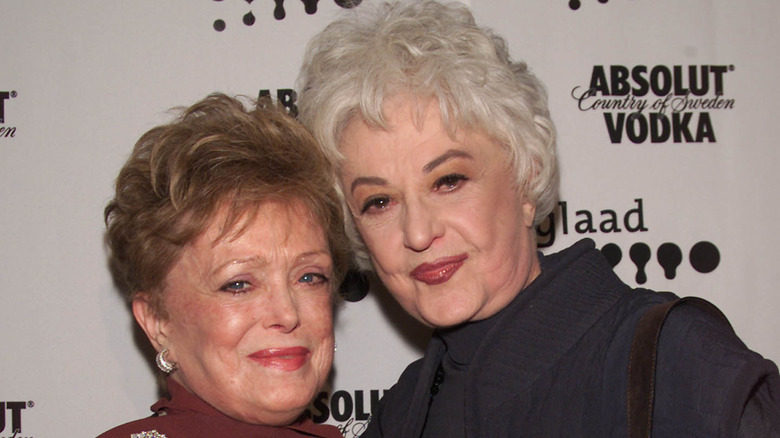 To help viewers grasp the concept, there was evidence given to back the theory up. Rose, Blanche, and Sophia's children and siblings often change from episode to episode. Dorothy's character once said she became pregnant after going to the prom with her ex-husband, Stan, while another episode had her saying it was at a drive-in movie. One of the biggest clues was about how many times Sophia's mother passed away, with the thread revealing, "Sophia's mother died at several different points in time. One time was in the 1910s when Sophia's brother, Angelo, promised their mother that he would be a priest. Another time was in the early 1950s. A third time was sometime after May 1957 when Sophia's mother moved in with her and Sal."
All these theories could be chalked up to the fact that there were some sloppy writers who didn't keep track of the storyboard. But it is a little more fun to delve deep into the sitcom to try and figure out what these women were really up to. We can all agree they weren't just snacking on cheesecake and thinking of witty comebacks.
Source: Read Full Article