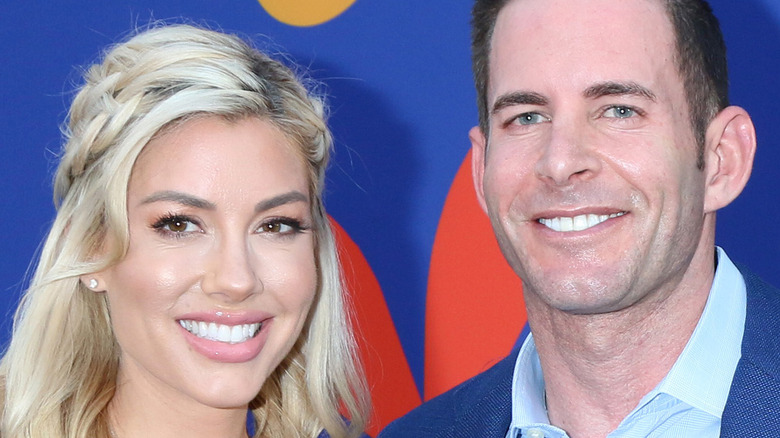 Kathy Hutchins/Shutterstock
By Kelsie Calderon/Aug. 24, 2021 9:47 am EDT
When Tarek El Moussa and Christina Haack separated in 2016, it wasn't just devastating for their fans. "I was sad for a very long time; I was alone for a very long time," El Moussa told ET. However, when he laid eyes on realtor Heather Rae Young in 2019, everything changed. "I feel like she's really brought me back to life," he said, "which is very, very fun to say." Ever since, fans have been obsessed with the two of them together.
In reality, these two stars should probably have never even met on that fateful day in Newport Beach. "I was living in LA at the time, so I never came to Newport Beach," Young explained on the podcast "Not Skinny But Not Fat." "It was very, very rare that I came down that day." These two have since lived a love story that's also very rare in the reality TV world, too. This is the truth about Heather Rae Young's relationship with Tarek El Moussa. 
The first time Tarek El Moussa asked Heather Rae Young out on a date, she declined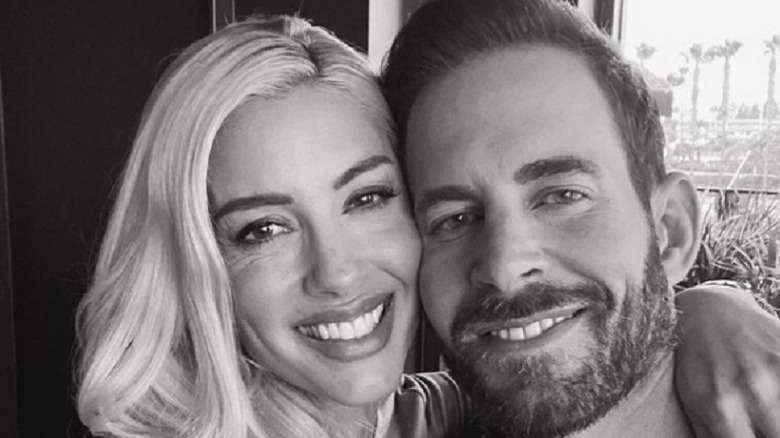 While their love story may seem magical now, it didn't start off that way. When Tarek El Moussa and Heather Rae Young met for the very first time, he was immediately interested in her and eager to strike up a conversation. Funny enough, she even recognized him right away. He, of course, was flattered, thinking it was because he's a reality TV star, but that actually wasn't the reason she knew him so well. "She goes, 'I know you, because you already asked me out,'" he revealed on the podcast "Not Skinny But Not Fat." 
It turns out, El Moussa had been on Instagram weeks beforehand and had sent a private message to Young before ever meeting her. Yet, when he asked her out on a date over a DM, she quickly declined. "This was, like, right before I filmed the pilot ["Selling Sunset"] actually, and I was living in another country with my ex-boyfriend," Young explained. Luckily, the house flipper got another chance to meet up with her in-person soon after their somewhat-awkward encounter online.
Heather Rae Young and Tarek El Moussa first connected aboard his boat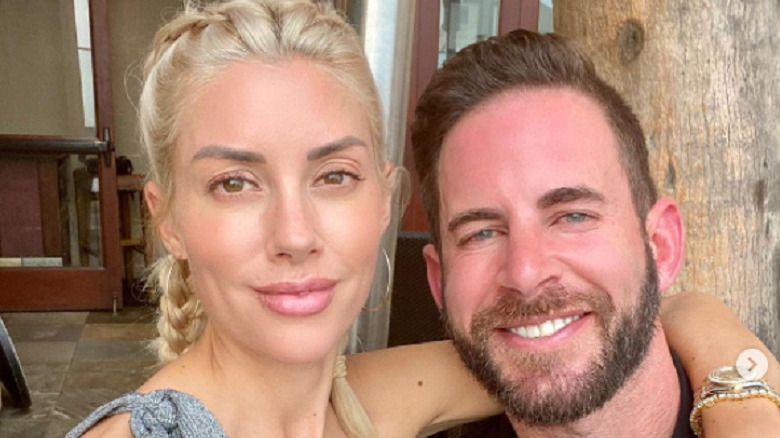 Joining a party on a boat called "Bad Decisions" turned out to be one of the best decisions that Heather Rae Young ever made. It was Fourth of July weekend in 2019 when it all happened.
While she was out enjoying the Pacific, she spotted some of her friends on a boat parked nearby. That's when she was approached by the owner of that boat. "He, like, turned around and he was like, 'Hi, I'm Tarek,'" Young told Cosmopolitan, and the HGTV star immediately asked for her number.
When she returned to her own boat, another man was quick to hit on her, too — which El Moussa was not happy about at the time. His first thought was, "There's another dude talking to my girl," he said on the podcast "Not Skinny But Not Fat," so he did the only thing he could think of. He honked the horn on his boat for as long as he could as a distraction. That small gesture ended up being something special. "Honking your boat horn at me the day we met, that will forever be the moment that you became my game changer," Young wrote on Instagram. Ever since that day, they can only sea themselves with each other.
Heather Rae Young and Tarek El Moussa's first date didn't go so smoothly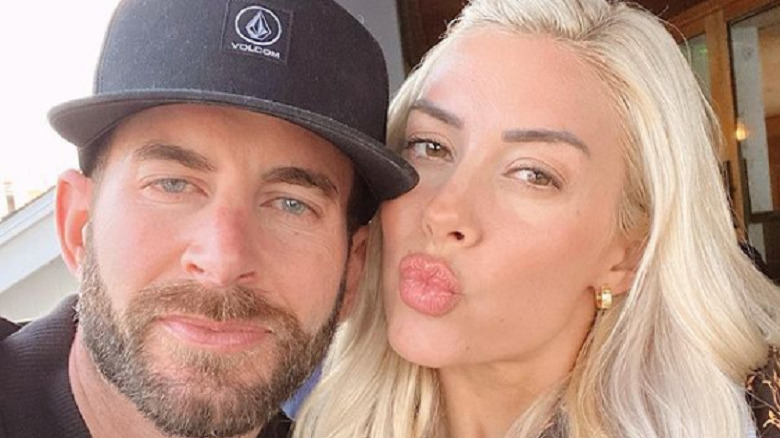 After Tarek El Moussa first introduced himself to Heather Rae Young, he immediately asked her out on a date — to Paris. Her response? "What?! Do I want to go to Paris with you? No, I don't even know you," she reminisced to Page Six. Another idea he had was to simply go out for drinks, to which Young eventually agreed. In hindsight, however, it seems she was hesitant about going out with the HGTV star the whole time. "She almost didn't even come to our first date," El Moussa later revealed on Instagram. Today, he said, "I don't know where I'd be if she didn't."
Obviously, in the end, Young did go out and have a drink with El Moussa, and the two ended up talking for six hours. Even after leaving, they were FaceTiming the whole way home," she told Page Six. Four months later, they finally took that trip together to Paris, too.
Heather Rae Young and Tarek El Moussa said 'I love you' after five days of dating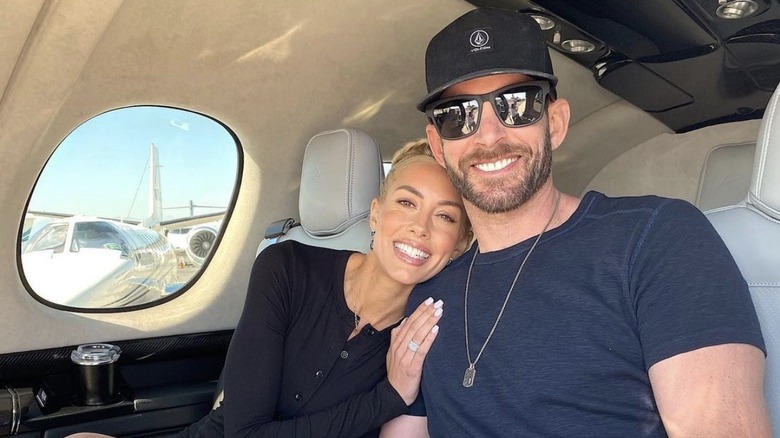 Exchanging the "L" word is a serious step in any relationship. In many cases, it solidifies that you even have one. When Tarek El Moussa and Heather Rae Young first expressed their feelings for each other, it was a memorable moment. They were enjoying a date together at a restaurant in Laguna Beach, called The Montage. "It was our fifth day of knowing each other," El Moussa admitted to Us Weekly.
Though Young had been hesitant earlier that week to meet up with El Moussa for the first time, she was obviously into him. The entire conversation began when she turned to him, and "I said, 'Tell me you love me,'" she explained. In that moment, El Moussa did. Looking back, falling for Young was something he had done the very first moment he laid eyes on her. "I loved her," he admitted on the podcast "Not Skinny But Not Fat." "I loved her." Aww!
Heather Rae Young and Tarek El Moussa moved in together the same week they started dating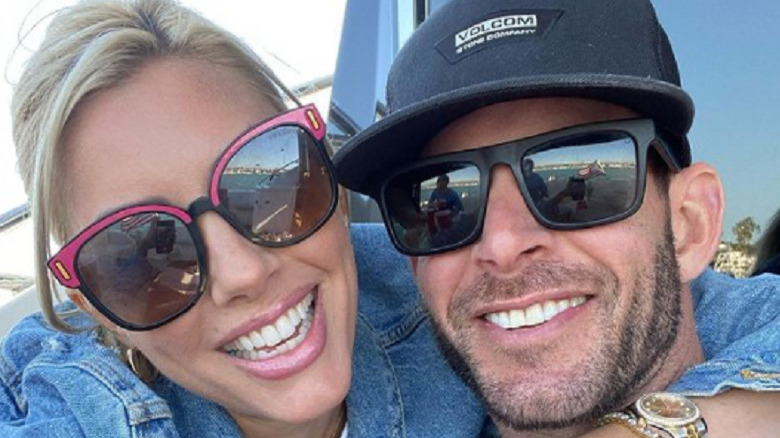 While they were dating, Heather Rae Young and Tarek El Moussa had to travel back and forth across southern California in order to see each other. Young was still selling real estate in the Los Angeles. El Moussa was busy flipping houses nearly an hour away. In order for them to be closer, the two eventually decided they needed to make a change. Young packed her bags and never looked back. "I know it's crazy but we moved in together," El Moussa admitted on Instagram. "After only a week."
El Moussa's home in Costa Mesa, California was one he had moved into after his divorce from Christina Haack. "It was a very defining moment in my life after my divorce," El Moussa told People. Yet, with Young in his life, "Now it's time to move on to the next chapter," he added. Nine months into their relationship, the real estate duo put El Moussa's house up for sale and rented one out in Newport Beach to make their own.
Tarek El Moussa gifted Heather Rae Young a Ferrari for her birthday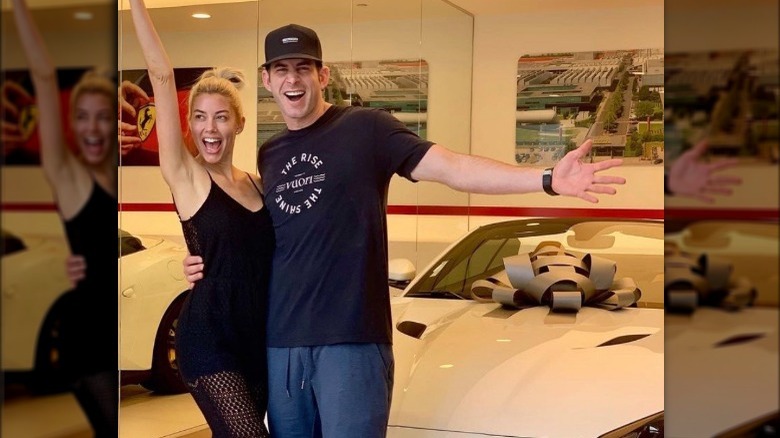 Heather Rae Young and Tarek El Moussa have definitely felt a need for speed throughout the (race) course of their relationship, so why shouldn't their hobbies be any different? It turns out, these two love cars. In fact, "On our first date he asked me what my dream car was," she explained on Instagram. "I said a white [Ferrari]." So, that's exactly what she was gifted by her beau for her 32nd birthday. It was a pricey present, considering the pair had only been together for two months.
Yet, ever since, El Moussa and Young have been spotted spending time at racetracks across the country. "We drifted, raced cars and karts!!" El Moussa wrote on Instagram after one of their trips together. "Heather is an animal!! I'm not kidding this girl is fast!" One of their favorite raceways is in Arizona, where they've been seriously considering purchasing a second property together. We'll be sure to watch out for "Flip or Flop: Desert Edition" in the future! 
Heather Rae Young and Tarek El Moussa got engaged on Catalina Island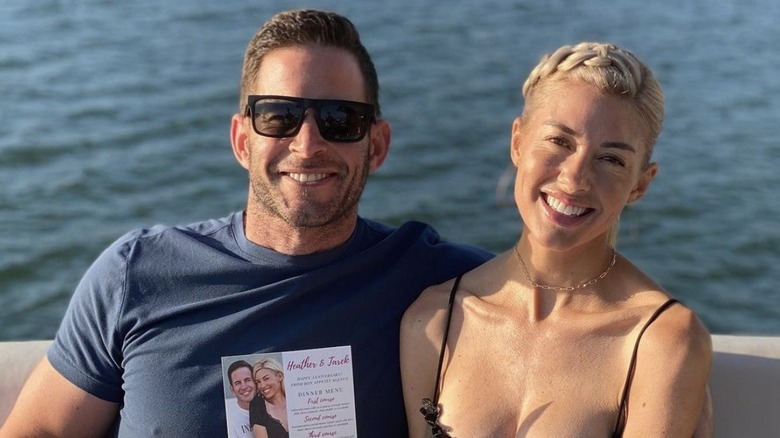 After one year of dating Heather Rae Young, Tarek El Moussa decided it was the best time to ask her a very important question. He took his sweetheart on a special trip to Catalina Island in July 2020 to go boating, hoping she wouldn't expect the big surprise that would be happening next — even though every moment of their trip was being documented. "I've done everything humanly possible to play it off like we're filming for our normal TV shows," he said at the time on "Flipping 101 With Tarek El Moussa."
First up, the two enjoyed a few days of private dinners and a bit of pampering at a local spa. At the end of the week was when El Moussa popped the question. Young was shocked when he debuted a beautiful eight-carat — his lucky number — emerald-cut engagement ring.
Although Heather Rae Young and Tarek El Moussa's engagement occurred on a private beach, fans can catch the whole proposal on his TV show, "Flipping 101 With Tarek El Moussa." "I just want to let the world know I met someone special that makes me want to be a better man," he told People.
Heather Rae Young now wears a different engagement ring than the original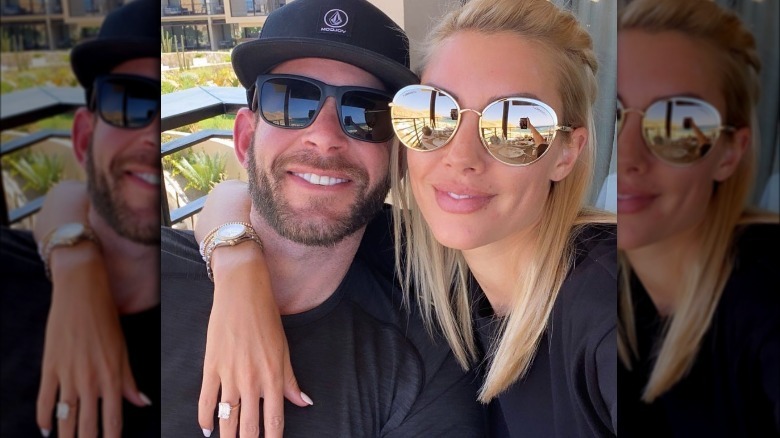 While the engagement ring that Tarek El Moussa gifted his fiancée will always be special to her, there was another ring that Heather Rae Young had always dreamed of having. "I never planned my 'dream wedding,' but I saved rings I loved for the past 10 years," she revealed in an Instagram story (via Daily Mail). Though "gold with emerald cut was always my dream ring," she continued, there was still something missing from hers.
Six months after announcing their engagement, the two decided to give her eight-carat ring an upgrade. Along the gold band, Young had a few more diamonds added in to make it shine even brighter than before. It may not be the same one she was originally gifted by El Moussa, but it's still just as special. "We designed it together," she said.
Do Heather Rae Young and Tarek El Moussa want to have children together?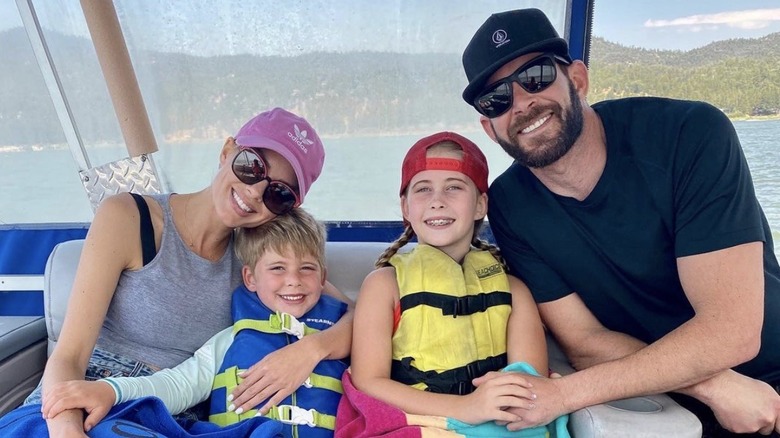 When Heather Rae Young agreed to become Mrs. El Moussa, she also signed up to become a stepmom. Taylor and Brayden are Tarek El Moussa's two children from his previous marriage, and all three of them together are a package deal. "I adore those kids. I raise them like they're mine," Young gushed on an episode of "E! Daily Pop." Yet, it has everyone wondering, does the Netflix star ever want any children of her own?
Between shooting a TV show, becoming a businesswoman, and being a "bonus mom," Young actually doesn't have babies on her mind. "I already feel like I have two kids," she explained. The "Selling Sunset" star even received a special bouquet of flowers from them and El Moussa's ex, Christina Haack, on the first Mother's Day they spent together. "The kind of family we have is special and my heart is so full already that I really don't feel the need for more," Young wrote on Instagram. So, while the HGTV family may be expanding, the El Moussa family most likely won't.
Heather Rae Young and Tarek El Moussa did adopt a puppy together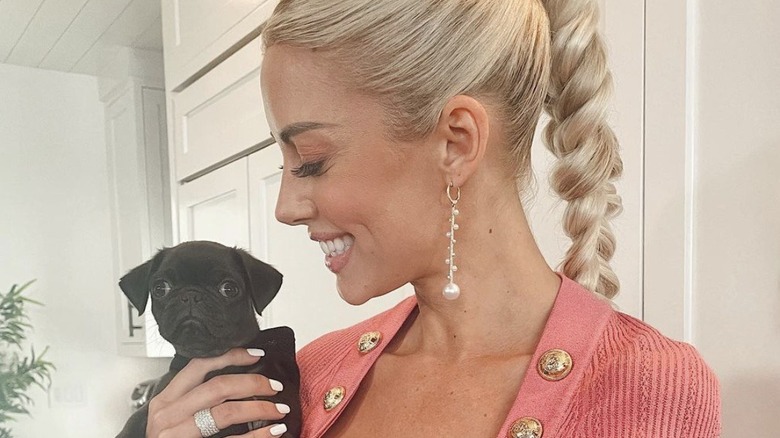 Though Heather Rae Young and Tarek El Moussa have no plans to expand their family, their minds changed after they adopted their first fur baby. "We've been thinking about getting a puppy for a while now," Young admitted on Instagram, and, when they laid eyes on a little lady named Bugz, they knew they had to have her. "I meannn look at her face!! how could you not?!!" she wrote. "And now she's officially [a part of] our family."
Once El Moussa's two children arrived home from vacation in early August 2021, the reality TV stars surprised them with the precious puppy. The adorableness obviously left the two in awe, so Bugz seems to fit in just fine with the El Moussa's. In fact, they're even debating giving her a special role in their upcoming wedding. Paw-some!
Heather Rae Young and Tarek El Moussa have a special holiday tradition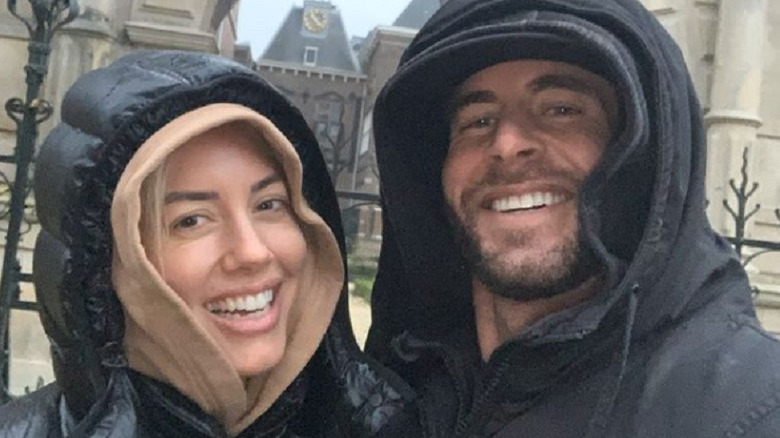 The holidays have always been about family traditions, and Heather Rae Young started up a new one when she met Tarek El Moussa. "Tarek gave me the job of picking out the outfits for our family Christmas shoot. He said, 'I'll wear whatever you bring home,'" Young explained on Instagram, and she had something pretty special in mind for him and his kids. "I decided on matching jammies." Now, every single holiday, the four of them put on matching pajamas for their annual Christmas photo — but the fun doesn't stop there.
A few months beforehand, when Halloween rolls around, Young and El Moussa love to take the kids trick-or-treating. These two reality stars even like to put on costumes with them, too. "Seeing them laughing is priceless," Young told fans on Instagram. "My life has changed so much," she added. "And I feel so fulfilled and happy."
Heather Rae Young has Tarek El Moussa's name tattooed on her body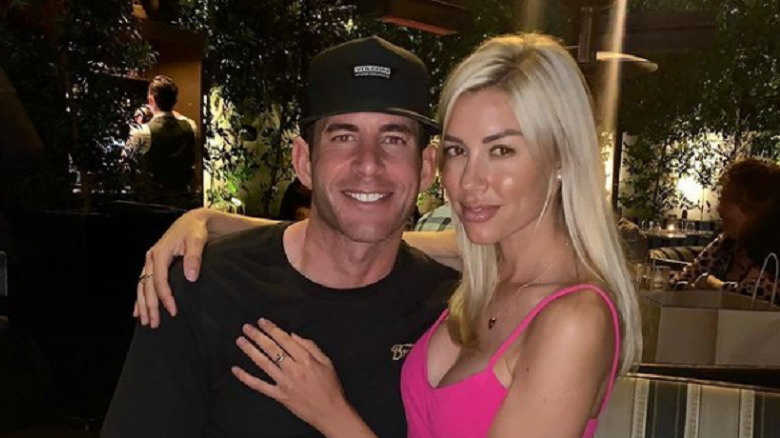 Getting engaged wasn't the only way Heather Rae Young made her love for Tarek El Moussa official. To make it even more permanent, she had his name tattooed on her hip. "Yes, sir, Mr. El Moussa," it reads in cursive writing.
The reality star first debuted her new ink on Instagram in early February 2021 to show off this special Valentine's Day gift for her fiancé. Yet, as excited as she was about it, fans weren't entirely supportive of what her tattoo said, she shared with Us Weekly. After all the feedback, Young ended up removing the post entirely from the Internet.
Regardless, she still has the saying on her hip today, and her soon-to-be husband seems to be a fan of it. "Forever and ever and ever," he had written in the comment section. It's true, too. Their love for each other — and her body ink — is eternal.
Heather Rae Young is super supportive of Tarek El Moussa starring on a show with his ex-wife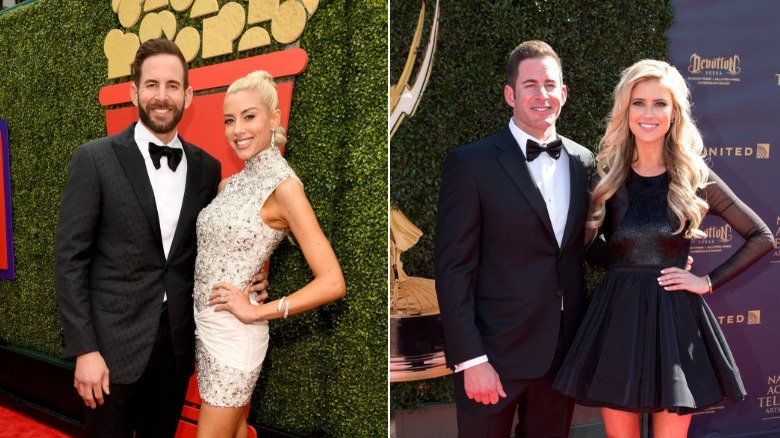 Tarek El Moussa's home renovation series, "Flip or Flop," has been on the air ever since 2013. Yet, even after he and his co-star, Christina Haack, separated in 2016, the show has continued on HGTV. "And I really think the episodes are getting better and better," El Moussa said on ET, and it seems as though fans truly agree as they continually tune in. 
Yet, on the other side of things is his fiancée Heather Rae Young. For her, anyone can assume it would be awkward to watch El Moussa alongside his ex-wife on TV, but this is, surprisingly, something that's never bothered her. "I'm a really confident person, and I'm confident in our relationship," she told Radar Online. "I think what he does and everything he has going is amazing, and I'm fully supportive of him." She's actually proud, too. According to Deadline, "Flip or Flop" is one of the most-viewed series on cable TV.
Will we get to see Heather Rae Young and Tarek El Moussa's wedding on TV?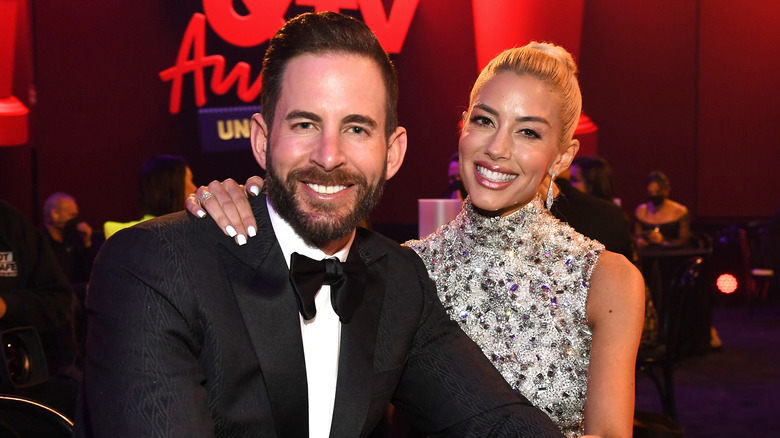 After seeing their engagement on TV, fans can hardly wait to watch Heather Rae Young and Tarek El Moussa get hitched on there, too. However, this is something that's still up in the air for the future Mr. and Mrs. El Moussa. Why? "This is a big day for us and for our family, and we don't take that lightly," Young explained on Instagram.
Yet, fans shouldn't fret just yet — because the couple actually has a lot of wedding details that have still been left undecided. In fact, the two sent out save-the-dates only to change their minds and send out a second set in August 2021, "that said 'just kidding' on them," Young laughed.
If we do catch a glimpse of their big day, we can all plan to see it on either "Flipping 101 with Tarek El Moussa" or "Selling Sunset," they told ET. Here's to hoping these two stars get their own wedding special!
Source: Read Full Article