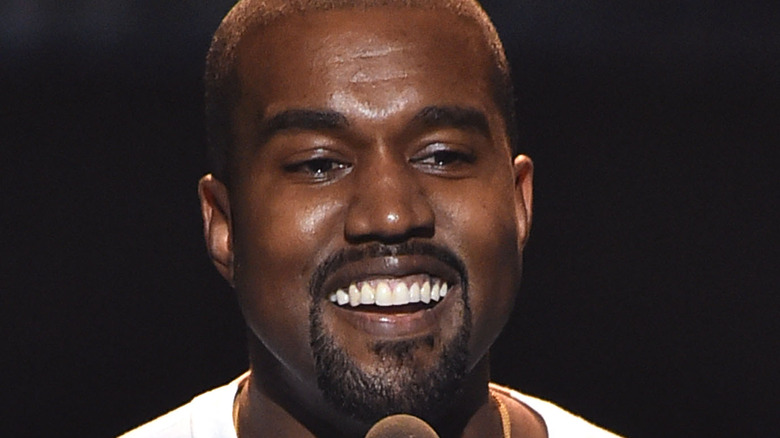 Kanye West is rarely out of the news, and that's as much caused by his personal life as it is his music. The news that the rapper and his wife Kim Kardashian are divorcing rocked Hollywood in early 2021, but theirs is not the first of Ye's high-profile relationships.
Per Glamour, he's reported to currently be dating Russian model Irina Shayk, who's previously been with Cristiano Ronaldo and Bradley Cooper, after his relationship with the middle Kardashian sister came to an end after almost a decade together. Previously, he'd been in a relationship with model Amber Rose, who has since dated the likes of Wiz Khalifa and 21 Savage (via XXL), and the rapper has been linked with a number of another names throughout his life as well. 
From his high school sweetheart to Kim Kardashian and Irina Shayk – and all the relationships in-between – here's the truth about Kanye West's dating history. 
Kanye met his first love in high school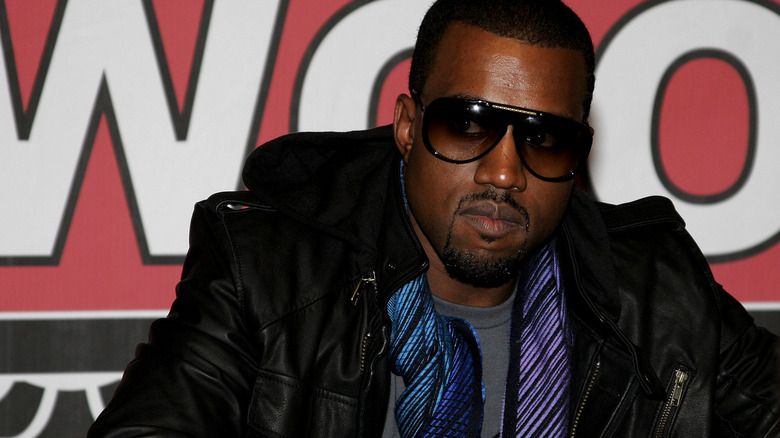 Kanye's relationships might be a lot more high-profile these days, but back when he was still in high school, he was dating a fellow student Sumeke Rainey.
Despite the rapper-producer's rise to fame in his later years, not much is known about Rainey and their young love. However, she was referenced on West's debut studio album, "The College Dropout", on the track titled "Never Let Me Down," 
"Nothing sad as that day my girl's father passed away / So I promised to Mr. Rainey I'm gonna marry your daughter," he rapped in the track, the only time he's ever referenced her publicly. However, according to PopSugar, her voice appears on the album too on the song "Get Em High," when West gets asked if he knows fellow rapper Talib Kweli. 
It was the same Mr. Rainey above who gave the rapper a box of records from the likes of Aretha Franklin, Curtis Mayfield and Marvin Gaye, which all became influential singers and musicians for his music and subsequent career. 
Kanye was engaged in the 2000s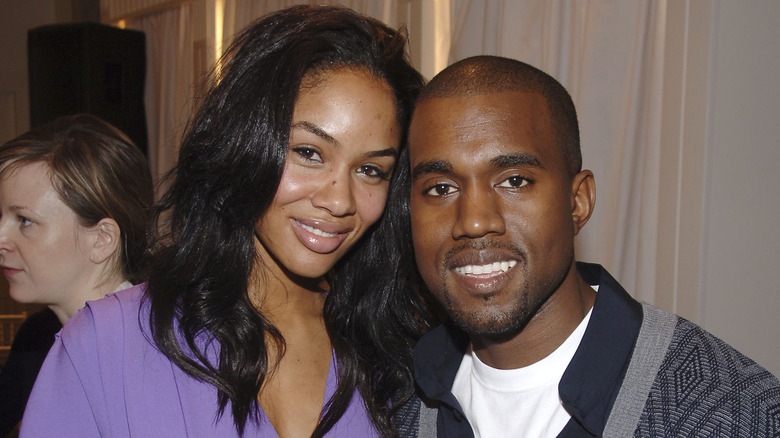 According to People, Kanye West dated Alexis Phifer on and off from 2002 through 2008, meeting a couple of years before Kanye had his first breakout success with "The College Dropout." They first called it quits in 2004, before getting back together a year later. Ye then proposed in 2006 over a lobster and pasta meal on the Italian island of Capri. However, the relationship coincided with the death of Kanye's mother Donda West in 2007, which may have had influence on the couple splitting for good the following year. 
The pair remained on good terms after the engagement ended, however, with Phifer telling People, "It's always sad when things like this end, and we remain friends … I wish him the best in his future and all of his endeavors. He's one of the most talented people I've ever met." The breakup was rumored to have inspired a number of the tracks on Kanye's 2008 album, "808s and Heartbreak" (via Revolt).
In between his on-and-off situationship with Phifer, Kanye also had a brief relationship with Brooke Crittendon, who was working as an executive assistant at MTV News, but that pairing also didn't last. According to Pop Sugar, Crittendon took to MySpace to address the haters of their relationship; this may have inspired a Kanye lyric during his verse on Pharrell Williams' track "Number One" where he raps, "And you be givin' me my space, and you don't be runnin' on MySpace."
Kanye went on to date Amber Rose for two years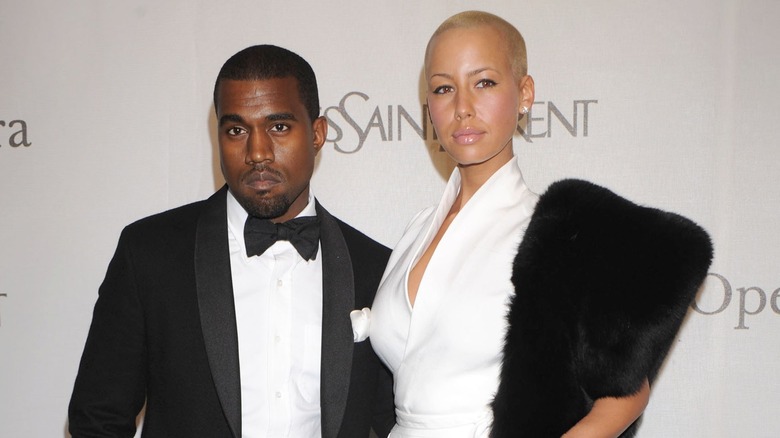 Per People, Kanye West's next relationship was with model Amber Rose, who he dated from 2008 – following his split from Alexis Phifer – to 2010. However, the model has subsequently gone on to paint the relationship in a negative light, describing the "constant bullying" she faced from West, and telling Complex in an interview, "The only thing I got from him was fame. I had to just take that … I had to take that heartbreak on top of it."
West's album "My Beautiful Dark Twisted Fantasy," often considered his best work, was inspired by the breakup (via udiscovermusic), and Rose has acknowledged her inadvertent role in the album's creation, telling Joe Budden, DJ Akademiks and Nadeska Alexis in an interview, "It's a great part of history and hip-hop and that's cool, and I'm happy to be a part of it."
Rose, who currently has two sons (one of which she shares with Wiz Khalifa), went on to explain, "It wasn't a great time for me because I'm famous, and I'm broke and I don't have any money. We weren't married, he didn't owe me shit. I had to figure out what I was going to do with the fame and with my life at the time … For me to have that type of fame, a lifestyle with a man and then not have it anymore — but still have paparazzi outside, with no money. I had to figure that out."
Kanye went on to marry Kim Kardashian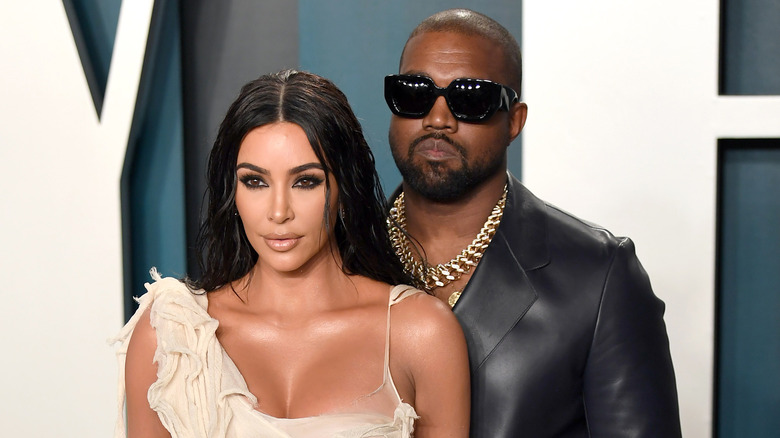 For anyone who's paid even the slightest bit of attention to the world of celebrity news, Kanye West started dating Kim Kardashian in 2012 after her 72-day marriage to professional basketball player Kris Humphries ended (via People). A year later, the couple's first child, named North, was born, and Ye proposed to Kardashian a few months later.
The pair got married in 2014, and then had three more children together: Saint, Chicago and Psalm. It's been a turbulent few years for the couple, West making a foray into politics and even running for the presidency (via BBC News), and Kim continuing to star in "Keeping Up with the Kardashians," which is coming to an end in 2021 after 20 seasons (via Radio Times). 
Throughout 2020, rumors swirled about the couple potentially getting a divorce after alarming behaviors from West, which resulted to him leaving his home and moving temporarily to a ranch in Wyoming (per Business Insider) and Kardashian revealing that West suffers from bipolar disorder (via Harpers Bazaar). In February 2021, it was confirmed that the mother of four had filed for divorce (via Elle). Since then, West has been reportedly dating Russian model Irina Shayk (via Mirror), but it remains to be seen just how serious the couple are.
Source: Read Full Article