Wendy Williams has some serious beef with Kim Kardashian West!
Earlier this week on Twitter, the KUWTK star called out Jack in the Box for a "serious complaint" that needed to be dealt with "pronto"!
Video: Watch Kim Kardashian Get Fitted For Her Sexy Met Gala Look!
The mother-of-four later clarified that it was an issue "that affected other customers at this particular location" — not about "a wrong order."
Although the fast food chain later addressed Kardashian West's grievance, the daytime talk show host thought Kanye West's wife's public grumble was a form of "bullying."
She said on Tuesday's episode of The Wendy Williams Show:
"Kim Kardashian is mad at the fast-food restaurant Jack in the Box… Who does she think she is?… Don't string people along… What this sounds like is you're using your celebrity and your newfound business head for pomposity and bullying."
The 54-year-old also remarked:
"There's not a bone in me that believes she's complaining because they left cheese off of a burger. It's not like that. Maybe they saw a worker being mistreated or a worker do something wrong or something wasn't right in the restaurant so she was pissed."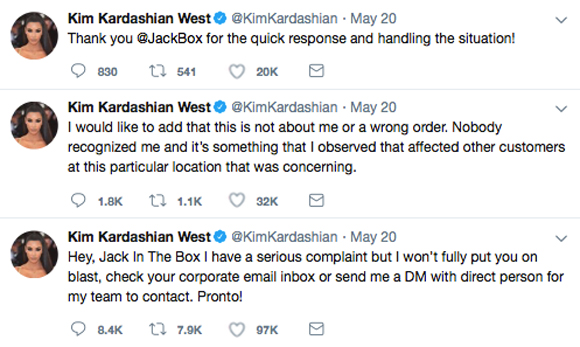 While Williams acknowledged that Kardashian likely "wanted to do good for the people… the way she went about it just makes her sound like an ass," adding:
"You should have picked up the phone and called corporate, and talked about it behind the scenes… Please don't become that bully online, because right now you're bullying Jack in the Box."
Fast food drama aside, earlier this month, Kim revealed the name of her fourth child on social media: Psalm West!
According to an Us Weekly report published on Tuesday, Kimye "had multiple names" for their baby, but "didn't decide until a day after the birth."
However, now that the tot has his moniker, his parents couldn't be more proud! The insider explained:
"All the kids are so excited for the new baby. It's a very special time… Kim and Kanye are so happy. Four is the same as three in terms of how much they have on their plate. Their life is totally rooted in their family."
As we wrote, the 38-year-old "had a beautiful Mother's Day weekend with her newborn and older kids" including daughters North and Chicago West, and son Saint West. A People source detailed:
" didn't seem stressed out at all… Before the baby was born, she was freaking out for weeks because she felt they weren't ready for him. But the second he was born, Kim was just focused on how happy she is that her baby boy is here."
Because of her bundle of joy, Kardashian has adopted "a bit of a lighter schedule right now so she can bond with her baby."
"She seems very happy. And Kanye loves the energy of having a newborn. A new baby to love and get to know is so special for the whole family."
Recently, the reality TV personality gave an update on Psalm, saying "he is the most calm and chill of all of my babies so far and everyone loves him so much."
We'd believe the multitasking momma had a bit too much on her plate with the new baby to track down corporate at Jack in the Box, but what do U think??
Should Kim have gotten on the phone?
Source: Read Full Article