video
Ford fights supply chain shortages with 'unbelievable' consumer demand: Ted Cannis
Ford Pro CEO Ted Cannis discusses the automaker's recently unveiled Ford Transit Trail van and how supply chain shortages have become a deepening problem within the auto industry.
The electric car price wars may be heating up.
Ford announced Monday that it is cutting the price of the Mustang Mach-E by up to $5,900.
The adjustment comes just days after Tesla announced steep cuts on several models.
Ford said the change is due to a combination of "streamlined costs" and an upcoming increase in production.
HERE'S HOW MANY LINCOLN DEALERS WANT TO SELL ELECTRIC VEHICLES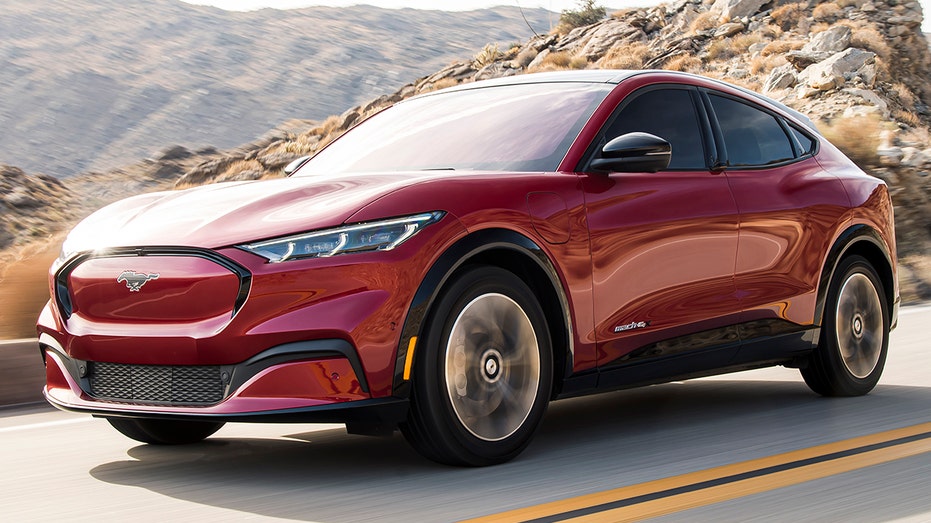 The Ford Mustang Mach-E was the third best-selling EV in 2022. (Ford / Fox News)

"We have to compete," Marin Gjaja, chief customer officer for Ford's EV unit, told Automotive news.

"It's a competitive marketplace, and it just got a lot more competitive because of what Tesla did. We're not going to cede ground to anyone."

"At @Ford, we want to make EVs more accessible, so we're increasing #MustangMachE production & reducing prices across the Mach-E lineup," Ford CEO Jim Farley tweeted on Monday. "Scaling will shorten customer wait times. And with higher production, we're reducing costs, which allows us share these savings with customers."

The reductions across the Mustang Mach-E's six trims range from $600 to $5,900, and the price of upgrading to the extended range battery option offered on some models was cut from $8,600 to $7,000.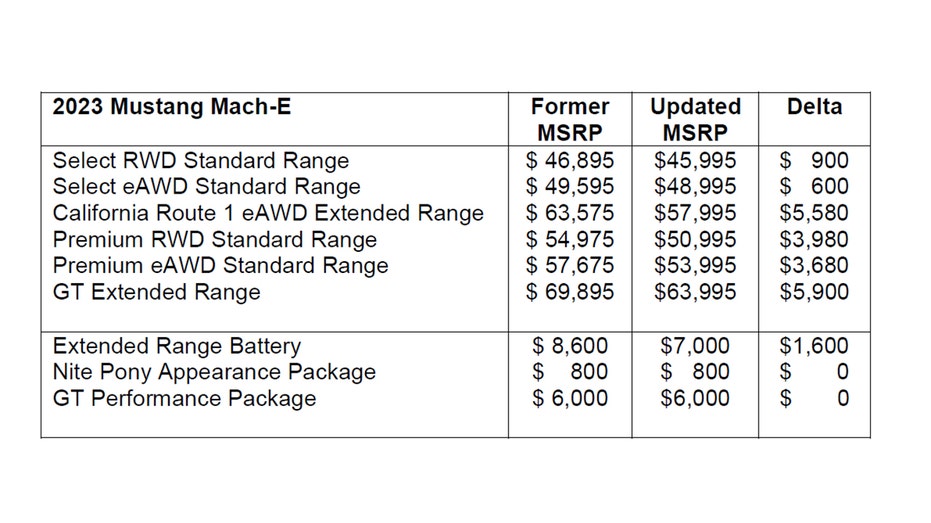 The price reductions affect all trims. (Ford / Fox News)

Mustang Mach-Es sold in the U.S. are built in Mexico, and models with list prices under $55,000 currently qualify for the full federal $7,500 tax credit, according to Ford, but new rules on battery material sourcing scheduled to go into effect in March are expected to reduce that amount.

FORD'S RISING EV SALES CONTRIBUTE TO BIGGGER MARKET SHARE

Ford said that customers currently awaiting delivery of their vehicles will be given the price adjustment and that those who have taken delivery since Jan. 1 will be contacted with "private offers," but did not provide more details on what that means.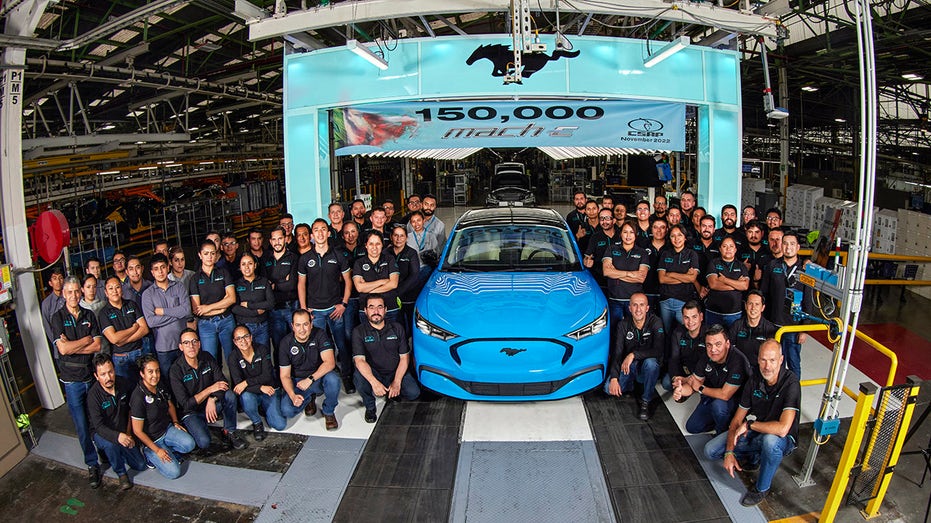 Ford has built over 150,000 Mach-Es at the Mexican and Chinese factories that manufacture it since production began in late 2020.  (Ford / Fox News)

Ford delivered 39,458 Mustang Mach-Es in the U.S. in 2022, making it the third-best selling EV behind Tesla's Model Y and Model 3.

GET FOX BUSINESS ON THE GO BY CLICKING HERE

Tesla does not break out U.S. sales figures for the four vehicles it sells, but Motor Intelligence said it held 65% of the electric vehicle market in 2022, while Ford's Mustang Mach-E, F-150 Lightning and e-Transit van combined for 7.6% ahead of Hyundai/Kia at 7.1%.

Source: Read Full Article