Prince Harry's recent comment about wanting to protect the queen drew a fair amount of criticism. One royal expert believes Harry "probably knew the reaction he was going to get," noting that the brief interview answer could be "quite triggering" for the royal family.
Prince Harry said he wants to protect the queen
During his April 20 interview with Today's Hoda Kotb, Harry was asked about visiting the queen on the way to the 2022 Invictus Games in the Netherlands.
Harry shared that "it was really nice to catch up to her."
He went on to explain, "Being with her, it was great. It was just so nice to see her. She's on great form. She's always got a great sense of humor with me."
The Duke of Sussex also voiced his need to protect his grandmother. "I'm just making sure that she's, you know, protected and got the right people around her," he said.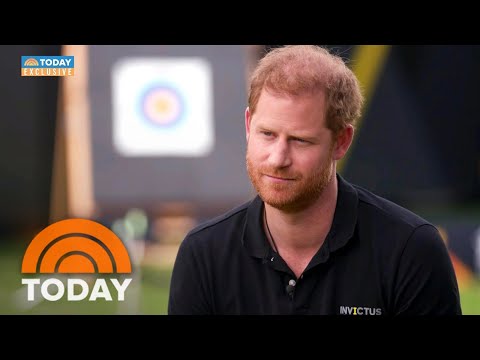 Royal expert believes Harry 'knew the reaction he was going to get'
Royal expert Roya Nikkhah believes that Harry's mention of protection was significant in that he knew the reaction he'd get from saying it.
"Quite triggering probably for the rest of his family who are around the queen all the time and who I am sure the queen does confide in," Nikkhah said during an appearance on True Royalty's The Royal Beat.
"There is no doubting that Harry and his granny have an incredibly special close relationship but to say to an American network — knowing that the comment is going to go round the world and come right back at your family — that the queen tells Harry things that she feels she cannot tell any other member of her family who she sees much more regularly … feels quite incendiary," the expert added.
"Harry probably knew the reaction that he was going to get," she noted.
Harry's comment 'sparked quite the controversy'
Nikkhah also discussed Harry's comment when she chatted with the Today show hosts on April 21. When asked about the UK reaction to Prince Harry's interview with Kotb, Nikkhah explained, "I think people, both in the press here and also in palace circles, are quite bemused by Harry's comments, particularly that comment about him wanting to make sure the queen is protected and has the right people around her."
She continued, "It's been hard to try and understand and figure out what Harry meant by that and it has sparked quite the controversy over here. I think it's really important to remember that Prince Harry is still loved by a lot of people here.  But I think, when he makes these kinds of comments which seem to be quite heavily loaded and barbed towards the royal family and staff, it riles people a little bit."
The expert added, "And I think that was a real shame because actually what he was talking about was the Invictus Games which are a great thing he's achieved and the British public and the British press are really behind that. They really admire what he's done. But you can't get away from the fact that he did say quite a lot of controversial things in those comments and it winds people up."
Source: Read Full Article