The Black Adam star was stopped outside an XFL game by security when he decided to try out a risky one-liner
Dwayne "The Rock" Johnson is always packing "big guns"…massive biceps that is!
The action star admittedly made an "absolutely horrible joke" when passing through a routine security check outside of an XFL Stadium in a hilarious TikTok video posted late Wednesday.
In the clip an officer politely asks him, "Can you please do me a favor and put in park for me and make sure the doors are unlocked?"
"I can, and I got a lot of guns in here," The Rock says. After a pause he then flexes both of his elephant trunk arms and says playfully, "These kind."
Waiting for your permission to load TikTok Post.
TikTok Post Unavailable
The joke, which if it were anyone else may have elicited an entirely different response, gets an audible guffaw from the officer.
"There's always room for a cheesy joke, I know. You're welcome," Johnson says.
"Absolutely horrible joke, but impeccable timing. You're welcome 😂🧀" he captioned the video. "XFL game day rollin' up to the stadium. All love, gratitude and respect for our men and women keeping us all safe. 🙏🏾❤️".
The Rock alongside his ex and business partner Dany Garcia and Redbird Capital bought the XFL for an estimated $15 million in 2020. The first game under the new management was just this past weekend on February 18.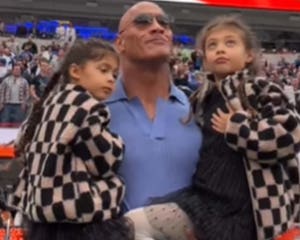 Emotional Dwayne Johnson Holds His Daughters While Watching Wife Lauren Hashian Sing National Anthem
Source: Read Full Article