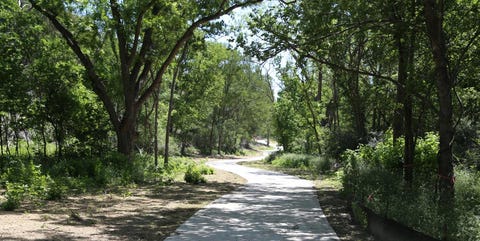 Although they're wedged between multiple busy streets, the Walnut Creek Trails still feel totally remote, thanks to lots of deep ravines, creek beds, lush vegetation, and tons of birds. But a word of caution: Even though the trails tend to be filled with trail runners, Walnut Creek still isn't as well marked as some would like, so be prepared to meander—or even get lost. (Don't forget your phone!)
Miles: Nearly 20
Level: Moderate
More deets: Dogs are welcome on this trail system, which has both north and south portions. The pathways run along Walnut and Boggy Creeks. No fees to enter.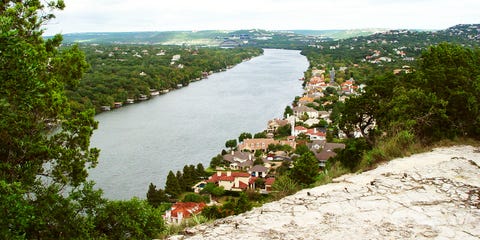 Nestled in a bougie residential neighborhood a few minutes from downtown, this trek is an iconic Austin tradition that's all about the views. It's a pretty short ascent to the top—the stair-like trail takes just about 11 minutes—and once you get up there, you'll see gorgeous Lake Austin and the city skyline down below. Other possible spottings: marriage proposals (it's def one of those spots), and epic rainbow-sherbet sunsets.
Miles: .5
Level: All levels
More deets: Plan to climb 100 stairs to 775 feet. Admission is free.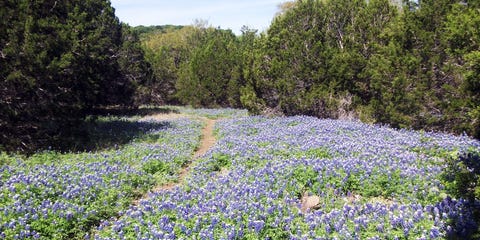 A trekking treasure trove near SoCo and South First (some of Austin's coolest neighborhoods), St. Edward's is packed with trails, waterfalls, and ponds, all tucked into 80 leafy acres. Grab some breakfast tacos for fuel, then tackle the loop, which winds through trees and flower-filled woodland. And just fyi, you probably won't see tons of others on your trek, as the area isn't super well-known, even by locals.
Miles: 2.7
Level: Easy to moderate
More deets: The park includes both sides of Bull Creek along Spicewood Springs Road, west of Capital of Texas Highway. Free to enter.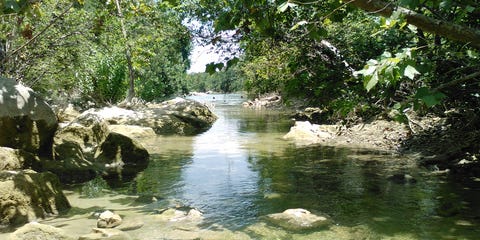 Winding through buzzy South Austin, this trail offers a lush, nature-y alternative to the lively street scene that borders it. You'll find swimming spots, vertical faces for rock climbing, bouldering options, shady areas, vertical bluffs, waterfalls, and tons of paths. Don't miss Trail's End and Hill of Life, both of which mark the final area of the Greenbelt (Hill of Life is the steepest segment of the Greenbelt, with a 300-foot ascent).
Miles: 12
Level: intermediate to advanced
More deets: The trails in the Greenbelt can be tough, rough, not manicured, and sometimes dangerous. Highly rewarding, these trails are best hiked with a buddy. Park at the Main Access Point on Capital of Texas Highway (Loop 360) to access various trails. No fee to enter.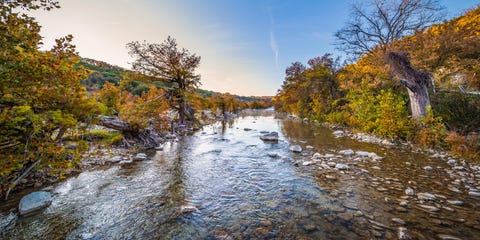 For a fun Hill Country outing, head to this gorgeous and very green park about 40 miles from Austin. Both of its two main trails, Twin Falls and Wolf Mountain, bring you to different bodies of water, so it's truly perfect for a summer day. Twin Falls, which is just half a mile, ends at a beautiful waterfall, while Wolf Mountain, at five and a half miles, leads you to a refreshing swimming hole—the ultimate location for a rewarding dip.
Miles: .5 for Twin Falls; 5.5 for Wolf Mountain
Level: The Twin Falls trail is considered easy, while the Wolf Mountain Trail, with its uneven terrain and longer length, may challenge inexperienced hikers.
More deets: Leashed dogs allowed. $6 entrance fee for adults; free for children under 12.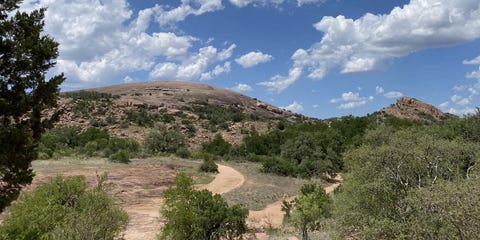 Everybody's favorite day trip from Austin, Enchanted Rock—a natural area named because its main rock purportedly sings to you as you climb—appeals to hikers of all ages. Scientists say the singing sounds come from deep within the rock, and are spurred by temperature changes, but…a woman can still wonder. The park has 11 miles of trails, though most of them are shorter than one mile. Just be sure to pace yourself on the popular Summit Trail, which leads to the top in about 45 minutes (an elevation equal to climbing forty stories).
Miles: 11 miles of trails, most of them shorter than a mile
Level: Moderate
More deets: $8 entrance fee for adults; children under 12 are free. Make reservations for parking or camping: 512-389-8900. All trails close after sunset, except the Loop Trail.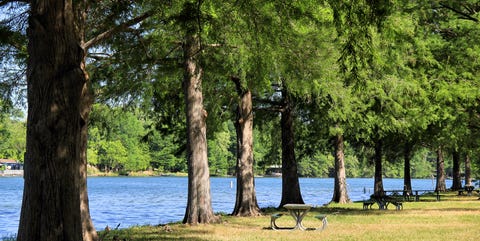 Just north of Austin's downtown area, Emma Long Metropolitan Park is a mix of pastoral countryside and luxe park facilities, providing a variety of all-day activity options from hiking to boating. Locals tend to come early and stay all day, even camping over the weekend or on holidays. Pro tip: Head for the Turkey Creek lollipop loop, which will give you all of the deep nature vibes and make you forget that bars are a thing in the world. Just be careful of tripping—the trail is littered with rocks, gravel, and exposed roots!
Miles: 2.8
Level: Intermediate
More deets: Reservations are required and must be made online. Buy a pass for your vehicle (up to eight people): $5 per day/vehicle, Monday through Thursday; $10 per day/vehicle Friday through Sunday, plus holidays; $1 per day for a walk-in or bike-in (pay by coin or credit at the station Monday through Wednesday, and pay online Thursday through Sunday).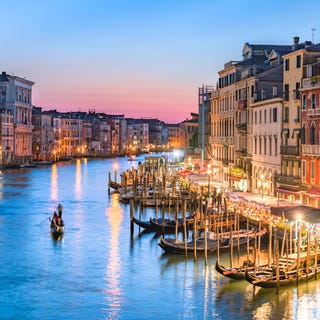 Source: Read Full Article