Fans are mourning the death of soap opera actor John Gabriel, who died on June 13 at the age of 90. The actor was best known for his role on the ABC daytime drama "Ryan's Hope," for which he earned an Emmy nomination. His cause of death was not revealed, but his daughter, "Lost" star Andrea Gabriel, announced her father's death on her Instagram. Andrea wrote, "It is with an unspeakably heavy heart that I share the news of my father's passing. John Gabriel was my hero, my role model, and my champion, but above all, my daddy …I will love you forever."
According to his IMDb, Gabriel had more than 60 screen credits to his name since his acting debut in the mid 1950's and appeared in popular TV shows like "The Mary Tyler Moore Show," "Days of our Lives," and "77 Sunset Strip." He also appeared on the big screen during his long career, in movies, such as John Wayne's "El Dorado."
Gabriel's talents extended past the screen and onto the stage. The New York Post reports that his Broadway credits include "The Happy Time" and "Applause." While Gabriel is most known for his acting, he was also quite the singer. He even performed on talk shows like "The Ed Sullivan Show" and "Live with Regis and Kathie Lee." It's clear that the multi-talented performer was able to have a successful career that spanned more than six decades, and what Gabriel had left financially at the time of his death seems to reflect that.
John Gabriel once thought he'd lost his chance at success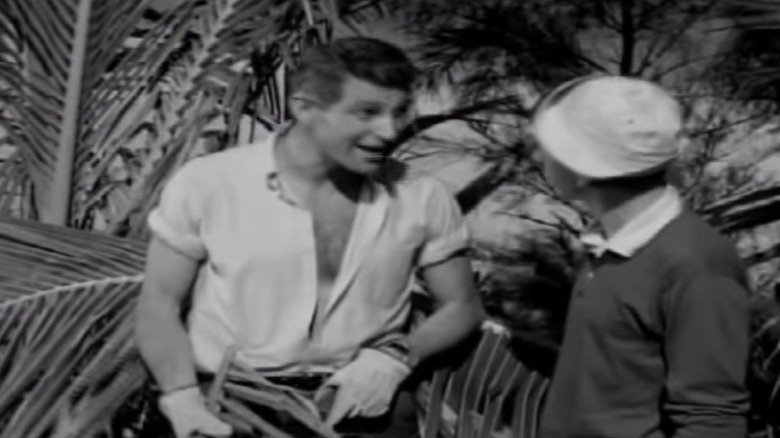 "Ryan's Hope" star John Gabriel had a long and successful career in show business, which apparently made the actor a millionaire. Buzz Learn reports the Niagara Falls native was worth between $1 million and $9 million at the time of his death in 2021. While acting quite literally paid off for Gabriel, there was a time when he thought he wouldn't find success in Hollywood, particularly when he lost the role of the Professor on "Gilligan's Island" to Russell Johnson after playing him in the pilot. He revealed (via IMDb), "It was the first time in my adult life that I remember weeping." He added, "And I think part of that has to do with the fact that I built this thing up to such a degree it was going to be my breakthrough."
Gabriel had another income outside of acting when he took a behind-the-scenes job in 1995. The "Generations" star produced the political talk show "Charles Grodin" for CNBC. He also made money from the cabaret show  "Words And Music," which he and his wife, "All My Children" actor Sandy Gabriel, performed on stage at clubs across the country, according to Cabaret News. 
It appears that Gabriel's children, Andrea Gabriel and Melissa Gabriel, were inspired by their father's achievements, as the two became actors themselves. As Andrea once said, "I was used to the lifestyle, watching my parents memorizing lines at night, playing different people than themselves… it was the coolest job ever."
Source: Read Full Article