It appears that Dominic West isn't the type of famous face who worries about keeping his personal life too private. "The Affair" star has always seemed to be open in interviews when it comes to talking about his relationship with Irish aristocrat Catherine FitzGerald, whom he's been married to since 2010. 
As candid as West may be, he and FitzGerald managed to keep a low profile over the years. West even told Esquire in 2012, "Fortunately, I'm not paparazzi material. I'm totally under the radar." That all changed, however, in October 2020 when West was involved in a cheating scandal with his "Pursuit of Love" co-star Lily James. Yet despite the allegations, West and FitzGerald were apparently committed to working on their relationship and remain together to this day. 
When it comes to the state of their marriage, FitzGerald told the press (via Daily Mail), "Things are OK between us. We don't need any advice from anyone, thank you." Whether the couple needs advice or not, it's clear they've now had a headline making marriage so let's take a deeper look into their relationship.
Dominic West and Catherine FitzGerald first got together in college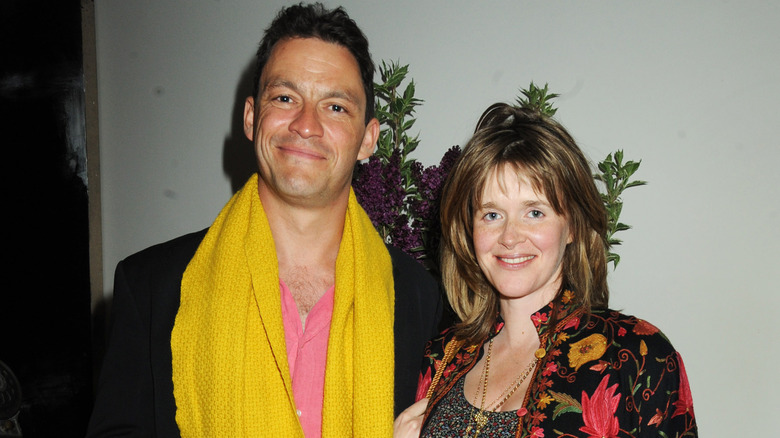 Actor Dominic West and his wife Catherine FitzGerald did not wed until 2010, but the pair have actually known each other since they were both at Trinity College in Dublin. West recalled to The Sun, "We started going out and it was great but I was either too immature or too stupid to make the relationship work." FitzGerald told her version to the Belfast Telegraph, saying, "We went out together for six months, and we had great fun. He actually came to my 21st here [at Glin Castle], then he left and we split up."
While FitzGerald revealed to the outlet that they all went on "to live separate lives," they were still "linked through our best friend, Dominic Geraghty, also an actor." It was through Geraghty that they later came back together, despite West living on another continent. FitzGerald explained, "When Dominic was doing 'The Wire,' we met again through our friend Dominic (Geraghty); I was 32 then." She added, "He was having a year out and came back to London to be with his daughter."
It's clear that the second time around was the charm for them. Yet West told The Sun, "I wish I had known at 18 to appreciate it when I found the girl of my dreams. I didn't. I failed. And I am lucky to have had a second chance."
Before they wed, Dominic West and Catherine FitzGerald were in other serious relationships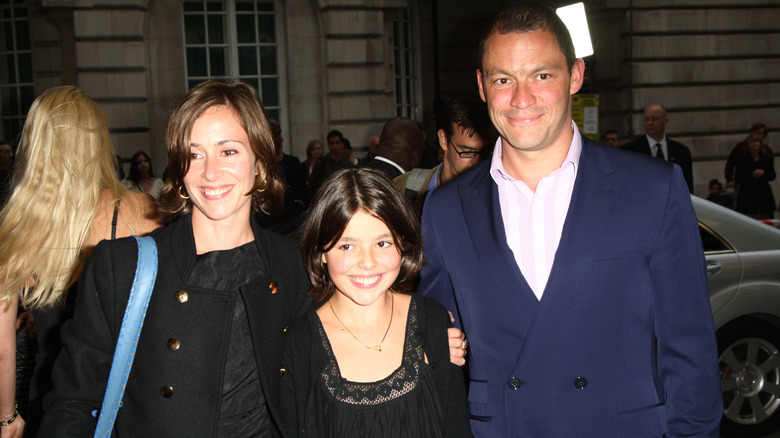 Dominic West and Catherine FitzGerald may have dated while in college, but the two went on to get into other serious relationships before finding their way back to each other. FitzGerald dished to the Belfast Telegraph, "Dominic had a daughter with a friend of mine, Polly; and I got married, but that didn't work out." In 1995, FitzGerald married fellow aristocrat Edward Lambton, Viscount of Lambton, who perhaps is better known as British musician Ned Lambton. However, as FitzGerald explained the two "didn't work out" and they divorced in 2002.
As for West, when he was 28 years old, his then-girlfriend Polly Astor became pregnant with their daughter Martha. He admitted to the Daily Mail, "I hurt Polly very badly, but at the time I wasn't ready to settle down. I was two years out of drama school and things were going really well. I was doing films all over the place and didn't want to be tied down." West also said his role in "The Wire" contributed to their breakup when Martha was only a toddler. 
Outside of work commitments in the U.S., West also shared that at the time, he wasn't ready to settle down with one woman. He dished, "Women were extremely important to me and I wanted to be selfish for a bit longer. I wanted to play the field, I suppose."
The affair rumors about Dominic West and his co-star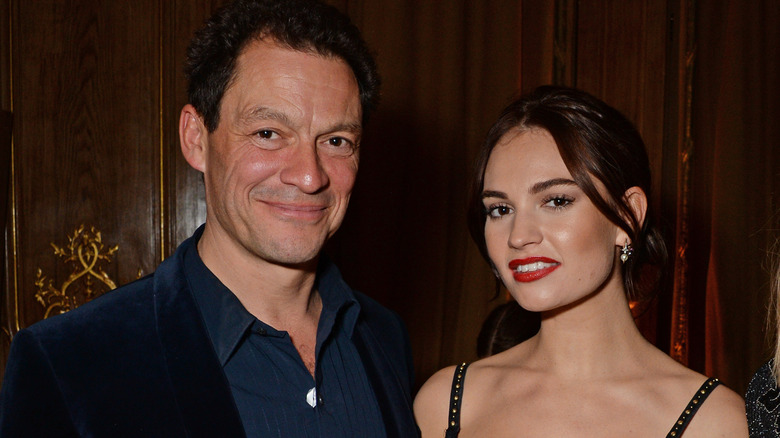 Dominic West's marriage was put to the test in a major way in October 2020 when he was accused of having an affair with his much younger "Pursuit of Love" co-star Lily James. The scandal stemmed from photos of West and James looking super cozy while dining at an outside restaurant in Rome with their mutual manager Angharad Wood. While the Daily Mail reported that the two were seen "passionately kissing," snapshots showed West nuzzling James' neck and stroking her, as well as the two looking cuddly on an electric scooter.
A source told the outlet that West and the "Cinderella" star had even spent two nights in a hotel suite. That was never confirmed but the two were photographed again together at the Rome airport the day after they were seen at the restaurant. While the photos show them just rearranging their luggage, onlookers claimed that they were "kissing and cuddling" before flight.
West and James not only share the mutual manager whom they lunched with on that fateful day, but had starred as father and daughter in the BBC adaptation of the classic novel "The Pursuit of Love." They also worked together years before onstage in "Othello" in 2011. A source told People, "They worked together in the past but seem to have connected in a special way since they started filming in England over the summer." Yet West and James have not been seen publicly together since the rumors surfaced.
Dominic West and Catherine FitzGerald gave the press a note about their marriage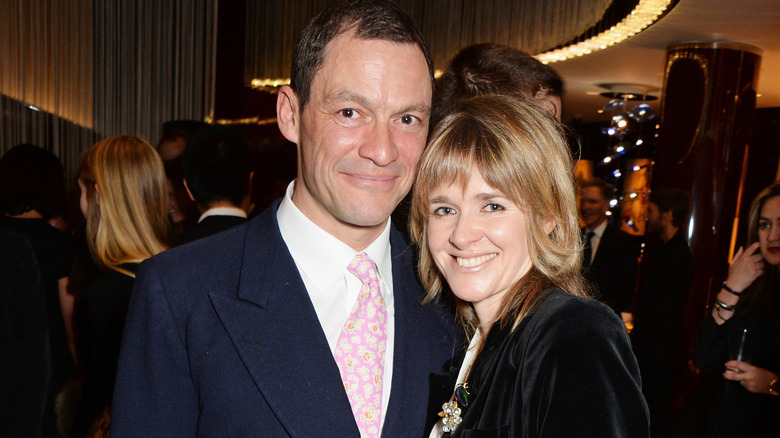 Following the photo scandal with his co-star Lily James, Dominic West appeared to rush back to the Cotswolds home he shares with his wife Catherine FitzGerald to not only comfort FitzGerald but apparently the press as well. Of course, their home was surrounded by reporters and photographers at the time who wanted to get FitzGerald's take on her husband's alleged affair. Yet instead of keeping the situation under wraps, in an interesting if not bizarre show of unity, the couple came out of their home and posed for photos together for the press. They even locked arms and kissed for the camera.
Things appeared to get even more strange when they themselves decided to release a handwritten note about the state of their marriage. While most celebrities would probably remain mum or release a statement through a publicist, West and FitzGerald left the note outside their house. The signed note read (via Elle), "Our marriage is strong and we're very much still together. Thank you."
While sources told the Daily Mail that "Catherine was devastated and humiliated by the pictures of Dom with Lily," it's clear she was ready to put on a brave face and a united front for the cameras. When The Guardian asked James, who appeared to be single at the time of the alleged affair, about the story, she replied, "Ach, I'm not really willing to talk about that. There is a lot to say, but not now, I'm afraid."
Catherine FitzGerald says she and her husband are 'totally devoted to each other'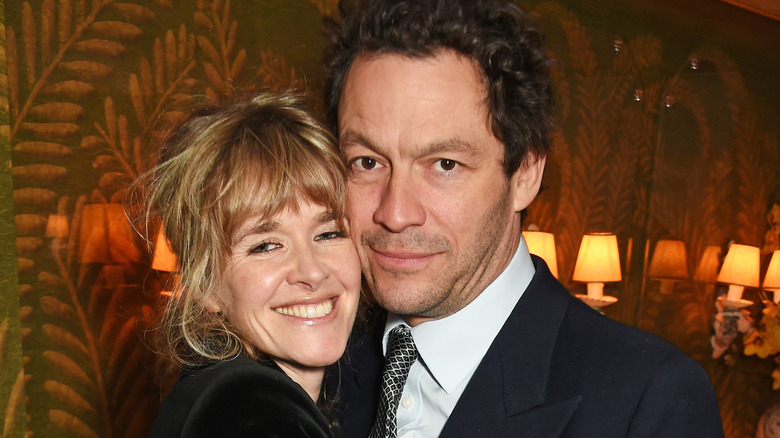 Just months after her husband's alleged affair made headlines, Catherine FitzGerald gushed about him and the "wonderful love affair" they had as college students in an interview with the Irish Independent. The landscape designer revealed (via People) that she had "instant attraction" to West and that the two were quite romantic together. FitzGerald recalled, "We would look over Dublin, reading poetry to one another with the mountains in the distance. We had all the time in the world to explore the pubs and back streets and walk the canal."
While the couple ended up splitting "by the end of summer" that year, FitzGerald told the outlet that it was the right decision for their relationship. She explained, "I couldn't have settled down with him right then forever. That would not have been a good idea for either of us." Of course, they rekindled their romance years later: "We were both, then, at the right time in our lives."
The mother of four continued to gush to the publication that "it was lovely to have that shared history, from earlier days." She also reflected on their marriage today, following West's cheating scandal, saying, "It's had its ups and downs of course, like everybody, but we are totally devoted to each other and to our full, vibrant family life together." It's clear from FitzGerald herself that she is committed to her marriage with West no matter what comes their way.
Dominic West has made some questionable comments about monogamy and affairs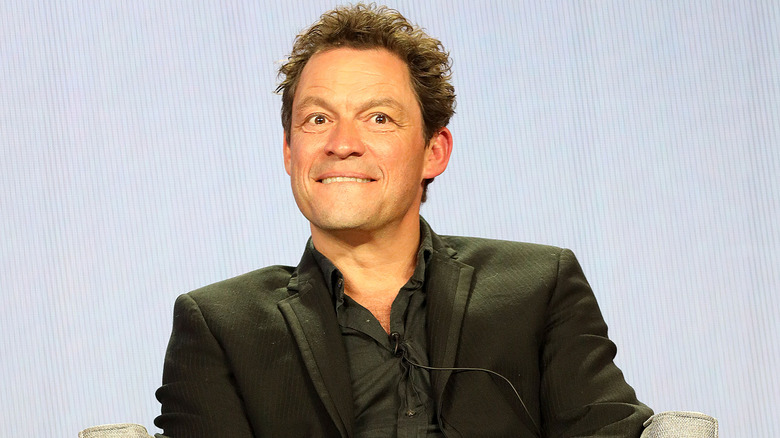 Dominic West made some questionable comments about extramarital affairs in past interviews in regards to his former TV series "The Affair," which of course all came to light in 2020 when he was accused of having an affair himself. In 2016, he appeared to be okay with the idea, telling the Evening Standard, "I think women should be more indulgent of affairs. I really do." He continued, "It's daft to kick someone out over a fling. Isn't it? Everyone should turn a blind eye to men's behavior between the ages of 40 and 50. Let it all blow over."
When the same outlet asked him about adultery in another interview, he remarked, "I think a lot of other people just wish that they'd done it. Or they're jealous or, I don't know, thinking if only they could get out of that bloody loveless marriage." He even appears to question monogamy entirely, telling Harper's Bazaar in 2019, "It's not the necessarily natural way to be, therefore there will always be adultery and intrigue about it."
And then there was the time when he shared with the Evening Standard that he'd prefer to go without a wedding band. "I don't even like wearing my wedding ring to be honest with you," he said. "In fact I think I might have lost it." It appears that when it comes to the bounds of marriage, West prefers a more nontraditional route.
Yes, Dominic West and Catherine FitzGerald really do have a legit castle in Ireland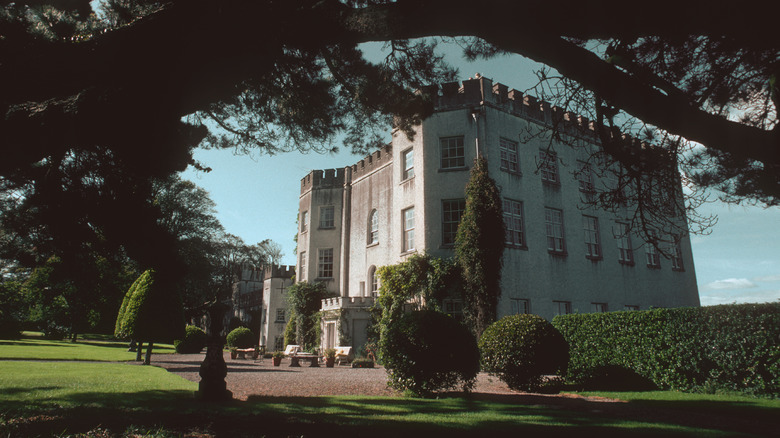 While Dominic West and Catherine FitzGerald live full time in England with their children, the family also frequently spends time in Ireland's Glin Castle. FitzGerald inherited the property from her father when he passed away in 2011. As Town & Country wrote, "For 800 years, Glin has been home to the Black Knights, an ancient Irish title passed down through generations of the FitzGerald family." Chatting with the publication, FitzGerald recalled how throughout her childhood, her parents would hold glamorous parties at the castle, with West adding, "Mick Jagger got dumped by Marianne Faithfull here – she ran off with Lord Rossmore. It was pretty wild in the 1970s."
While at one point the couple had put the castle on the market, they eventually decided to keep it and rent it out for special events and weddings. It was even the spot of their own 2010 wedding, and in 2018, Taylor Swift reportedly booked the place for Christmas. As FitzGerald explained to Architectural Digest, "The castle is a retreat, a place to come and relax and escape."
West appears to be just as fond of it, telling AD, "I was really struck by the romance of the place." Yet he doesn't appear to be ready to leave England for good. FitzGerald dished to Tatler, "I can't persuade Dominic to move there altogether yet, but I'm working on it." The aristocrat says despite their travels, "We always come back. It's the place that feels like home." 
Catherine FitzGerald won't watch all of her husband's work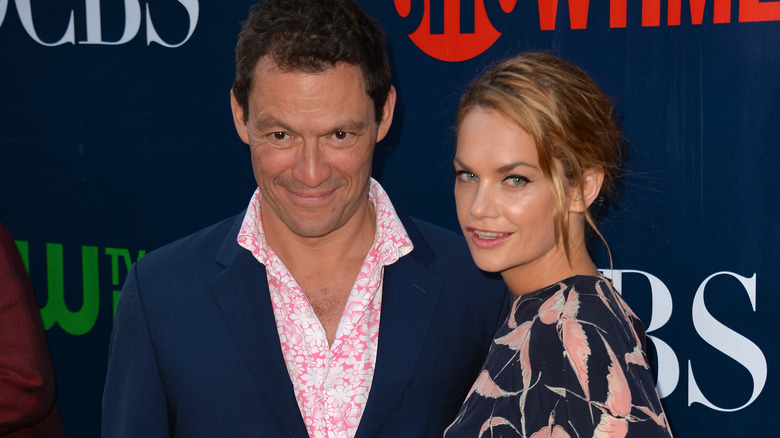 While Catherine FitzGerald is probably a fan of her husband, there are some things that Dominic West has acted in that she has yet to watch. And it sounds like she's really steered clear of steamy Showtime series "The Affair," in particular, where West plays a serial adulterer. West told The New York Times, "My wife has watched little bits and said, 'Very well done and marvelous, and I don't need to watch any more.'"
Apparently, West hasn't seen much of his former hit show either. When the Evening Standard asked if he and his wife watch "The Affair," West responded, "Oh, f**k no!" He added "She saw a bit of it on the plane once, and I saw a bit of it on the plane. Neither of us watches it. Can't bear to."
Yet, West did reveal that his wife is cool with sex scenes being part of his job. "If Catherine was in something like ['The Affair'] I would not be happy. But she's OK with it. She's cool," he said in the Evening Standard. She's also fine with all of West's on-screen adultery. He told Esquire, "She doesn't care. As long as I'm back with the kids, I can play up my advantages as much as I like." And FitzGerald isn't his only family member who hasn't watched the show. West recalled, "My sisters were saying…'We heard you do certain things there and we decided not to watch it.'"
Dominic West and Catherine FitzGerald share four children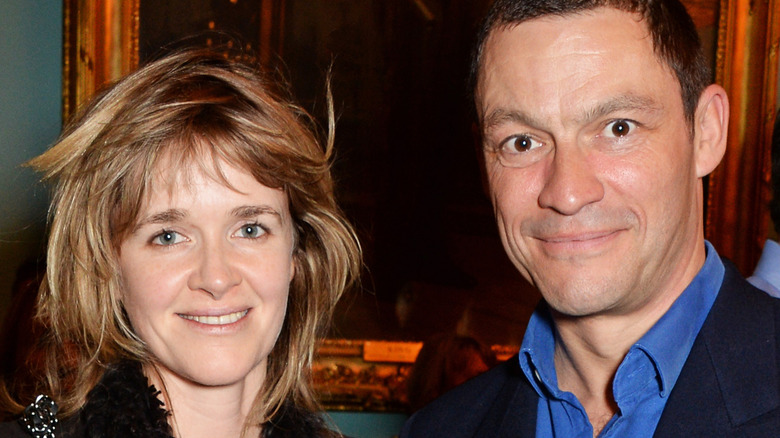 Dominic West and Catherine FitzGerald may be open about their marriage, but it seems that they're pretty private when it comes to their children. The couple are parents to Dora, Senan, Francis, and Christabel. West also has a daughter named Martha from a previous relationship. After rekindling their romance in their 30s, West and FitzGerald appeared to have decided to jump right in and start a family even before getting married. FitzGerald explained to the Irish Independent (via People), "There's something about having lived a full life before settling down – I felt I could throw myself into family life and having babies with gusto. And I really went for it, having four in seven years!"
West himself joked about their large brood, telling The Times, "I just had my fifth child. … Your life, with all its little foibles, worries and anxieties, tends to fade into the background when you are wiping someone's bottom." Yet on a more serious note, West revealed to The Australian (via E! News) that his children are "the most important factor in my decision about work." He continued, "It's all very carefully thought out because they are at an age now where I don't want to miss any of it. It's the most important thing in my life at the moment."
West also defended their decision to raise their children in both England and Ireland. As he said in Esquire in 2018, "​​[I] quite legitimately want my children to be around plants and animals more than they perhaps might be in London."
Dominic West frequently raves about his wife in interviews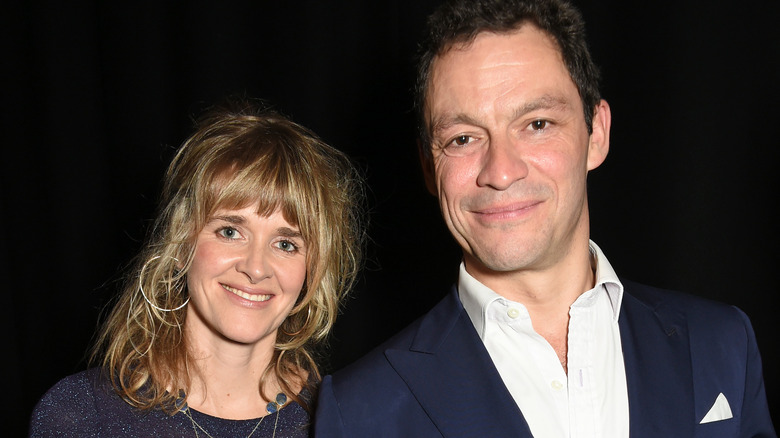 Dominic West may have made headlines for an alleged affair but judging from past interviews, he appears to be super into his wife, Catherine FitzGerald. In 2015, he told British Vogue, "I think I have a really good marriage, mainly because my wife is so cool and I adore her and we have all these kids." He added, "I think, really, what marriage is two people helping each other to live the best lives they can. And that's what happened with me and my missus."
West has also joked about FitzGerald being out of his league. He quipped to the Evening Standard, "I fell in love with her when I was 21 and she fell in love with me about eight months ago, when she realized all other options had been exhausted and she had four kids." He often teases FitzGerald for once breaking up with him, as well. "​​Everyone was in love with her. I went out with her for a few weeks until she dumped me, then held a candle for the next 20 years until we found each other again," West gushed to Town & Country.
The actor even appears to enjoy being hitched. He told The Times, "Thank God I don't have to try to seduce anyone anymore. Getting married takes the pressure off." 
The successful careers of Dominic West and Catherine FitzGerald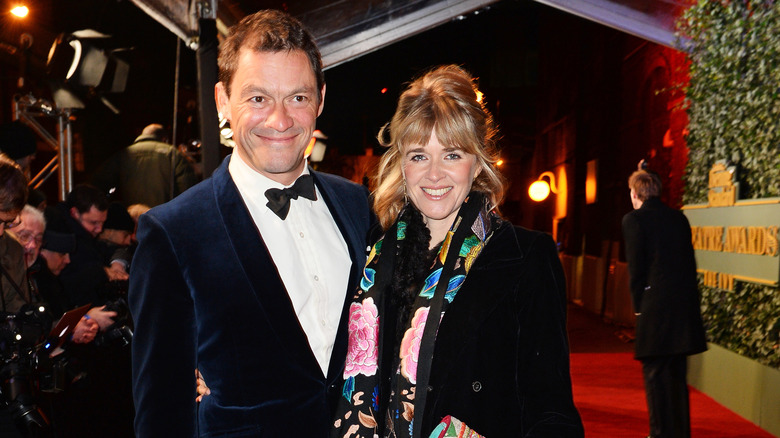 Dominic West and Catherine FitzGerald both appear to be successes in their own career fields. Of course, West is an actor, who is best known for his starring roles in "The Affair," which he earned a Golden Globe nomination for, and "The Wire." West, who is British, said to the Independent of the latter role, "I went to America to get away from constantly being cast in costume dramas, playing posh people." He added, "It's interesting that I've been cast as a working-class cop because I doubt that would happen at home."
West has also appeared on the big screen with roles in "Mona Lisa's Smile," and "300." Most recently though, he starred in the TV series "The Pursuit of Love," and will be the next Prince Charles in the upcoming season of "The Crown."
As for FitzGerald, she's a landscape designer, who according to her website, "creates private and public gardens both in the town and country," and "has been involved with restoring and advising on historic gardens." She's quite accomplished, having landscaped the gardens at her own ancestral home Glin Castle, as well as Hillsborough Castle and St Olav's Church. She revealed to the Independent that she was inspired to go into landscaping after visiting a famous garden as a child. She explained, "I went on to study horticulture to learn how to create a cultivated garden full of wonderful things — but which also felt wild and romantic." It seems both West and FitzGerald are living their passions.
Dominic West and Catherine FitzGerald are worth millions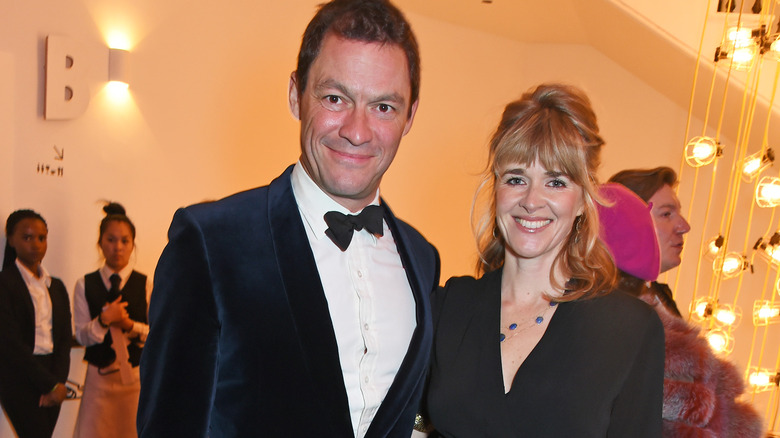 When it comes to money, Dominic West and Catherine FitzGerald don't have much to worry about since they are both separately worth millions. Thanks to a long and successful acting career that began in the early 1990's, West has had no problem making a steady income. According to Celebrity Net Worth, he's worth about $20 million. While West clearly deserves what he's earned from acting, he revealed in 2018 that he was unaware of the pay disparity with his "The Affair" co-star Ruth Wilson, who earned a lot less than him for her starring role on the show. West told Radio Times (via The Guardian), "​​I never ask what the money is on a show…So it woke me up to the issue. I never realized the disparity and the injustice."
FitzGerald has an impressive net worth of her own, which according to Newsweek, is $12 million. She not only has her own landscape design business, which includes famous castles and parks as clients, but she's also a member of an Irish dynasty and inherited an actual castle. She and West rent out the castle for luxury events, which must cost their customers a pretty penny, making it quite the side hustle.
With their booming careers and a castle as another form of income, it appears the FitzGerald-West household's finances are covered. They do seemingly give back: In February 2021, The Sun reported that they traveled to Kenya with their children to do charity work as a family.
Source: Read Full Article