The 'Pirates of the Caribbean' actor is seen as the silver-haired King Louis XV, with Maiwenn, who also stars as the titular character, leaning onto his arm.
AceShowbiz -New images from Johnny Depp's upcoming movie "Jeanne du Barry" have been unveiled, showing him as King Louis XV. In one of the photos, he's seen with his co-star Maiwenn Le Besco a.k.a. Maiwenn, with whom he's reported clashing on the set of the movie.
In the said image, the French actress, who also directs the historical drama, is seen clinging to him. Seemingly in mourning as she wears a black outfit, she holds onto the arm of Depp's King Louis XV, who stares with a blank face.
Another photo features Depp looking regal in the king's full getup. Instead of his signature brunette locks, he sports silver hair and King Louis' famous tricorn hat while he greets a lady in an elegant silver dress, Jeanne, with others looking at them.
The third and last image is a solo shot of Depp's King Louis, who appears to be younger with his dark hair. He looks gallant in a maroon velvet jacket while posing in what looks like a palace.
"Jeanne du Barry", formerly titled "La Favorite", follows the story of the King of France's last royal mistress Jeanne du Barry, who was born into poverty but managed to climb the social ladder using her intelligence to become Louis XV's favorite companion.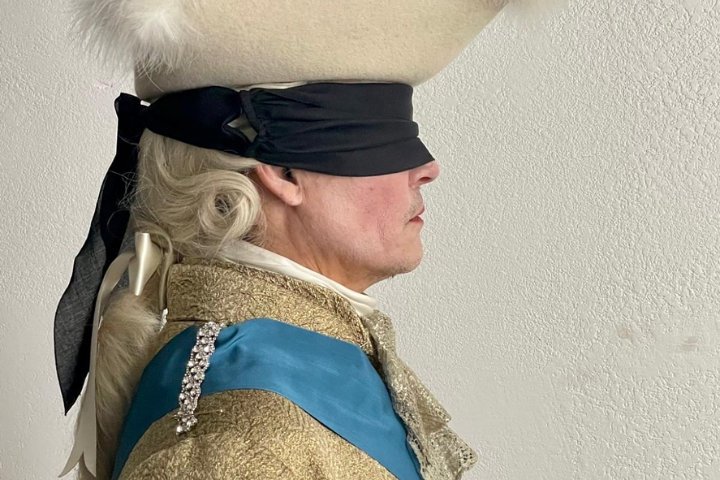 Johnny Depp stars as King Louis XV in 'Jeanne Du Barry'.
It marks Depp's first acting role since he won the defamation case against his ex-wife Amber Heard. While it opens the way for his career comeback since his legal drama, he reportedly ruined his image again with his old bad habits.
Actor Bernard Montiel revealed that Depp and Maiwenn were clashing on the set of the movie, mainly because of his tardiness. "I've heard some noise from the shoot, very serious stuff," the showbiz commentator said in a panel interview that started making the rounds in English-language media last month. "So, [Depp is] an excellent actor, when he comes on set, except sometimes at six in the morning the crew is ready, and nobody turns up. So of course, Maiwenn, who is the director, gets angry, and the next day she's the one who doesn't turn up. And you've got Johnny Depp, and she's not there."
While the project has eventually wrapped production, Montiel stressed how tense the situation on the set was as saying, "It's finished, over this week, [but] it's going very, very badly. They don't get on at all; they're screaming at each other the whole time."
Neither Depp nor Maiwenn has responded to the rumors. The movie is set to be released this year.
You can share this post!
Source: Read Full Article