Hannah Ann Sluss was worthy of making it to The Bachelor finale. Through it all, Bachelor Nation got to see a quiet, warm-hearted woman evolve into an icon that wouldn't stand for Peter Weber's disrespect. Here's how Hannah Ann Sluss transformed throughout her time on The Bachelor. 
[Spoiler Alert: The finale of The Bachelor is discussed in this post.]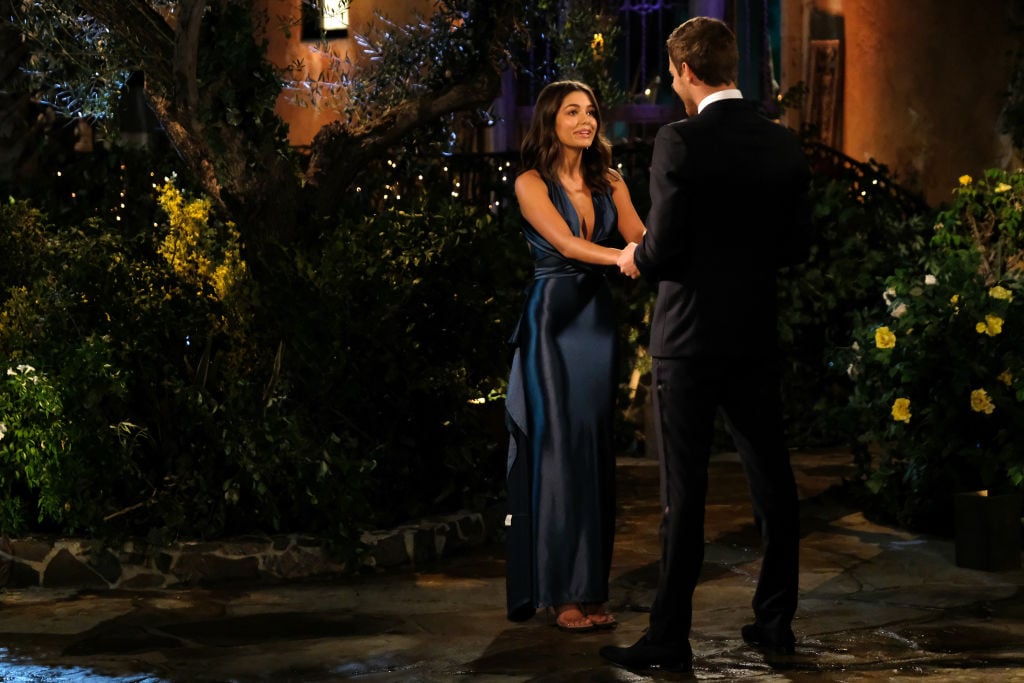 Hannah Ann stayed humble
The 23-year-old model from Knoxville, Tennessee, caught Peter's eye early on. The beauty queen knew that in a competition against 30-some women, a strong approach would be critical. 
On the first night in the mansion, Hannah Ann stole Peter away from the other women fearlessly. That move was what allowed her to stand out in the weeks to come. Sure, doing so may have set the rest of the group off, but it got Weber's attention. Each time she stole Weber away, Sluss laid it on thick and explained how much she valued family. From that point on, Weber was hooked, which lead him to give her the first impression rose of the season.  
Hannah Ann remained a constant and free from drama
Throughout the competition that is The Bachelor, Hannah Ann took a graceful approach. For the most part, she stayed out of the drama in the mansion. Even amidst the dilemma that was Champagne Gate, Sluss kept her cool. 
Weber noticed that. Time and again, he would express how he could always feel Sluss with him. Even when Weber was dealing with the many villains in his season — read: the betrayal between Victoria P. and Alayah; trying to make a breakthrough with Victoria F. — Weber said he never had to question his relationship with Hannah Ann. 
Despite being told for weeks that their relationship was one of the strongest, Sluss went into the finale discouraged and upset that Weber felt like his heart was being "torn in two different directions." 
Hannah Ann took a stand
At the end of it all, Hannah Ann wasn't the same woman who entered into the mansion all those weeks ago. She participated in what is widely regarded as one of the most challenging ways to start a relationship, and yet, she didn't break. Instead, she took a stand.
Weber said he couldn't wait to choose Hannah Ann every day for the rest of his life…until he decided that he wasn't over Madison or Hannah Brown, for that matter. 
"Why didn't you just let me go?" Hannah Ann asked Peter after he broke off their engagement. Her decision to speak out showed a completely different side of Sluss Bachelor Nation hadn't seen before. Aside from her aggressive approach at the beginning of the season, Sluss had been a quiet but capable competitor. 
Weber tried to apologize for his actions, but Sluss would't have it. "Sorry for what?" she inquired, looking for an explanation as to why he chose to treat her the way he did. "I said 'yes' and I get this?" Sluss retorted.
You could almost hear Bachelor Nation cheering. 
In her conversation with Chris Harrison on Mar. 10, Sluss explained how Weber knew just what to say to keep her with him until he didn't want her anymore. Addressing Peter, Hannah Ann said: 
I should have really picked up on the first red flag that you gave to me. It was when you wanted to reach out to Hannah Brown to find closure with her. So really, looking back at it, our engagement involved three women. Me. You still being in love with Madison and proposing to me. And you needing closure with Hannah Brown. That's three women involved in our engagement I was completely blindsided to. So word of advice, if you want to be with a woman, you need to become a real man.
If anything, The Bachelor allowed Hannah Ann to grow into a stronger and more confident person. Despite her broken engagement, Sluss seems to be doing okay, posting to her Instagram after the finale with the caption "Flyin' solo… no turbulence accepted. PERIOD." 
According to one Reddit user, Sluss may even have a new boyfriend. Regardless, the future looks bright for this former Bachelor star.
Source: Read Full Article