If Megan Fox had one wish, it's probably for people to stop pigeonholing her on her looks (and, perhaps, for people to fixate less on her relationship with Machine Gun Kelly). With her Old Hollywood visage, Fox's appearance has been low-hanging fruit since 2007's "Transformers" made her a global superstar. (Model Emily Ratajkowski recently criticized the film "This is 40" for objectifying Fox, saying she was "treated in it so badly," per Us Weekly.) 
Fox spoke to Elle in 2009 of the duality she, like many actors and women in general, faced of wanting to own her beauty without having other strengths dismissed. "I have a pretty amazing personality, and I'm pretty intelligent. Don't just write me off as a pinup," Fox, then 23, emphasized, adding with remarkable self-awareness, "It's the same old bulls**t struggle that everyone who's ever been on the cover of a men's magazine complains of having. My situation is not a new one."
Fox, in a 2019 Entertainment Tonight interview with "Jennifer's Body" writer Diablo Cody, detailed further how the media, studio execs, and general public shrugged off her feelings about being hyper-sexualized. Fox's protests of being misused in movies and promotions received replies like, "We don't care, you deserve it," with people victim-blaming Fox for "how you looked or how you dressed or the jokes you made," she claimed. S-M-H.
Below, see how Fox transitioned into becoming too synonymous with the term "sex symbol." Here is her transformation from 19 to 35 years old.
Megan Fox finds her early film roles cringeworthy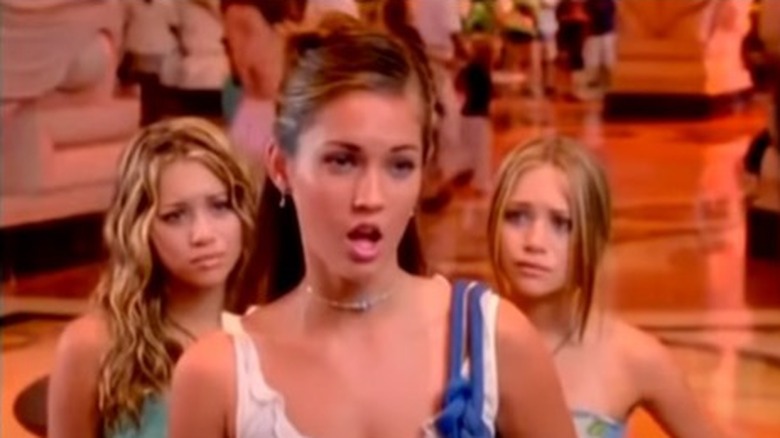 Fresh-faced and bright-eyed, Megan Fox has "arrived" at age 15 with her first credited role in the Mary-Kate and Ashley Olsen film, "Holiday in the Sun." Born in Tennessee and later partly raised in St. Petersburg, Florida (per a 2011 interview with Scott Feinberg), Fox now cringes at her debut feature. In a 2019 Entertainment Tonight interview, Fox re-watched a clip of herself as the rival to Ashley's character, Brianna Wallace, "Ugh, kill me… just smother me or something," she joked, with comedic self-exaggeration.
It was Fox's lifelong dream to be an actor from age 2, per a 2009 profile in The New York Times. "My mom said it was the only thing I ever said I wanted to do. When I was 4 or 5, I watched 'The Wizard of Oz,' and for a year, I asked her to call me Dorothy." After Mama Fox told her "that an actress plays" Dorothy, Fox knew what she wanted to be. 
Quickly typecast as the "queen bee" antagonist, Fox's next major role would be as such an archetype in 2004's Lindsay Lohan vehicle, "Confessions of a Teenage Drama Queen." Per the Times, Fox observed, "I was always cast as the b***h. The light-haired girl is the sweet leading lady, and the dark [haired] girl is the sexy b***h." Thankfully, her next big role afforded Fox a reprieve from playing the bad girl — and the opportunity to stumble onto a real-life milestone. 
Megan Fox met ex-husband Brian Austin Green at 18 on 'Hope & Faith'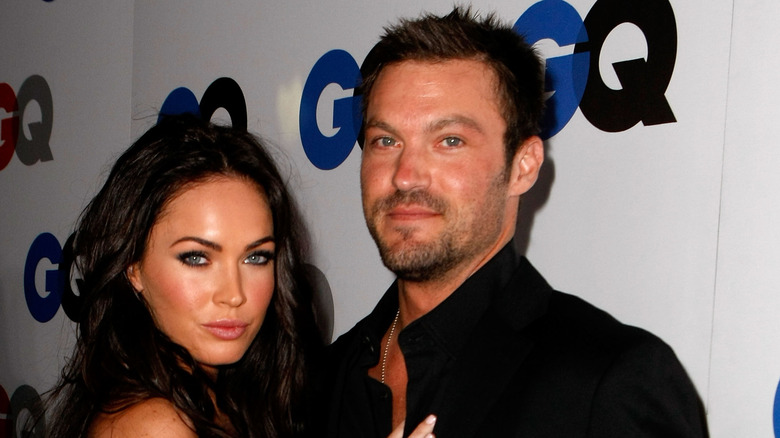 Little did Megan Fox know that joining the ABC sitcom "Hope & Faith" (on which she portrayed Kelly Ripa's niece from 2004 to 2006) would unite her with (now ex) husband of five years, Brian Austin Green. According to her 2019 Entertainment Tonight interview, Green's one-episode guest spot immediately mutually attracted the two. "Everyone was around the monitor watching a scene, and Brian accidentally touched my leg. I remember literal electricity shooting through me and out me from every direction," the actor described to The New York Times in 2009. 
The couple's age difference, with Green 13 years Fox's senior, meant Fox had to prove her maturity at first. "I had to convince him that I was slightly more responsible and well-spoken… besides being 18," she recalled to Elle. Two years into their courtship, as E! News recounted, they got engaged. As Green later told People, the pair had planned for a small ceremony — while eloping, in fact. But alas, life intervened as it often does. 
With Fox's stardom rising astronomically in 2007, their romance became a crooked line. They broke off their engagement in 2009, per ET, reunited to finally tie the knot in 2010, and after two children (Bodhi Ransom and Noah Shannon) filed for divorce in 2015, but quickly changed their minds. Fox gave birth to their third child, Journey River, in 2016. In May 2020, however, Green confirmed they had divorced for good this time. 
Megan Fox's way with words, not just looks, made her famous
2007 was the year "iCarly" debuted on Nickelodeon, Drew Carey took over as host of "The Price Is Right" and the world at large became familiar with the name and face of one Megan Fox. Thanks to the blockbuster success of "Transformers," Michael Bay's live-action film adaptation of the eponymous action figures, Fox attracted international renown for her bombshell good looks. Gracing numerous major (male-oriented) magazine covers like the October 2008 issue of GQ, Fox's notoriety was furthered by her own tongue-in-cheek, outspoken interviewee nature. 
Telling GQ that, as a teenager, she had an interest in a stripper named Nikita ("I just think that all humans are born with the ability to be attracted to both sexes… Olivia Wilde is so sexy she makes me want to strangle a mountain ox with my bare hands," Fox shared). Even Mila Kunis loved to hear what she has to say. "She has a tendency to say absurd s**t and then see what happens. I hope she's fully consciously aware of what she's doing, because if she is, she's brilliant," Kunis mused to Esquire. 
Still, Fox's words also got her in trouble. In 2009, she told Wonderland magazine (via Huffington Post) that "Transformer" director Michael Bay "wants to be like Hitler on his sets, and he is." Fox never returned for further installments in the "Transformers" franchise, despite Bay insisting he "wasn't hurt" by her comments. "I know that's just Megan," Bay conceded.
'Jennifer's Body' was Megan Fox's 'breaking point'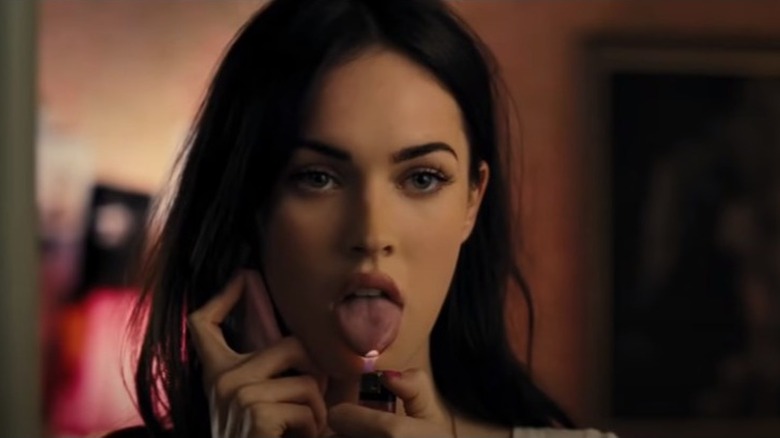 2009's "Jennifer's Body" wasn't just Megan Fox's "favorite project that I've ever done," according to her 2019 sit-down with Entertainment Tonight, but her followers' favorite work as well. She noted that most of said fans are not male, as some would anticipate, but rather young girls. The indie film, written by Diablo Cody and directed by Karyn Fusama, sees Fox as a narcissistic high school girl who begins preying upon male schoolmates after undergoing a demon possession (as one does). The feminist undertones have always been there, but it wasn't until the post-#MeToo era, Fox noted, that the critically panned box-office bomb reached its cult-classic status, reported IndieWire.
Fox said on an episode of "Eli Roth's History of Horror: Uncut" podcast, "It's a nice circle. I didn't expect it to grow like that," partially blaming herself for the film's initial failure. Glad the cast and crew whose work "was panned for reasons that had nothing to do with them" can enjoy their day in the sun, Fox said her post-"Transformers" hot-girl image became the entire marketing campaign for the film.
"It wasn't just that movie, it was every day of my life, all the time, with every project I worked on and every producer I worked with," Fox told ET (per Us Weekly) about being stereotyped, which ultimately cascaded into a "genuine psychological breakdown" for her, she revealed, explaining why we seldom see the star on the big screen these days.
In 2021, Megan Fox is happily a mother in love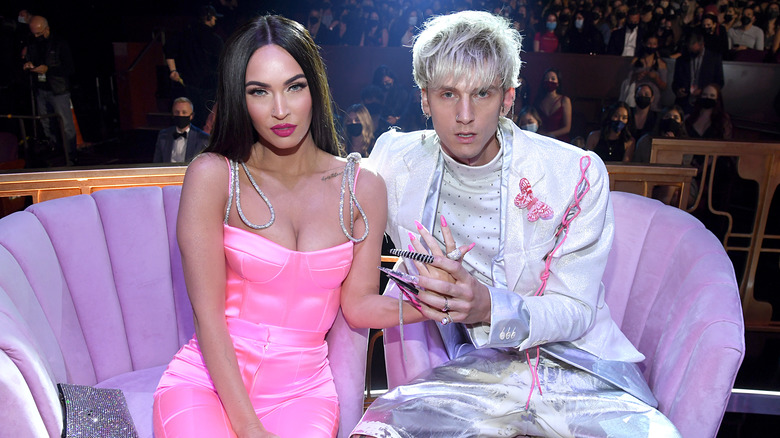 It's nothing less than true romance! Though she shares her three children with ex-husband Brian Austin Green, Megan Fox is hot, heavy, and potentially getting serious with rapper-turned-rocker Machine Gun Kelly (or MGK). After the Daily Mail first posted snapshots of the pair grabbing takeout together in May 2020, Fox then appeared in MGK's music video for the hit "Bloody Valentine." On Lala Kent and Randall Emmett's podcast, "Give Them Lala … With Randall" in July of that year, Fox divulged, "We're actually two halves of the same soul." 
The two sure have extended soulmate-level romantic gestures toward one another, with MGK revealing on Instagram on Valentine's Day 2021 that he wears a vial of Fox's blood around his neck. "I mean, some people give a handkerchief to their partner. She gave me her DNA," MGK told host Ellen DeGeneres in May. Fox returned the affection, debuting a tattoo bearing MGK's nickname, "el pistolero" (Spanish for "the gunman") on her left collarbone at the 2020 American Music Awards, Elle reported.
As a source told HollywoodLife in January, the pair are open to the idea of marriage, too! Moreover and perhaps as importantly, Fox's friends approve. "MGK is the kind of guy that Megan's friends definitely see her with permanently again," the insider shared. So far, the pair show no signs of slowing down.
Source: Read Full Article