Heads up: There are spoilers about Michelle Young's season of The Bachelorette below! Don't pretend you don't live for them!
Michelle Young's season of The Bachelorette hasn't even started yet, but we're already getting some juicy details on some of her contestants as filming continues! Case in point: Michelle was spotted kissing contestant Joe Coleman during a super fun date at a Twins vs. Rays game just three days ago, and now, Reality Steve is saying she went one a one-on-one date with Nayte Olukoya and two of her besties to ~feel him out~.
(SPOILER): Michelle currently on a 1-on-1 date with two of her female friends and Nayte Olukoya. They took a pontoon boat out on Lake Minnetonka then arrived at Lord Fletchers where Michelle & Nayte played volleyball with her two friends. pic.twitter.com/z1aHAhgXMl
That obvi means it's time to go on a whole ass deep dive into this Nayte guy to see if he is worthy of Michelle's heart. Buckle up!
He's Canadian
Though Reality Steve's above Twitter post states that Nayte is from Austin, Texas, evidence suggests that he is actually from Winnipeg, Manitoba, Canada. And by evidence, I absolutely mean another Reality Steve Twitter post.
Nayte Olukoya, 27, Winnipeg, Manitoba. Currently living in Austin, TX. IG: (@kingbanatunde). Attended Eastern Washington University. Sr Acct Executuve at https://t.co/JflUklOZV8 pic.twitter.com/eFBUxFWmJR
Yes, He's an Account Executive
After having a few gigs in bartending and commission-based sales, Nayte started at your fave-job finding resource, Indeed.com, as an account executive and stayed in the role for a year and a half before getting promoted to a senior account executive this year.
He's…honest?
We don't have much information of Nayte (yet), but at least he appears to be an honest man—his IG bio admits that he bought half of his 10k+ followers when he was 17, LOL.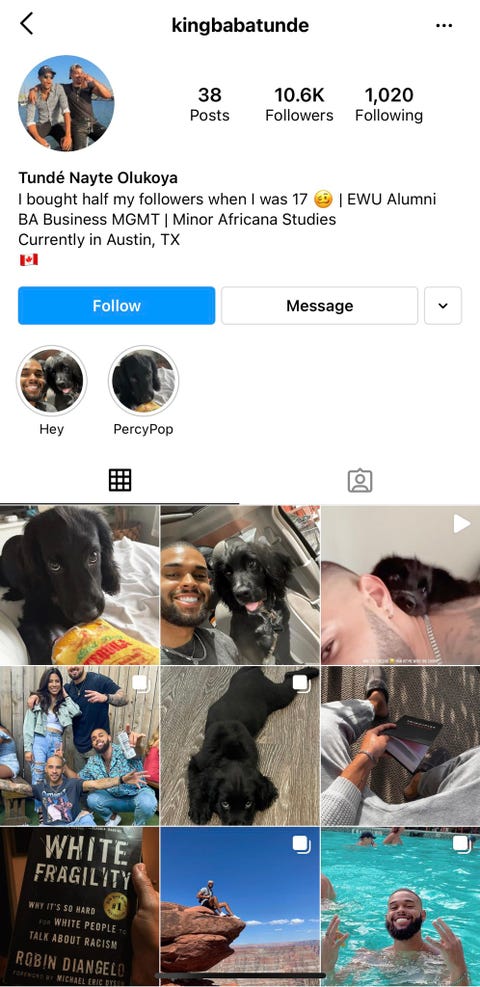 And that's all we know about Nayte so far—can't wait to see how his date with Michelle goes when her season of The Bachelorette airs!
Source: Read Full Article