There's an elephant in the room on High School Musical: The Musical: The Series—but it's a catchy, empowered elephant covered in stickers. Everyone seems to know that Olivia Rodrigo is leaving the series, but nobody has really *Bella Swan voice* said it… out loud. You might be surprised that she's in season 3 at all. You might even meet an Olivia fan who loves Sour and doesn't even know she was the lead of a Disney+ series based on a Disney Channel Original Movie. What has Olivia actually said about leaving High School Musical: The Musical: The Series? Not much, but here's what we've pieced together.
Frankly, she's busy! The "good 4 u" and "drivers license" singer has been on tour after the release of her debut album, making music videos, rocking the Met Gala, and performing at festivals. When people interview her, they're more likely to ask her about songwriting and how to get over a breakup than High School Musical: The Musical: The Series. She doesn't post about the show and isn't really doing press about the show. And that's fine, IMHO. She's got a lot going on!!
In early May 2021, after only the first season of HSM:TM:TS had premiered and just before the second season, an interview with The Guardian noted that Olivia was committed to the show for two more years. That would mean she's up after season 3. Olivia said back then that she would prefer to make music. "I think it's really hard to split time between [acting and singing] and there are very few artists who do that efficiently," she said, "because acting is based on being a good liar and presenting a version of yourself that's believable, and being a songwriter is the complete opposite. It's like, here are all of my deepest, darkest secrets and I want you to know me so personally."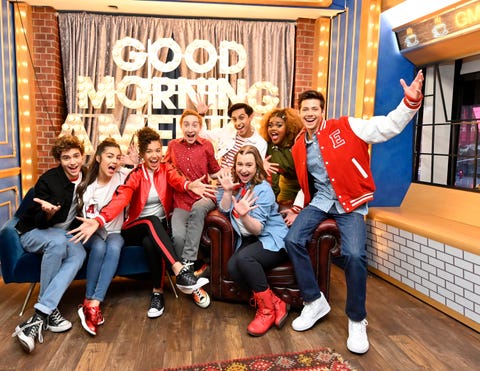 That interview was also *before* the release of Sour, and Olivia's proverbial dance card has been filled ever since. More recently, the folks behind the series have implied that Nini/Olivia won't be in the show much after season 3, if at all, without saying it outright. Her role has already been scaled down considerably since season 2, when Nini got an opportunity to explore a songwriting career in Los Angeles. Art imitates life!
"[…] Olivia herself was having such a monumental explosion in the music industry that it felt like the right thing to, frankly, work with Olivia to say, 'How do we get you out there into the world with us taking a little bit more of a backseat?' Which we were all proud to do to support her," High School Musical: The Musical: The Series creator and showrunner Tim Federle told Entertainment Tonight, calling Nini's arc in season 3 a "proper send-off" for the character. He also said "personally, it's a joy to see Olivia's music explode in such a big way. It was so fun to have her back and reminisce on the beginning."
Personally, I think it's really nice that the show is happily letting her go and not trying to tie her down to the series while she's getting famous and probably bringing in a lot of audience members. (That sounded like a backhanded compliment but I genuinely love both Olivia and HSM:TM:TS equally and wish the best for both!) Her transition from Disney star to pop star already seems healthy and well-supported. Maybe one day, we'll learn more about what it was like for Olivia to leave the show, but for now it seems like everyone is in good hands.
Source: Read Full Article