Tim Gunn wormed his way into our hearts during the first season of "Project Runway" in 2004. From the first time he looked at an in-progress design that was a wreck and said "Make it work," we were smitten. Gunn was a faculty member at the Parsons School of Design before Bravo approached him about being the fashion designers' mentor on the popular competition series, per Bravo.
Gunn's years on "Project Runway" catapulted him to stardom. He's also had two series of his own: Bravo's "Tim Gunn's Guide to Style" and Lifetime's "Under the Gunn." He's authored multiple books and appeared as himself on an episode of the ABC show "Ugly Betty," per IMDb.
While some may mistake Gunn's no-nonsense "make it work" catchphrase as thinly veiled sarcasm, he assures us that he is incapable of that. In a 2010 interview with the New York Post, Gunn said that he is "constitutionally incapable of being snarky." He also said, "Call me a schoolmarm, but few things make me angrier than people not taking good care of library materials." Clearly, there's more to Gunn that meets the eye. Keep reading to find out everything you don't know about Tim Gunn.
Tim Gunn grew up in a deeply homophobic family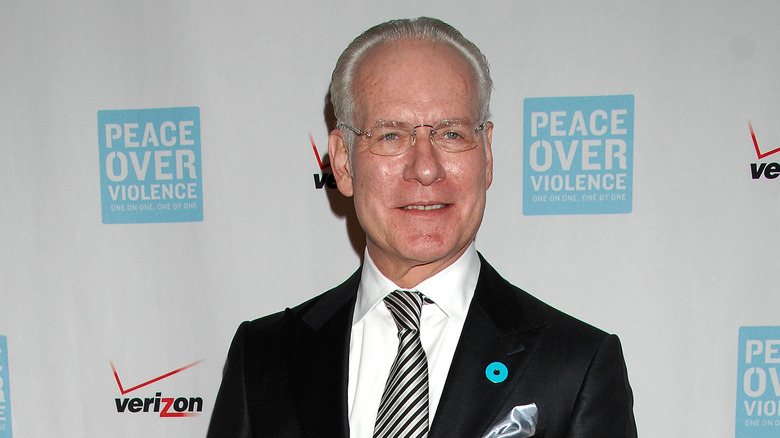 Tim Gunn was born in Washington, D.C. in 1953, per TV Insider. His father was an FBI agent who later became a speechwriter and ghostwriter for J. Edgar Hoover, according to HuffPost. Gunn didn't come out as gay until he was in his 20s, after growing up in a homphobic family, per Metro Weekly. He was an introverted kid with a stutter that led him to shy away from people.
In the 2007 Metro Weekly interview, Gunn said, "My father was so homophobic that later I thought maybe he was a closet case." Gunn also said, "I had a serious fear of people who were gay. I thought they were predators upon young men, that there was something wrong with them. I felt frightened about the whole possibility that I might be with one, let alone be one." His internalized homophobia was a result of the attitude in his home.
Gunn said his father discouraged behavior he thought was effeminate. In a June 2020 interview with The Wall Street Journal, he said of his dad, "To make his point, he'd get physically violent and slap me. In those days, homosexuality was considered a psychological ailment. Acting on it was a crime. Given my parents' homophobia, I never came out to them. I wouldn't dare." Gunn didn't come out until he was 29, and that was to his sister, per Metro Weekly.
Tim Gunn attempted suicide when he was 14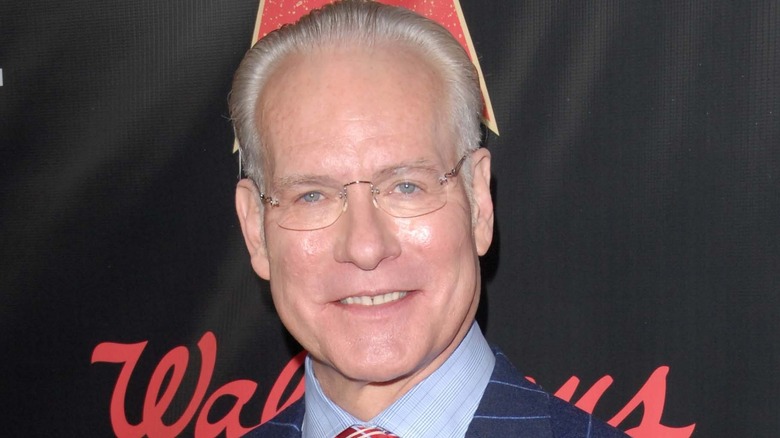 Tim Gunn did not have an easy childhood. The homophobic attitude of his parents led to him fearing that he could be gay. On top of that, his stutter led to social awkwardness and bullying in school, per Glamour.
He revealed that he attempted to commit suicide as a teenager in an address at a 2017 Trevor Project fundraiser (via Glamour) saying, "I was a very unhappy kid…but that unhappiness spiraled downward to the point where I made a very serious suicide attempt. I was 14… This was the 1960s. Homosexuality [was] considered a mental illness by the American Medical Association." Gunn shared that one night, he "took dozens and dozens and dozens and dozens of pills. I don't believe at that point in my life I had ever felt so resigned to something. And so at peace, in a matter of speaking. So it was so horrible to wake up the next morning."
Gunn was hospitalized and put in psychiatric care, where he resisted at first. And then he was assigned a doctor who wouldn't let him be silent. "And I am so grateful for the care that I received, and for the incredible individuals who rallied around me. And I am grateful to be here with all of you."
If you or anyone you know is having suicidal thoughts, please call the National Suicide Prevention Lifeline​ at​ 1-800-273-TALK (8255)​.
Tim Gunn thinks The Real Housewives is everything wrong with society today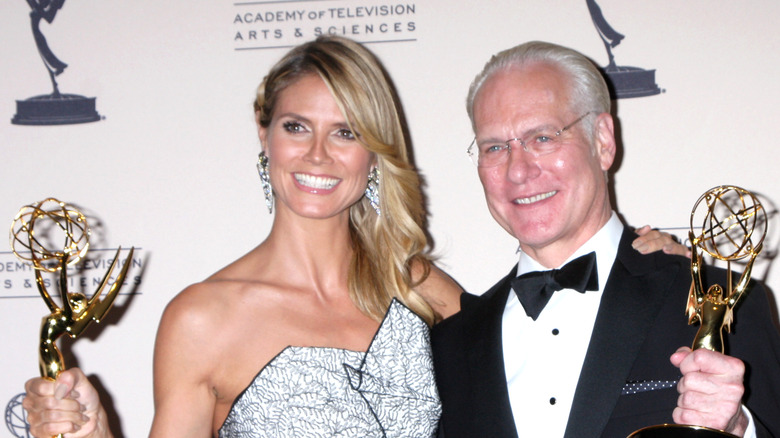 In 2010, Tim Gunn released his book "Gunn's Golden Rules." He said he wanted to write "an etiquette book as an antidote to all this bad behavior that surrounds us," per the New York Post. "I'm talking about civility and navigating the world with responsibility and respect," he said to the outlet.
Gunn added that a big part of what he thinks is wrong with modern culture is how popular the "Real Housewives" franchise is. "Forgive me, New Jersey Housewives, but there's a trash element to them that's abhorrent. The message they send is, 'You want to be a TV star? Yell obscenities, act inappropriately, throw furniture, hit people and you'll have great success.' It's appalling," he said.
The "Real Housewives" franchise wasn't the only thing Gunn criticized in the 2010 interview with the Post. "The number of men who don't know how to tie a necktie because they don't own one. You must! "You need a dark suit, a white shirt, and a necktie . . . It's out of respect for people. Respect!" he said to the newspaper.
Tim Gunn spent decades at Parsons, but it wasn't the career he planned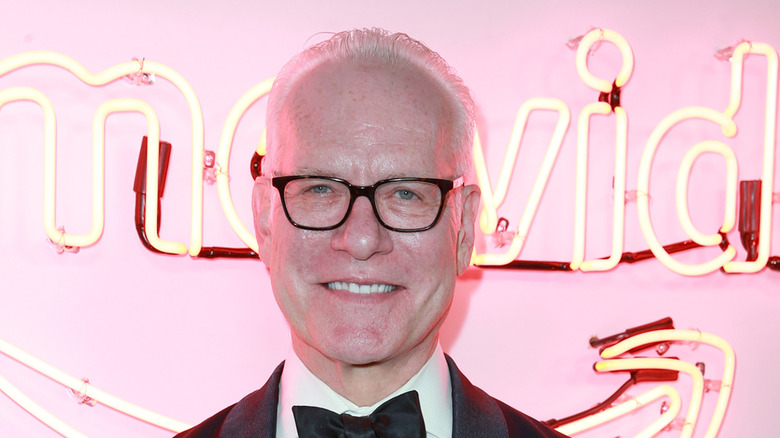 Tim Gunn was on the faculty of the Parsons School of Design from 1982 to 2007 and chair of the school's fashion design program from August 2000 to March 2007, but that was far from the career he intended to have, per Metro Weekly.
Gunn attended George Washington University's Corcoran College of Art and Design and graduated with a BFA in Sculpture. He said to Metro Weekly in 2007, "I was going to be a sculptor. I had a studio in the Dupont Circle area and I sold my work to a couple of collectors. That was going to be my career track. I was tied into the whole Dupont gallery scene."
Additionally, his role at Parsons was originally supposed to be a temporary job for one year. "I was a mister fix-it and sent into the fashion department for ostensibly a year to work with the faculty and students," he told Forbes. Little did he know that he'd become one of the most recognizable names associated with the school!
Tim Gunn is a champion for plus-size women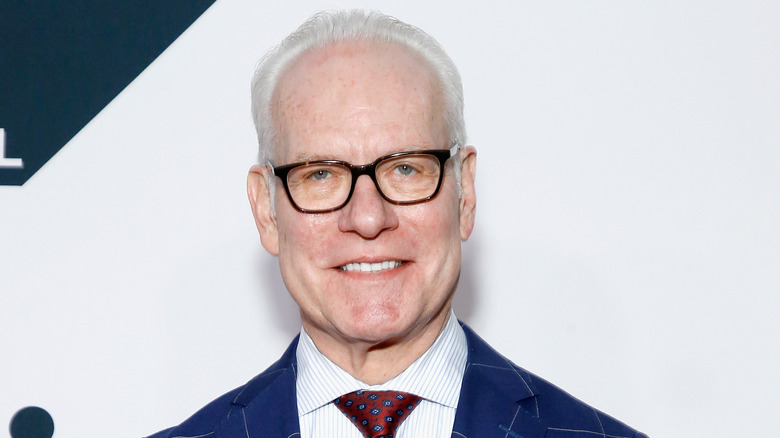 Tim Gunn has spent more than four decades working in the fashion industry. He loves fashion, particularly American fashion, but he has one big issue with it: how it has shut plus-size women out of the conversation.
In an article Gunn wrote for The Washington Post in 2016, he said that during a Liz Clairborne event in Nashville, a woman in the audience stood up and said, "'Tim, look at me. I'm a box on top, a big, square box. How can I dress this shape and not look like a fullback?' It was a question I'd heard over and over during the tour: Women who were larger than a size 12 always wanted to know, How can I look good, and why do designers ignore me?"
In the essay, Gun proceeded to call out designers who didn't want to dress plus-size women, writing that it was "a design failure and not a customer issue." Considering the fact that more than two-thirds of American women wear a size 14 or higher, per Racked, he's not wrong.
Source: Read Full Article