Measuring at 5 feet 6 inches tall, twin brothers Jason and Brett Oppenheim are forces to be reckoned with in the world of Hollywood real estate — and in the world of reality TV. Already known as reputable agents in their industry, the pair went on to gain television fame when their series "Selling Sunset" became one of Netflix's highest viewed programs, according to Realtor.com. Created by Adam Divello, who is also responsible for MTV's "The Hills," the show provides a luxurious look into Los Angeles real estate, The Oppenheim Group's gorgeous staff of agents, and of course, drama — a Divello show staple.
"Selling Sunset" fans know Jason and Brett as the identical twins at the helm of The Oppenheim Group, a brokerage smack dab in the middle of West Hollywood's Sunset Strip — but that's only a piece of their story. As for what the Oppenheim brothers were doing before they started dealing with deal sheets and negotiating multimillion dollar properties? Like a buyer embarking on a home tour, get ready to learn the wall-to-wall interior of these real estate moguls' lavish lives.
The Oppenheim family knows a thing or two about Los Angeles real estate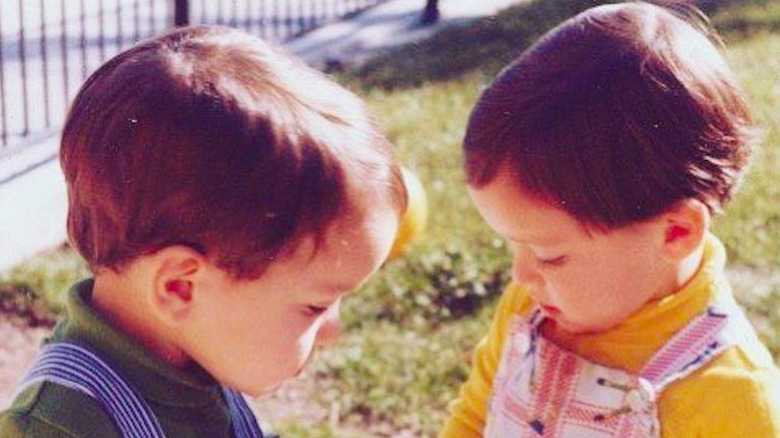 Long before the brothers ever considered careers in real estate, their great-great-grandfather Jacob Stern laid the groundwork for the family business. As Showbiz CheatSheet put it, "Real estate is in the Oppenheims' blood — literally." Per The Oppenheim Group's website, the brokerage "represents five generations of real estate development, management and brokerage services in Los Angeles."
According to the company's site, The Stern Realty Co. was originally founded in 1889 and started out of Jason and Brett Oppenheim's grandfather's personal home — a barn on what later became the intersection of Hollywood and Vine. On Stern's property, history was made with the establishment of the Hollywood Plaza Hotel and the city's first movie studio, Paramount Pictures. The family's parcel continued to thrive as it was further developed and became a hub for the entertainment industry. The site "has been designated a National Historic Landmark and currently serves as the home of the Hollywood Heritage Museum."
The Stern Realty Co. was passed down to Stern's descendants, and over the years, other members of the family became instrumental in brokering hundreds of residential and commercial real estate deals throughout the city. After deciding to leave his career as a lawyer, Jason reestablished his great-great-grandfather's company as The Oppenheim Group, and the rest is history.
Jason and Brett Oppenheim got into trouble as teenagers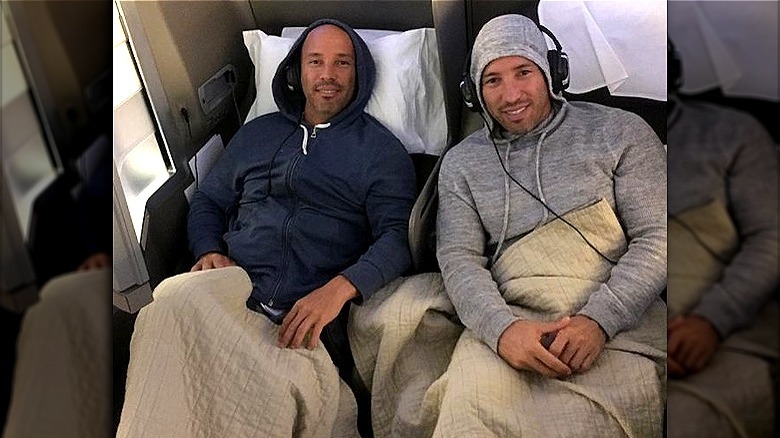 Long before the Oppenheim brothers followed the family's successful path on the real estate circuit, they were wily and wayward young men. "My brother and I were incorrigible kids," Jason Oppenheim explained in a TEDx Talk. "We lacked respect for authority, fought incessantly … We were just frustrated, constantly getting into trouble at home, at school, with our teachers, and even the police."
He revealed the pair "spent several nights in jail, whether for underage drinking, fighting, or just adolescent belligerence." Desperate for a way to get her sons' behavior on track, Jason and Brett Oppenheim's mother sent the 13-year-old twins to a correctional camp in Idaho. "That started the worst month of my life," Jason said in the TEDx Talk. "The camp was a living hell."
During the four-week stay, the boys were required to hike through the desert for hours, dig holes to use the bathroom, live on roughly 400 calories a day, and forgo bathing, among other atrocities. On the edge of starvation, Jason recalled even eating ants and rattlesnakes.
"This camp and others like it have been shut down," Jason explained, "but this experience is indelibly burned into my memory. It was, in every essence, rock bottom."
The Oppenheim brothers' father set 'the groundwork for change' in their lives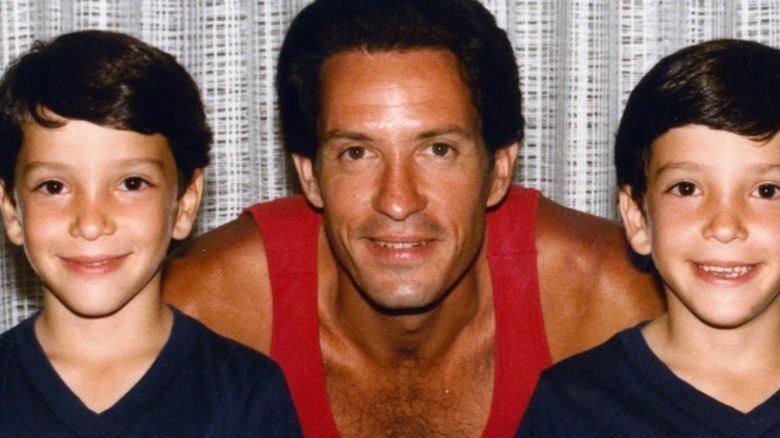 Jason and Brett Oppenheim's conduct improved upon their return from the correctional camp, but not for long. As the pair fell back into, as Jason put it in his TEDx Talk, "old ways," they were sent to separate boarding schools and incurred a series of suspensions and expulsions. Once they were expelled from their sixth high school at 16 years old, their father, a Vietnam War veteran with a Ph.D., stepped into the picture and took his own approach to help his sons.
"My dad was militaristic about getting me turned around," Jason said in the TEDx Talk. "He was obsessive, extremely overbearing, and he would also whip my a** if I wasn't acting right. Basically he was everything that Brett and I needed. Now things didn't change for us overnight … but slowly the groundwork for change was taking place."
As Jason told the Daily Mail, once he found a reason for being in school, and then later in law and real estate, he feels grateful for the opportunity to change course. "I am not ashamed of my past, but I am not proud of it either," Jason explained in the Daily Mail piece. "I made mistakes, a lot of them, but right when it seemed like there was no hope, I was given a second chance and I made the best of it."
Jason and Brett Oppenheim 'barely graduated high school,' but took steps to succeed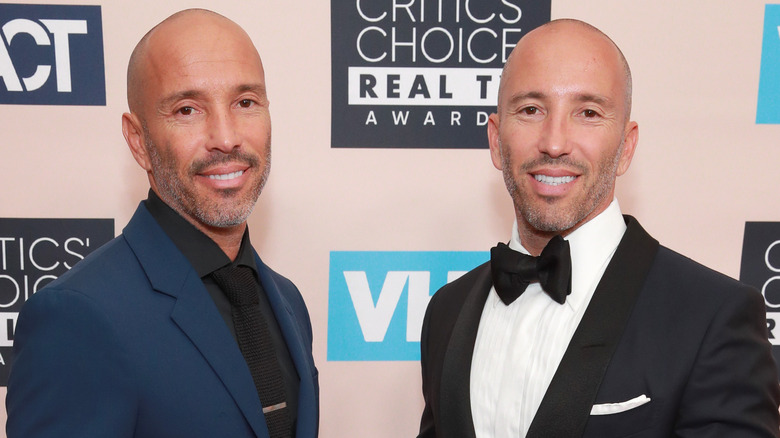 Turning their pasts into successful futures is exactly what the Oppenheim brothers did, but according to Realtor.com, the reset did not happen overnight. After they, as Jason Oppenheim recalled in his TEDx Talk, "barely graduated high school," they spent a few years at junior college, and then got into the University of California Berkeley. As Realtor.com recounted, "At last they began to hit their stride, both graduating at the top of their class and going on to law school, graduating with honors, and embarking on promising careers practicing law. Jason obtained his law degree at UC Berkeley, and Brett Oppenheim earned his at UCLA. 
As noted in their Oppenheim Group bios, both brothers landed big gigs after law school, such as Jason's representation of the former CEO of Enron and Brett's securities litigation on behalf of investment banks at the international law firms of Skadden, Arps LLP and Latham & Watkins LLP. Even with their triumphs in the legal field, both felt a calling to continue their family's real estate legacy.
"Real estate was always in my blood," Brett told Screen Rant. "Five generations of my family have practiced some form of real estate. I grew up around it, going to job sites with my Dad. Looking back, I'm not sure why I didn't get into real estate sooner."
Jason Oppenheim founded The Oppenheim Group and garnered a wealth of celebrity clients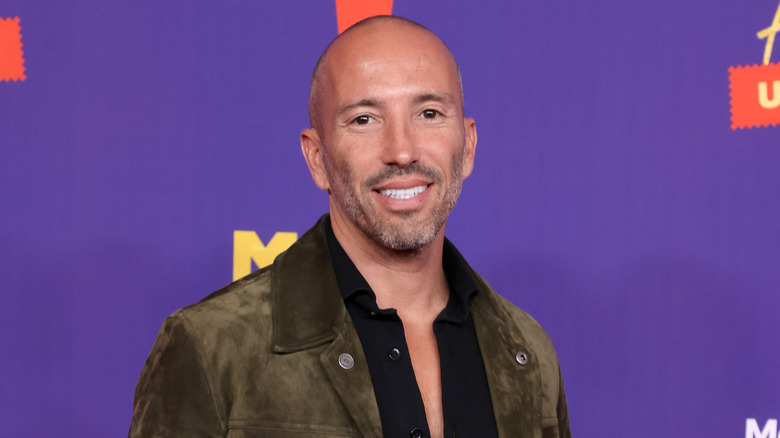 Though both brothers thought of leaving their legal careers, it was actually Jason Oppenheim who took the first leap. Feeling "unfulfilled," as he explained in his TEDx Talk, he took time off to travel and rethink his future. Upon his return, Jason got a rookie real estate position at Coldwell Banker. At the time, he owed more than $40K in debt, rented a one bedroom apartment with a friend, shared a workspace with two other agents, and dreamt of making a comeback, yet again.
"I had literally gone from the corner office at my law firm to the corner of an office at my new brokerage" Jason shared. "It took me over eight months until I closed my first deal." By 2014, after years of working tirelessly to learn the real estate business, Jason felt ready to found his own firm, The Oppenheim Group. Brett Oppenheim joined the team shortly after.
In time, The Oppenheim Group gained a strong reputation, as well as a solid list of celebrity customers. Their star-studded client roster includes Giancarlo Stanton, Chloë Grace Moretz, Kris Humphries, Orlando Bloom, Nicole Scherzinger, and Meryl Streep. 
When Realtor.com asked Jason to name "the nicest celebrities" he's teamed up with, he described Chloë Grace Moretz as "a thoughtful, intelligent woman" with "a really good head on her shoulders." He also noted that he's "enjoyed working with Orlando Bloom for years" and called the actor "a good businessman."
Thanks to Selling Sunset, the Oppenheims became household names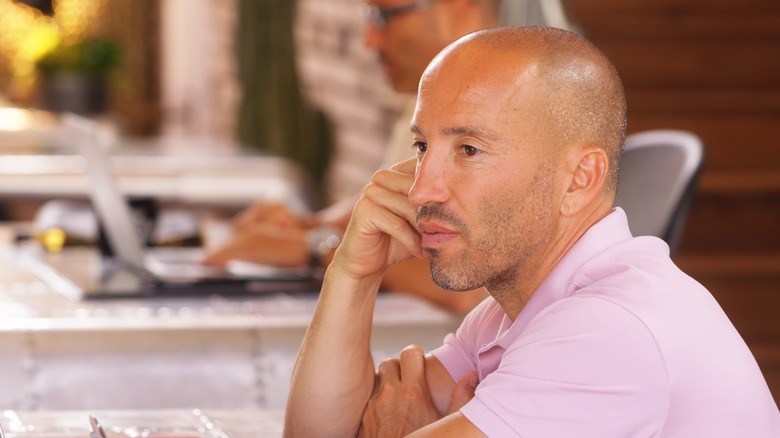 Not only does The Oppenheim Group sell to celebrities, but now thanks to Netflix, the agents are pretty famous themselves. Adam Divello, who produced MTV's "The Hills," knew immediately that Jason and Brett Oppenheim's brokerage would be the foundation for a television hit.
"I saw their [brokerage team] ads in magazines … And I thought, that's the cast of a show right there," Divello told Variety. "They're super attractive and they're the No. 1 realtors selling in the West Hollywood and Sunset Strip area. They've got billboards up and down the strip, and it seemed like a no-brainer." The Oppenheims were not sold on the idea right away though. In fact, they turned down several television offers, but what eventually changed their mind was the positive impact the show could have on their agents who "hadn't reached their full potential yet," Jason explained to Realtor.com.
While "Selling Sunset" achieved great success in its first three seasons, even earning a nomination for a Primetime Emmy Award for Outstanding Unstructured Reality Program, according to Cinemaholic, it is certainly not reality TV's first real estate program. "I have a ton of respect for the agents on 'Million Dollar Listing,'" Jason told Reality Blurb. "They have proven themselves in business to be very successful [and] started it all. We're quite honestly following in their footsteps…We're all helping each other. I think we're driving interest towards Los Angeles real estate and towards our profession."
The Oppenheims have mixed feelings about their Selling Sunset fame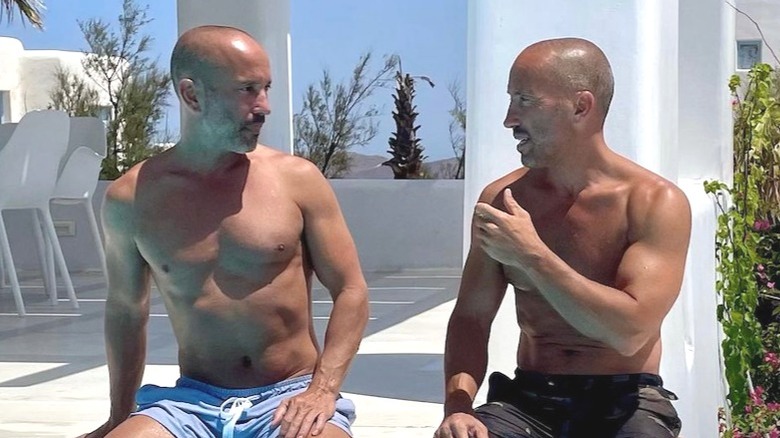 As expected of serious business people, the Oppenheims work to make deals, not drama. That being said, they understand the entertainment expectations of reality television. "Selling Sunset" is known for being salacious, but in response to claims that the program is "fake" or "scripted," as stated in Hello Magazine, Jason Oppenheim insists the storylines are genuine. "We film for months and you're seeing just a few hours," he explained. "You don't see the part where we're just on our computers for hours at a time. That would be too boring. But there's a lot going on, I'll be honest. It makes for a great show, but it can make for a difficult office once in a while."
It can also be challenging to be in the public eye. While neither complained, the brothers do have limits on how much they want fame to affect their personal life. "There is [a] certain threshold where it stays enjoyable and I want to stay under that line," Jason explained to The Sun. "There is certainly a level of success that this show could garner that could make things uncomfortable."
The Oppenheims care about a close-knit office culture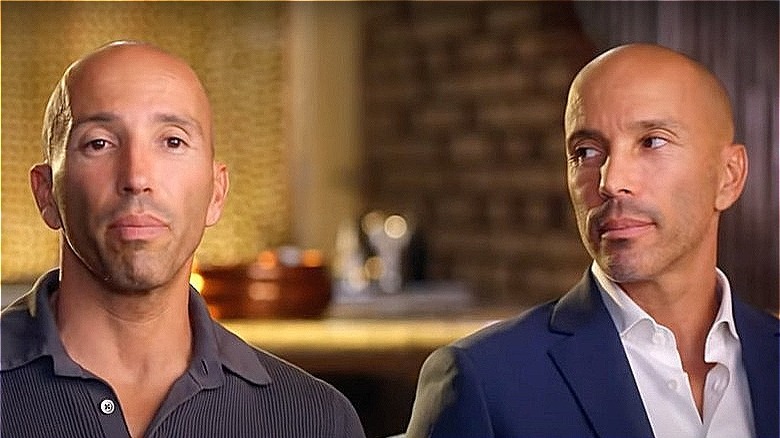 Despite the drama, at the end of the day, strong relationships with The Oppenheim Group team are what matter most at the office to Jason and Brett Oppenheim. "There's probably no cast on reality TV that's closer off-camera than we are," Jason told Realtor.com. "I consider many of the people in this cast to truly be my best friends."
Shooting a show together can be difficult amongst a group so tight with one another, but Jason notes that this is one of the reasons "Selling Sunset" is such a successful show. "I think there's a lot of trust [within the group]," he explained to Realtor.com. "It makes it easier to expose that kind of vulnerability and to delve into personal topics that you might not otherwise be comfortable doing."
One of these topics may be, perhaps, Jason's former relationship with Mary Fitzgerald, an agent at The Oppenheim Group whom others in the office feel Jason favors. While he understands those sentiments, Mary deserves the recognition, he told Reality Blurb. "She's successful and she's bringing in a ton of business," he pointed out. "She's the most productive agent in the office right now. So I don't have any qualms about that."
When it comes to dating, Jason and Brett Oppenheim's friends are a tough crowd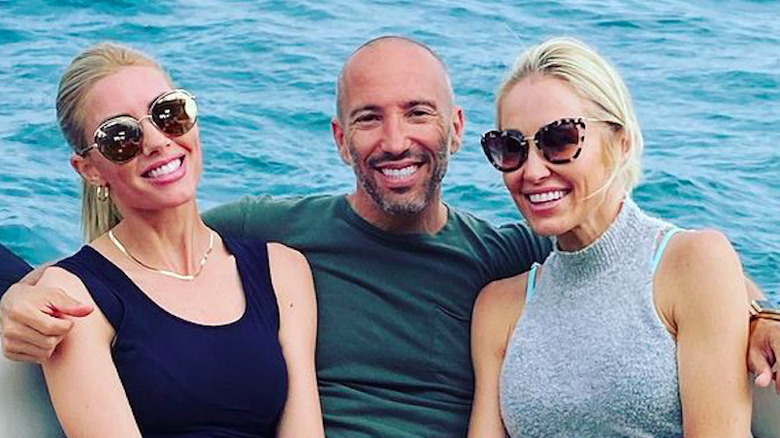 Due to the slew of female friends they need to please with their pick of girlfriends, both Jason and Brett Oppenheim are selective when it comes to finding "the one." "There is a veritable gauntlet to go through," Jason explained to The Sun, "because the women that are close to me are very protective of me, who are not shy about their opinions."
The brothers' glamorous pals, a list that includes "Selling Sunset" stars Heather Rae Young and Mary Fitzgerald (pictured above), have high expectations, so the pressure can be a bit extreme. "It's not easy on me," Jason also said in The Sun. "If I'm out with a woman that my close lady friends don't like, then I really hear it, and I don't want to deal with their opinions unless they're positive…you can't imagine the difficulty that I go through if I'm not with a really high quality date."
On a separate occasion, Jason told The Sun that when he is single, he keeps a pretty low profile. "Most of the time I'm just watching Netflix at my house, working [and] I'll go out with friends," he said. "I am not really someone who's on dating apps and I don't really date a lot anyway or enjoy dating."
At the time of writing, Jason is dating co-star Chrishell Stause. According to the Daily Mail, Brett has been in a relationship with model Tina Louise "at least since the spring" of 2021.
Jason Oppenheim enjoys sharing his secrets to success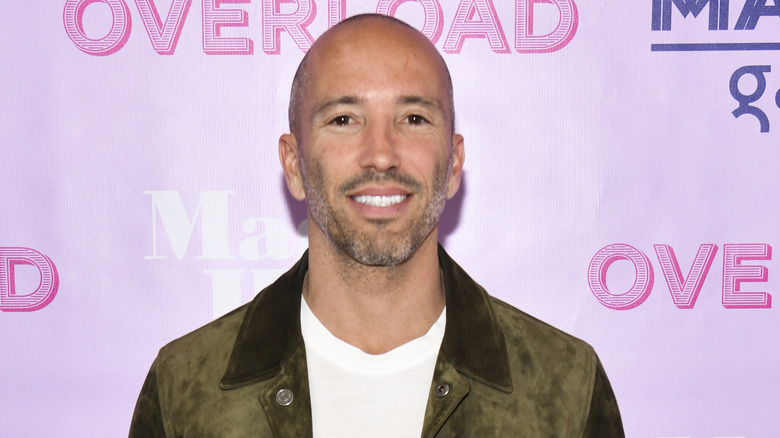 For all the similarities seen between these identical twins, Jason and Brett Oppenheim are still independent from one another in various capacities. Jason, who is the original founder of The Oppenheim Group, appears to do more public speaking on behalf of the brokerage, and about his personal journey to becoming the real estate mogul he is today.
"There's so much out there floating around the Internet about success," he explained in his TEDx Talk, "and the advice you hear is often centered on the idea of speed. Get rich quick, achieve instant success from your living room, become a millionaire in less than a year … In reality, and this is something I've learned throughout my life, success takes time, years of preparation and hard work. There are no shortcuts."
This philosophy has worked well for Jason, who racked up some major accolades in his field, including being crowned the best agent in the country by the International Property Awards, according to The Oppenheim Group's website. Additionally, he boasts "more than $1 billion in closed sales, he currently has more than $300 million in active listings."
One reason for this success, Jason explained to Realtor.com., is the strong connections he establishes as an agent with his clients. "It's one of the most important financial relationships you have, because you're dealing with one of your most valuable assets."
Brett Oppenheim holds his own in the real estate industry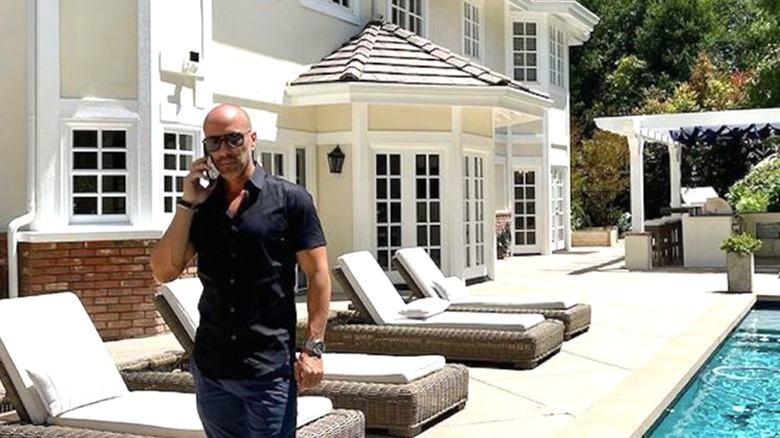 Brett Oppenheim, for whom Cinemaholic reports a net worth of $50 million (same goes for Jason Oppenheim), has done quite well for himself, too. Per The Oppenheim Group website, he's played a huge role in major sales, such as "a Beverly Hills estate that he recently renovated and sold for over $17 million."
And Brett doesn't just stick to Southern California. According to The Oppenheim Group site, both he and Jason have gone to "seventy-five countries on five continents identifying select properties and leading numerous multi-million dollar real estate transactions."
With millions of dollars at stake, competition between the brothers is more or less inevitable. According to Brett, the pair remain close, but conflict bubbles up from time to time. "Working with my brother has its benefits for sure," Brett explained to Screen Rant. "I can trust him and am incredibly confident in his abilities. However, we are both a bit alpha, which can cause problems. Sometimes, we treat each other as brothers instead of professionals, which I am sure any siblings or couples who work together can understand."
What does the future hold for The Oppenheim Group?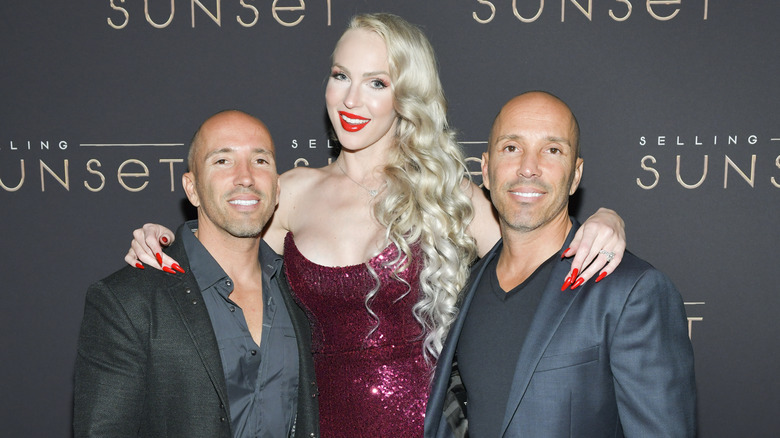 Although they look nearly identical, and lead pretty similar lives, they do still differ in their individual plans for the future: At some point in 2020, rumors swirled about Brett Oppenheim apparently parting ways with The Oppenheim Group. As of August 2021, it looks like Brett runs Oppenheim Real Estate.
When asked about Brett's current role in the company, "Selling Sunset" cast member Christine Quinn suggested something was afoot. "There's been a division going on," she told ET. "It's kind of something that's been happening for a while and people are just trying to figure out where the chess pieces are going right now." And in a chat with Glamour UK, Quinn shared, "Brett has left to start his own brokerage. The girls are fed up with the favouritism of Mary in the office, we don't know who will move where. It may be the battle of the brokerages! I think if season four goes ahead, it is going to be the juiciest season ever."
However, Jason Oppenheim insists there is no bad blood and that Brett didn't quit. "That story doesn't have any legs," Jason told Reality Blurb. "My brother moved his license. It's rather semantic. He's not starting another brokerage and adding other agents and competing." Only precious time, as well as precious Netflix, will reveal the truth about the future of these real estate rockstar brothers and their business, but fans are certain to flock back for the next season no matter what.
Source: Read Full Article