The father of a Latrobe Valley man found dead in remote bushland in the state's east is pleading for information to help catch his son's killer six months after the 37-year-old vanished from his home town of Newborough.
The body of Jarrad Lovison, a 215-centimetre "gentle giant", was found in bushland near Moondarra, north of Moe, in May following a five-week search.
Father John Lovison appeared today at an emotional press conference with police at Moe.Credit:Nine
Holding back tears, John Lovison made a public plea for information on Wednesday in the hope of finding his son's killer ahead of what would have been Jarrad's 38th birthday next month.
Mr Lovison said his family was "living in hell" not knowing what happened.
"It's just hard, it's just so hard, it's been nearly six months and we cry a lot, we scream a lot, we wonder a lot, we're angry, we just want to know who did this to our son. Jarrad wasn't perfect but he was a bloody good kid. He didn't deserve this," Mr Lovison said.
"It's going to be his birthday next month, and we live in hell. We've lost both our kids to some horrific stuff."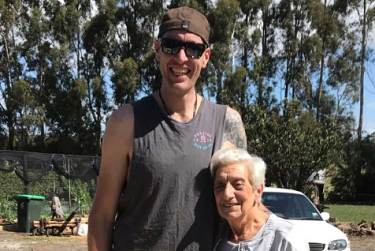 Jarrad Lovison's death is being considered suspicious.Credit:Victoria Police
Mr Lovison said Jarrad, who was "seven foot tall", was hard to miss. He said his son was tough but always laughing and always generous towards his friends.
"If you know something, tell the police, no matter how little it is and if you know something and you can't tell the police, well, write a letter and put it under the front door," Mr Lovison said.
"We don't go to Moe and we don't go to Newborough because I don't know whether I'm walking past the person that killed my son and he's laughing at me because I don't know who he is.
"We just want people who know anything to dob these bastards in, because they deserve to be dobbed in."

Jarrad Lovison's body was found in bushland. Credit:Victoria Police
He said detectives were close to catching those responsible but admitted piecing together the sightings and information they'd received had been difficult.
"People may have seen him and not understood the relevance of it. He's a large man, he's just close to seven foot on a bicycle," Sergeant Hamilton said.
"In everything we've been told in relation to Jarrad, he was a very decent person and certainly didn't deserve to end up the way he did.
Missing persons squad detectives had previously thought Jarrad was last seen alive about 9.45pm on April 15, riding his bike along March Street in Newborough.
Jarrad Lovison (left) with friend Adam Reddiex.
Earlier this week they said further investigations had uncovered a new sighting that has led them to believe the 37-year-old was still alive the following morning at 3am, riding his bicycle to meet an "associate" on Moe-Walhalla Road.
Sergeant Hamilton stopped short at labelling that person a suspect and said police still required more information.
"They've provided the fact they've actually met with him [but] other than that they've provided very little information. We still require a full account from that person," he said.
"The belief is [Jarrad] was left sitting here [near the Latrobe Valley River bridge] on his bicycle looking at his mobile phone."
Detectives are also investigating a reported sighting of Jarrad's green bike propped against a tree on Becks Bridge Road, north of Adam View Court, about 2.30pm on April 18.
A white wagon stopped there and took the bike, which is yet to be found.
Anyone with any information on Jarrad's death is urged to contact Crime Stoppers on 1800 333 000 or visit crimestoppersvic.com.au.
Most Viewed in National
Source: Read Full Article