Beauvais said she was "recovering" from his comments all over again after watching the RHOBH premiere, in which Jax criticized her parenting in a way that felt like a "knife to the heart."
It wasn't easy for Garcelle Beauvais to watch back the Season 13 premiere of The Real Housewives of Beverly Hills, thanks to a very candid conversation with her two sons about how she did in her role as their mom.
Appearing on Watch What Happens Live on Wednesday following the second episode of the season, Garcelle was asked by Andy Cohen whether it was "brutal" for her to hear, with Beauvais admitting her son Jax's critique was definitely tough to swallow.
Unable to render YouTube Video.
"I had to recover when it first happened. Seeing the clips, I'm recovering again and it's hard," said Beauvais, who confirmed things are back on the up and up with them. "Yesterday he texted me and I was like, 'the show's coming out tonight and how do you feel?' and he said, 'Mom, we're in such a better place, I love you so much.'"
She then quipped, "I was like, 'Can you tweet that? Can you tell the world?'"
Cohen went on to praise the 16-year-old — who Beauvais shares with Michael Nilon, along with Jax's twin brother Jaid — for being able to "express his feelings and communicate" comfortably on camera. Added Garcelle: "As a child, I would never had not only the words or bravery to talk to my mom like that."
On the premiere, the actress went to the beach with both sons, getting in some family time after spending the past few months going back and forth to film something in Atlanta.
While there, she noted that the kids said "going back and forth" between her place and their dad's "sucked," with Jax saying he thought "it would be much better if we didn't," while Jaid embellished by saying they stayed with their father "for like a year." After she pointed out she was only gone for three weeks, Jaid said it was "boring" staying with their dad because their friends weren't nearby, before Garcelle said she did feel "guilty" how her "work takes me away sometimes."
"You can say, 'Mom, I wish you didn't go.' I don't know if that would change me not going, because it's work commitments [but] I wish you would just vocalize it," she continued. "This is your chance to say how you feel about how we run the household."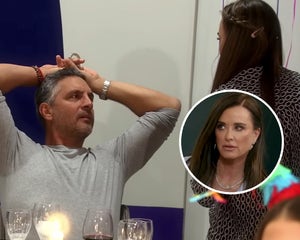 Kyle Richards' Mother-In-Law Confronts Her Over Split Rumors, Before Fight with Mauricio
Jax went on to say he wished he had "more freedom," before Garcelle said she felt he wasn't "letting me parent you." That's when he dropped a truth bomb.
"That's fair. I understand where you're coming from, that you want to be more of a parent to us. But I needed that two years ago, instead of now," he told her. "Most of the parenting and teaching me how to live, I know how to do all of that by myself."
When asked whether he was saying "I wasn't your mom then," Jax said yes, shocking even his brother with the comment. In a confessional, Garcelle said she felt like she was always there for her kids, but admitted she couldn't be around 24/7 — adding, "Hearing it from him is like a knife to the heart" and made her feel like "a failure."
"There was times where I think I needed more than you were giving me, in terms of parenting," he continued. "As of now, I don't need that much parenting anymore, that simple. My intention isn't to hurt you, I just think what needs to be said, needs to be said, whether it hurts or not."
After apologizing to both boys, Jax said he was sorry as well. He then sagely concluded, "I'm glad both of us can admit fault from the past and mature from that. I think I turned out fine." Garcelle agreed, telling him, "I think you're gonna turn out great."
The Real Housewives of Beverly Hills airs Wednesdays on Bravo.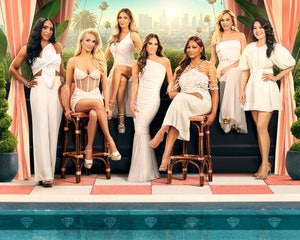 RHOBH Stars Confront Each Other Over Reunion, BravoCon Behavior In Season Premiere
Source: Read Full Article