On the new episode, Ron admits he made "a lot of mistakes" with his ex and wants to apologize — while she makes it clear she's "moved on" and there's "no convo needed" for closure.
While Ronnie Ortiz-Magro and Samantha "Sammi Sweetheart" Giancola continue to talk about whether or not they'll ever reunite on Jersey Shore Family Vacation, the pair actually did just that this week while filming the next season of the show.
The two were spotted by fans in Tucson, Arizona on Monday, along with the rest of the gang — including Mike "The Situation" Sorrentino and wife Lauren, Jenni "JWoww" Farley and Zack Carpinello, Deena Nicole Cortese and husband Chris, Angelina Pivarnick and fiancé Vinny Tortorella, Nicole "Snooki" Polizzi, Pauly D and Vinny Guadagnino.
Sammi's boyfriend Justin May was also there.
Sam and Ron don't interact in the footage, with Oritz-Magro lagging behind the group while rolling his suitcase. Vinny also shared a TikTok on Thursday, showing Sam and Ron in the same room for the first time in forever, as the entire cast — sans Angelina — rocks throwback outfits.
Waiting for your permission to load TikTok Post.
TikTok Post Unavailable
The sightings come amid talk from the exes on Jersey Shore about possibly coming face to face with one another.
On the current season, Ron crashed a group trip to Orlando, Florida, during which he made amends to everyone except Sam — who did not want to see him. While everyone appreciated his apology, they also expressed hesitance about Ron fully rejoining the show full-time.
In Thursday's new hour, he was seen continuing his conversation with Snooki from the previous episode, as the two friends continued to catch up. Nicole warned him to stay away from women, with Ron saying he was "happy being alone" and only wanted to focus on being the best father he could be for his daughter Ariana.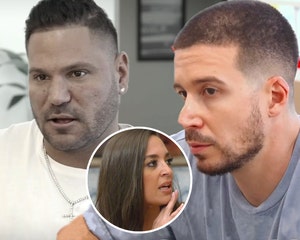 Jersey Shore Recap: Does Vinny Have 'Issues' with Ronnie After Apology?
When asked whether he was ready to "fully come back" to the show, Ron said he hoped to — as Nicole said she couldn't want for "the Ron and Sam moment."
"I know you all are. She's a great person, she's a great woman, she was always good to me," he continued, before expressing how "happy" he was she was able to find "someone who can give her what I wasn't ready to give her" with Justin. He added, "I hope we can coexist together. I was young, I was dumb. I made a lot of mistakes and that's why I want to talk to her. I feel like I owe her an apology."
"I know I'm gonna have to see Sam … looking forward to it," he continued in a confessional. "I A lot of my actions when we were together weren't really the best and I could have been better to her."
Nicole then joked that Ron "f–ked up," knowing how "good" she still looks now … before they went their separate ways.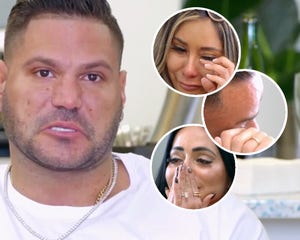 Ron's Apology to Jersey Shore Costars Bring Them to Tears In Emotional Show Return
When Snooki met up with the rest of the cast, including Sam, at the pool after her meeting with Ron, she relayed that he seemed like he was "in a good spot." She added, "I think he's doing really good. And he said, 'Eventually I have to talk to Sam.'"
Giancola was taken aback by the comment, before making it clear she has no desire to meet up with him to hash out anything. "We don't need to talk. I don't need to talk to him," she said, before Nicole said she felt he just wanted to say hello.
"No. I don't even know him anymore, it's been seven years, I'm done," Sam continued. "I live my life, I've moved on. I'll tell him myself, no convo needed, I'm outta here. There's no closure that needs to be said."
Now that we know the two are filming the next season together, it should be interesting to see how they interact — or whether they'll meet up to squash any past beef before the current season ends.
Jersey Shore Family Vacation airs Thursdays on MTV.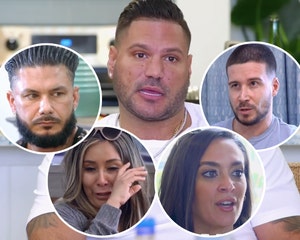 Jersey Shore Stars Tell Ronnie How His Behavior Hurt Them After His Apology: 'We Don't Fully Trust Him'
Source: Read Full Article